//php the_post_thumbnail( 'post-thumbnail' ); ?>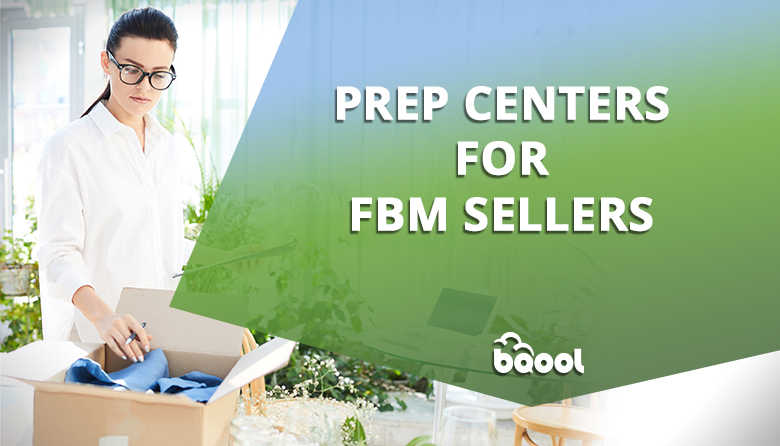 If you are a FBM seller you know that you need to deal with storage, shipping, and customer support on your own, unlike the FBA sellers who have the luxury to let Amazon handle these operations for them. Even if you have more control over your business operation and your inventory, it could be very overwhelming to deal with so many things like stock, pack, label and ship your items to the customers.
Prep centers for FBM sellers are a great alternative for your business and could take care of the logistics part. With prep centers you can allocate more time to take care of more pressing matters in your business and do not need to worry about following the strict Amazon fulfilment policy.
If you haven't heard yet about the prep centers for FBM sellers, let us introduce what prep centers are, how they work and the advantages of working with them.
How It Works?
Prep centers are companies specialized in handling logistics. Basically, we can compare them to Amazon fulfillment centers, but they are independent. Prep Centers help sellers to manage their inventory and offer services to assist them in their business.
These are the typical services that prep centers provide:
Inspection
Storage
Repacking
Marking
Creation of sets and bands
Packing in polymer bags
Preparation of goods
Video / Photo report
At first sight you might think prep center is not something you need, and it is an unnecessary extravagant cost that you can avoid. Since you cannot skip logistics when you are a FBM seller, working with a prep center to help you run your business smoother can make a huge difference.
How to Find them?
You can find many prep centers on the internet, make sure to select the most convenient for you. If you wish to work with a prep center, you can contact them and provide some information about your items, your storage requirements and the type of services you need (labelling, packaging, shipping etc.).
This is an example of information you can find about the prep center: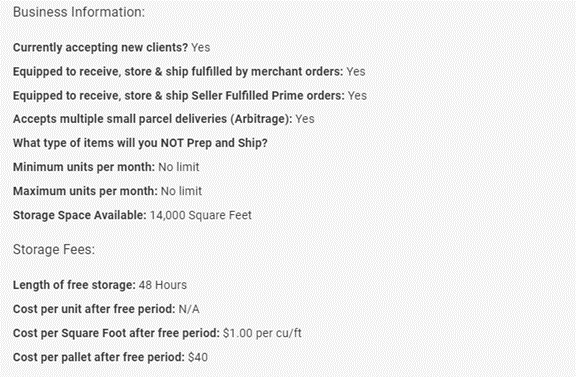 Source from selleressential.com
Then they will send you a quotation. Once you agree with the quotation and sign the contract, you can start working with the prep center to build your logistics.
Some prep centers require you to grant them permission to gain access to information related to your items on Seller Central. Relax, you will not share sensitive or private information with the prep centers, but only basic information that will help them to coordinate their logistics such as preparing, packing and shipping the items to your customers.
What are the advantages of using Prep Center When you are a FBM Seller?
Managing your own inventory can be exhausting and stressful, especially if you turn your house into a warehouse where you store all your products.
Of course, it depends on the quantity of your items, but let's say you are a small seller with a very small inventory, in that case you do not require a big storage place, but if you have many products and your business is growing, it could be very difficult to organize the storage capacity and manage your inventory properly.
In addition, keep in mind that when you are FBM seller you also must deal with returns, the products are not sending back to Amazon warehouse but to your designated warehouse, that could be an issue especially if your warehouse has a very limited storage capacity. That is why you should use prep centers to avoid this kind of situation, they usually can handle returned products for you.
Another thing is the great flexibility that Prep Centers provide. Prep centers are more flexible with their storage capacity than Amazon warehouses because as you already know, FBA sellers have a limited storage capacity, moreover, they need to pay for many additional fees incurred from other FBA services.
Prep center can be a one stop shop for all the logistics service you need to deal with shipping and packing part of your Amazon business. Instead of hiring staff, finding a warehouse, packing, and shipping your products to your customers etc…you can have all logistics handled by a prep center. You do not have the obligation to use all the services that prep centers provide, you can select what you want.
ZonPrep is a US FBA Prep focused 3PL. The company supports Amazon sellers and beyond through the 300,000 square feet of warehousing space where they offer 24 hour turnaround time on FBA Prep, bundling and kitting services, fulfillment, distribution and storage.
Prep centers make your business easier and enable you to have more time to focus on your sales.
Conclusion
Take advantage of your FBM listings and grow your business with good logistic service provided by prep center. Do not waste your time with the logistics part, especially if you want to make profits and grow your business. The less time you spend on logistics, the more time you will spend improving your marketing and making more money.