//php the_post_thumbnail( 'post-thumbnail' ); ?>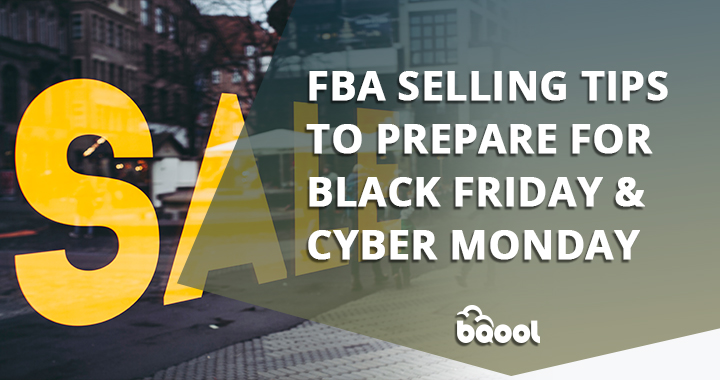 Black Friday & Cyber Monday, the biggest shopping season is right around the corner! Many experienced sellers have already started preparing for the busiest time in Q4. For those that haven't started yet, it's not too late. We will share some selling tips on how you can prepare and make the most of Black Friday & Cyber Monday.
1. Get ready! 
The timing of your preparation is critical for a successful selling season. If you're sourcing from China, you will want to place your orders in June or before to receive your shipments before the Amazon Inventory Deadline. Amazon usually lists the key shopping dates and inventory deadline in its seller central help section. September 15th is the last day to order inventory for Black Friday, Cyber Monday, and the holiday shopping season.
Ask your supplier about freight lead times or if you need any additional inventory for the busiest season as it can help you to get ready and ensures the safe delivery of your shipments on time. The earlier you get prepared, the more time you can work on your Q4 strategy and send your inventory to Amazon fulfillment centers before the holiday selling season begins. You should also mark the important dates of the Amazon holiday selling season on your e-Commerce marketing calendar and decide when to run your holiday ads and promotions.
2. Optimize product listings 
You don't want to miss the chance to bring as much traffic to your product listings as possible and get your listings ranked in search results on Amazon during the hottest months of the year. So you can look at your listings, make sure all the information about a product (title, description, features, images, etc.) are optimized and include the right keywords. For brand registered sellers, you can update your A+ Content with more comprehensive information and compelling content, or even a holiday theme for visuals.
3. Test the market with new product ideas 
It may sound crazy, but Q4 is a great time to try new ideas. There will be a lot more traffic, and you never know if your new product might be a hit. Test the water with new products and start generating sales. You can use the buyer reviews and feedback to prepare your product list for next year. The must-have tool for sellers like BigCentral can help sellers to monitor product performance metrics, pricing history, and track product reviews. Email automation and "request a review" automation can help you effectively solicit reviews on new products. If you receive a negative review, this is an opportunity to see where you can improve it before the official product launch.
4. Get rid of dead inventory 
"To welcome the new, you must first get rid of the old."  Black Friday and Cyber Monday sales event is a perfect time to get rid of dead and slow-moving inventory with discounts. We know you are reluctant to cut prices, but monthly storage fees from October to December are much higher than in other months, and slow-moving inventory can eat up your profit. You can consider offering 50% to 80% discounts on the inventory that runs very slowly within six months. This approach can help stimulate your sales but also reduce the risk of having to pay the storage fees significantly. 
Another strategy is product bundling, you can offer bulk discount packages or a combination of old stock with more current products at a discount to clear out your inventory faster. 
5. Run promotions and PPC  
Now you have some sales promotion, you need to spread the word about your event, so you'll want to make sure you start running promotions early for getting shoppers' attention. Amazon usually starts featuring more promotions including Deals of the Day and Lightning Deals. Sellers can run their own promotions to boost traffic and sales. We also recommend putting more advertising budgets on PPC campaigns such as a Sponsored Ad to boost search impressions and sales and increase sales rank, which will help you get even more orders.
In addition to internal promotions, you can also take advantage of external promotions, including social media ads, paid ads, blog marketing, and influencer marketing, etc. to drive outside traffic to your Amazon listings.  
6. Holiday season returns  
Amazon has an extended holiday return policy, which means that products purchased during the holiday season, whether it's FBA or FBM, can be returned by the end of January for a full refund. Increased sales might accompany a higher return rate, you would need to watch out for your customer satisfaction and your product quality.  
7. Keep an adequate stock level 
Running out of stock can cost you precious sales, so keep an eye on your inventory levels and ensure your inventory lasts until January. Many customers will spend their cash from a gift return or use the gift cards during the post-holiday season period.
8. Monitor your competition 
Because Black Friday is big, competition among sellers is, naturally, intense. Your competitors will try to beat each other's doorbuster deals by getting an early jump on the competition. With BigCentral, you can spy on competitor's daily movement, including their product's price changes, sales rank, estimated sales, and steal their keywords to optimize your listings.
9. Win the Buy Box 
Winning the Buy Box can certainly stand out your listing from a pool of sellers offering the same product. To win the Buy Box, you need to meet specific seller performance criteria, including being a featured merchant, product condition, available stock, shipping options, overall seller performance. After Amazon considering these factors to determine the Buy Box owner, your product price is crucial for winning sales and the Buy Box. If you set your prices too low, you will lose your profit. If priced too high, you will not attract shoppers to buy. One way to ensure that your products' prices are always optimized is to use Amazon repricing software and stay in the Buy Box for as long as possible.
10. Use Amazon seller tools 
If you don't use any software solutions for Amazon sellers, you should consider investing a tiny budget on multi-functional Amazon seller tools to handle the extra tasks along with the selling frenzy of Q4. BQool's suite of tools includes repricer, email automation, product research, product tracker, feedback management, and more solutions that help Amazon sellers save a lot of time and win Q4 success.
This blog post was originally published in October 2019 and was updated in September 2020 due to product updates or Amazon policy changes.