//php the_post_thumbnail( 'post-thumbnail' ); ?>
Amazon Buy Box, also known as Featured Offer, is the most sought-after offer placement amongst Amazon sellers because more than 80% of sales come from the Buy Box. The Amazon Buy Box is that little gold button located on the right-hand side of an Amazon listing. When customers decide to buy a product, they simply click the 'Add to Cart' button, and then go through the purchasing process. On a product page that has multiple sellers selling the same item, the buy box would decide who gets the sales. Hence winning the buy box is the quickest way of increasing your sales and scaling up your Amazon business. 
But in order to win the Buy Box, Amazon needs sellers to meet several requirements. Amazon doesn't just allow any random seller to win the Buy Box, if you want to be in the running for the coveted Amazon Buy Box, you must meet the following criteria: 
Be under a Professional Selling Plan

 
Individual Seller accounts are not eligible to win the Buy Box. Under the Professional Selling plan, you will be charged $39.99 per month, but you will stop paying the $0.99 closing fees for the individual seller account, so you only need to sell more than 41 items a month to justify the cost. Additionally, there are other inventory templates and product listing advantages included in the plan. 
You must be Buy Box Eligible

 
Amazon defines Buy Box eligible sellers "Professional sellers who have met performance-based requirements. There is no additional fee for being Buy Box eligible, and sellers must maintain their performance levels in order to retain the status of Buy Box eligible." 
These requirements are mostly connected to your Customer Satisfaction metrics and they apply especially if you are selling Merchant-Fulfilled items. The most important rates are Order Defect rate, Cancelation Rate, Late Shipment Rate. 
If you are out of stock, your listing will be inactive so you will not be able to sell the product, let alone win the Buy Box. If your listing is backordered instead, it will stay active and it can even win the Buy Box. However, Amazon hardly gives the coveted Buy Box to backordered items, prioritizing handling time and efficiency over price. 
These are the requirements needed to be Buy Box eligible, but there are other essential elements that you need to be aware of if you want to increase the chances to be in the Buy Box: 
There is a Buy Box for 

New Items

 and one for Used items

.

 
If you want to be featured in the main Buy Box, the product needs to be in New condition. But you might not be aware that there is also a Used Buy Box. New items and Used items are treated separately by Amazon, so the two Buy Boxes don't affect one another. 
Amazon usually applies a 

Buy Box Rotation

 
You might think that the Buy Box race usually ends up with a fixed winner and the other sellers will just need to settle for the "Other offers" page. However, the situation is more flexible and instead of a clear Buy Box winner, Amazon prefers to have a bunch of sellers sharing the Buy Box at a similar price.
When Amazon's algorithm believes that multiple offers are worthy of being in the Buy Box, it will periodically rotate which seller stays in the Buy Box, so that everyone will have the chance to sell. 
FBA 

offers have priority. Unless Amazon creates a 

Double Buy Box

…

 
Though it's not a requirement, it's highly recommended that you use Amazon's FBA fulfillment service to gain an advantage over other sellers. It's not far-fetched that Amazon promotes products of its own or the products that use Amazon's FBA service. This reassures them that the product will be delivered on time and with the stellar customer service they are famous for.
However, lately, Amazon has been assigning two Buy Box winners on some listings. Generally, one is an FBA offer and one is a Seller–Fulfilled offer.
Amazon is trying to be more flexible with their buying options, in order to offer the best solution for every buyer. If you are not a Prime member, for example, you might just want to purchase at the cheapest price. 
The Buy Box is turning Regional

 
Amazon renewed flexibility can also be found in its attempt to add physical location into the mix. If your inventory is in an Amazon Fulfillment Center near a buyer, you have a better chance to be in the Buy Box when he visits the product page, as cost and speed of delivery is greatly reduced thanks to proximity.
This means that seller who win the Buy Box might be different depending on each buyer's location.  
The Buy Box can be suppressed

 
Another common situation that seems to happen more and more during this Q4 2019 is the Suppressed Buy Box. If Amazon believes that all current offers are priced too high, it will simply disable the Buy Box and show all the offers under the button 'See All Buying Options'. This decision is not only based on Amazon's internal price ranges but also on other retailers' prices, for example, eBay, Walmart, Shopify. 
After you qualify for the Buy Box and meet all the criteria (most competitive sellers do). There's one more point to consider. How do you compete with those that have already made the cut? Despite already jumping over the hurdles placed by Amazon, you're still competing with a host of other sellers who can keep up with you in the race to the Buy Box. You wouldn't journey this far only to come out of this empty-handed. What you need is a tool that can help you maintain a competitive edge. What is it, you may ask? 
It may sound like it's just a game to see whose bottom line is lower, but you deserve a better solution to stay ahead of the competition while protecting your profit and that's why BQool developed an Amazon repricer with Amazon sellers in mind. It not only helps to develop your strategies but also allows you to deal with multiple pricing scenarios, such as Double Buy Box, Suppressed Buy Box and more. It also offers 5-min repricing speed, rules with a high level of customization, and an advanced Profit Calculator. You can sign up and try BQool Amazon repricer for a 14–day Free Trial.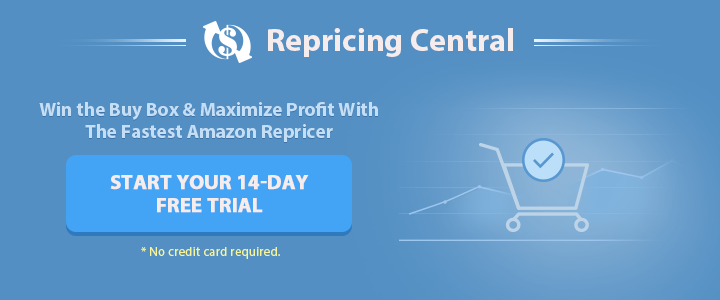 This blog post was originally published in Aug 2018 and was updated in December 2019 due to product updates or Amazon policy changes.