//php the_post_thumbnail( 'post-thumbnail' ); ?>

As an Amazon seller, have you found a way to successfully increase product exposure and boost your sales? Although there are many methods to achieve the same goal, Amazon Lightning Deal is still unarguably one of the most effective ways. This article delves into Lightning Deal and illustrates the requirements, benefits and how it works.
What is an Amazon Lightning Deal and what are the benefits?
An Amazon Lightning Deal is a time-limited promotion that works exclusivity for a selected listing. It allows the item to be featured on the Amazon Deals page for a short time, usually lasting 4- 6 hours. During this time, the deal provides shoppers with a massive discount and thus, draws shoppers' attention and boosts traffic to the promoted product page. This helps raising product and brand awareness for the Lightning Deal participants.  
In addition, Lightning Deal's 'Timer' feature creates a sense of urgency for shoppers and encourages them " Hurry up! You only have X hour y minutes left". Another complementary feature that is worth mentioning is the "Status Bar" which displays the percentage of the total inventory sold to maximize the effect of hunger marketing. Not only does it generate a scarcity but also implies the popularity of the product. These factors could stimulate consumers to make purchases and ultimately translate into higher sales. If you have an overstock FBA inventory, it would be an efficient way to reduce the number of slow-moving inventory. Moreover, Amazon claims that Lightning Deal can bring a "halo effect", which means that your sales can be boosted in a long run.
What are the Lightning Deal Requirements?
According to Amazon's policy, currently, only Professional Sellers, who pay a monthly fee, are eligible to run Lightning Deals. If you are an eligible seller and your products meet the criteria below, you should be able to view the criteria in Recommendations section of the Lightning Deals Dashboard.  
1. Products must be Prime eligible and can be either Fulfillment by Amazon (FBA) or Merchant-fulfilled Network (MFN) Prime
2. New condition only
3. At least a 3 star rating (products with no reviews are also permitted)
4. Discounts of 20% or more (the discount is off of the lowest site price in the past 30 days, and the Deal price must also be the lowest price in the past 90 days);
5. Enough quantity to last the duration of the Lightning Deal, which will run for a maximum of 6 hours;
6. Images that match the style guide;
7. Deals should include as many product variations (e.g. size, color, style, etc.) as possible. For some products, such as clothing and shoes, Amazon'll specify the predetermined minimum percentage of product variations when you create the deal.
8. Products that are offensive or otherwise inappropriate are not eligible. Examples of ineligible items include e-cigarettes, alcohol, adult products, medical devices, medicines, and baby formula. [1]
How to Create and Submit Lightning Deals?
If you want to submit Lightning Deals for Prime Day 2017, the application time started in early May and will end on May 21, 2017. Afterwards, Amazon will notify you whether your products are chosen as deals on Prime Day by May 24 2017. To create a deal, follow the steps below:
(1) After logging into your Seller Central account, go to Advertising tab and you can find Lightning Deals.
(2) If your products are eligible to join Amazon Lightning Deals, you would be able to see them in Recommendations. To see more product, click See all recommendations.
(3) Once you decide which items you want to join Lightning Deals, you can click Edit or Advanced Edit button. The first one allows you to edit your deal quantity, deal price, deal image, and deal schedule while the later leads you to Create a Lightning Deal page where you can edit additional parameters like product variations
(4) When the editing is done, simply click Submit to send your deals to Amazon. The submitted items will be reviewed by Amazon's algorithm.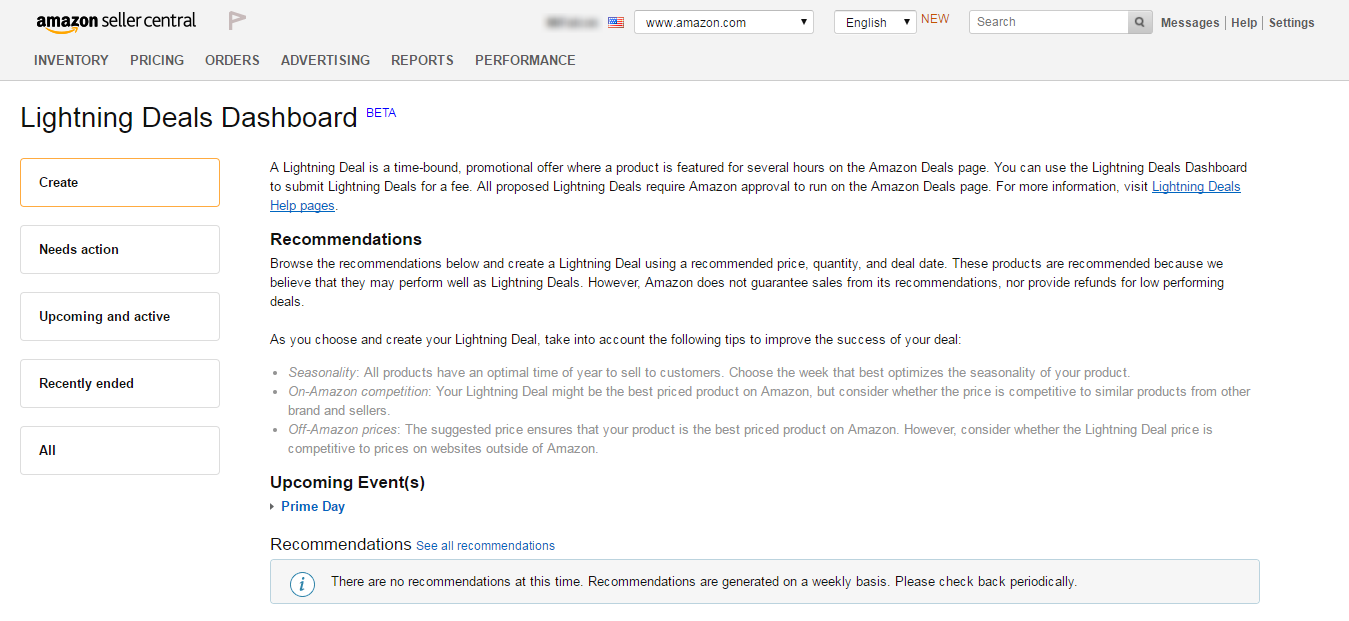 How to monitor your Lightning Deals?
After submitting your Lightning Deals, you can view their submission status on the Lightning Deals Dashboard. If your deal is Suppressed, it means that it's not eligible. However, Amazon allows you to make some adjustments on suppressed listings to meet Lightning Deal requirements. Sellers are able to find the reason of listing suppression by clicking the info button. If you have spotted a greyed out ASIN, this means the ASIN can only be removed from your deals.
Once your deal is approved and scheduled to be posted on Amazon, you will see the deal with an Approved status. In addition, if you want to cancel your deal, you can pull it down 24 hours before the deal goes live. However, Amazon suggests a Lightning Deal should be canceled at least 25 hours before its start time to avoid being blacklisted from future Lightning Deals. [2]
Amazon's Prime Day, one of the hottest selling occasions, will once again generate the biggest hype among Amazon community and the e-commerce markets this year. Follow the tips above and get well-prepared for this awesome event. Don't miss out the great opportunity to increase the discoverability of your store and skyrocket your sales!
Reference
[1]
Make your products eligible for Lightning Deals. https://sellercentral.amazon.com/gp/help/help.html/ref=ag_202111490_cont_202043110?ie=UTF8&itemID=202111490
Learn more about Amazon selling strategies:
Amazon SEO-Increases Keyword Search Terms to 1000 Characters
Utilizing Amazon Giveaway to Promote Your Private Label
Amazon Holiday Sales Strategies to Increase Revenues