//php the_post_thumbnail( 'post-thumbnail' ); ?>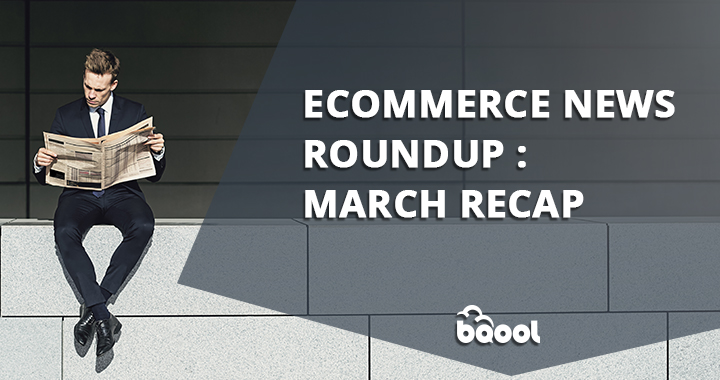 As the coronavirus continues to ravage many parts of the world, online sellers should be mindful of any updates in policy that have occurred on the ecommerce platforms they sell on and adapt to the ever changing ecommerce landscape.Check our March edition of Amazon news roundup to stay ahead of the game in this difficult time.
Amazon Fulfillment Service Lowers MCF Fees
Amazon announced that they are lowering Multi-Channel Fulfillment (MCF) fees for the merchants who sell outside of the Amazon marketplaces. The new rate takes effect on April 1, 2020.  Amazon reduces rates for expedited 2-day shipping (up to 30%, depending on size tier), reduces rates for standard shipping, and introduces new size tiers for standard and expedited shipping.
Priority next-day shipping rates will remain the same, and MCF will continue to offer discounted rates for multi-unit orders.
For complete details, visit 2020 US Multi-channel Fulfillment fee changes.
Changes to the Amazon Launchpad Program Terms 
On March 20, 2020, changes will be made to the Amazon Launchpad Program Terms including:
The eligibility requirement to apply will now include sellers who list their products on Amazon for less than three years and have generated less than $5 million in gross merchandise sales;

The minimum commitment term is now 12 months

Adding the following additional marketing assets license: "If you include any product or brand images on your own website or social media presence (for example, Facebook, Instagram, Twitter, and Pinterest) for products also sold on Amazon ("Product Images"), you agree to grant us a royalty-free, non-exclusive, worldwide right and license for the duration of your participation in LP, to collect or use any and all of the Product Images for LP services and sublicense any of the foregoing rights to third parties, Affiliates, and operators of Amazon Associated Properties, in connection with the LP program. Additionally, you represent and warrant that the Product Images are your original work, or you have obtained Product Images in a lawful manner and our sublicensees' exercise of rights under the license above will not violate any person's or entity's rights, including any copyright rights. We will comply with your removal requests as to specific uses of your Product Images."
Introducing customer reviews on the Amazon Seller app
If you're a seller enrolled in Amazon Brand Registry, you can now read, sort, filter, and respond to customer reviews of your products on the free Amazon Seller app. You can also report reviews that don't conform to Amazon's policies.
The customer reviews dashboard is available in the US marketplace. In addition to sellers, the dashboard can also be used by the agent, representative, or manufacturer of a brand.
If you don't have the app, download it for Android devices at Google Play or Tencent (for sellers based in China). For Apple devices, visit the App Store.
Amazon Sponsored Product Ads Are Rising in Price, New Report Says
Prices for Sponsored Product ads, Amazon's most popular ad product, are continuing to go up while prices of Sponsored Brand ads have been falling. The report from eMarketer contains the data provided by multiple marketing companies – reported 12% to 16% increases in the cost-per-click of Sponsored Product ads.
COVID-19: Removal order delays and long-term storage fee waiver
To ensure the capacity to receive, restock, and ship high-priority products like household staples and medical supplies, Amazon has temporarily paused removal operations in some of their fulfillment centers.
Sellers can continue to create removal orders, but there will be delays in completing the requests. Similarly, auto-removals will be delayed.
As a result, Amazon is waiving the April 15 long-term storage fees for inventory stored in the United States, United Kingdom, Germany, France, Italy, Spain, Poland, and the Czech Republic.
You can review the status of your removal orders here and find more information on this Help page. Please note Selling Partner Support does not have further guidance.
We know this is a change to your business and we did not make this decision lightly. We are working around the clock to increase capacity and appreciate your understanding as we temporarily prioritize household staples, medical supplies, and other high-demand products for customers.
Amazon suspends nearly 4,000 sellers over coronavirus price gouging
Not only face masks, hand sanitizers, and isopropyl alcohol, regular cleaning supplies, and household supplies are also twice to three times the price during the coronavirus pandemic.
Amazon has pulled well over half a million offers and suspended 4,000 selling accounts in the U.S. for violating its fair pricing policies. Sellers could even face prosecution if they exploit the coronavirus scare to hike prices. 
Amazon favored its listings for 'nonessential' items over independent sellers, even if others had faster delivery times…
Amazon's algorithm has been favoring nonessential items sold directly by Amazon — or sellers that store their products in Amazon's warehouses — over listings from third-party sellers that offer faster delivery options, according to a report from Recode.
Amazon has announced to temporarily limit shipment of non-essential items to warehouses and prioritize household staples, medical supplies, and other product categories in response to a surge in demand from the coronavirus outbreak until April 5. However, Recode's report says that there are options on Amazon for purchasing nonessential items with faster delivery times — like sporting goods, for instance — but such options are not featured in Amazon's "Buy Box". Instead, shoppers would have to click on a smaller box located lower on the product page that says "New and Used" to view all the other buying options
How coronavirus has changed Amazon deliveries: 'No signature is required'
Use your phone to knock on doors. Don't sneeze on the packages. Ask customers to set their identification on the ground and step away before you check it.
Amazon has provided its contract delivery drivers with detailed guidance for collecting and distributing packages while maintaining good hygiene and social distance to slow the spread of coronavirus. Many of the recommendations hew closely to those made by public health officials for weeks.
Get the latest eCommerce news and Amazon seller tips at blog.bqool.com. Subscribe for updates!