//php the_post_thumbnail( 'post-thumbnail' ); ?>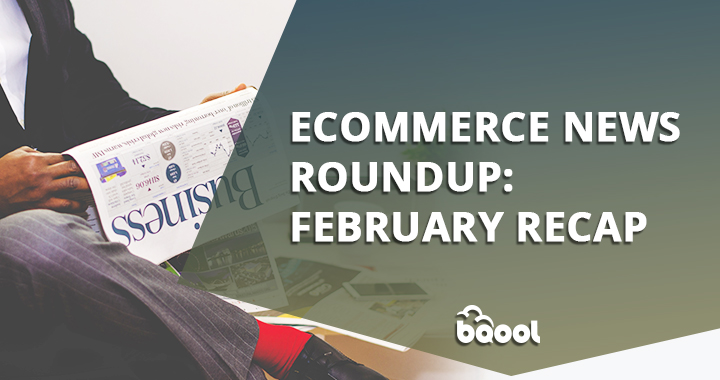 In case you haven't heard, BQool just launched AI Repricer to take your Amazon business to a whole new level. As always, we've put together a list of major Amazon news in February, let's catch up on the major updates from Amazon below.
New Payment Service Provider policy
Amazon launched the Payment Service Provider program to enhance the ability to protect customers and sellers from fraud and abuse. Sellers that choose to use a payment service provider (PSP) to receive their Amazon store sales proceeds will be required to use a PSP that is participating in this program. For further information, you can visit the Amazon Payment Service Provider Program FAQ page.
Upcoming changes in shipment confirmation
To improve the delivery experience of seller-fulfilled orders for customers, Amazon requires sellers to follow the changes to the shipment confirmation process:
Beginning

April 5, 2021

, you will be required to provide the carrier name (that is, the carrier-code field) when you confirm shipments via bulk feeds, APIs, or integrators. Some of the commonly used carrier names are USPS, UPS, and FedEx.

Beginning

May 3, 2021

, Amazon will validate tracking details (including carrier name and tracking ID) for all seller-fulfilled orders, and show warnings for invalid tracking details.
Here are several FAQs regarding to the shipment changes:
How do I enter the carrier name?


In order to provide the carrier name during shipment confirmation, do the following:

When using

Manage Orders

on Seller Central, select the carrier name from the drop-down list. If you don't see your carrier listed in the drop-down list, select 'Other' and input the carrier name in the text field. We will add more carriers over time.

When using bulk feeds or APIs, provide the carrier-code ('CarrierCode' for APIs) during shipment confirmation for each order. If you are using an unlisted carrier, set the carrier code as 'Other' and then provide the carrier name in the carrier-name field ('CarrierName' for APIs). To learn more about the carrier-code and carrier-name fields, see

here

.


Note:

If you are using an integrator, work with your integrator to ensure the carrier details are provided to us when confirming a shipment.

When using Buy Shipping, there is no action required. We automatically collect data on carriers and ship methods used through Buy Shipping.

What happens if I provide an incorrect tracking ID during shipment confirmation?


During the shipment confirmation process, you will receive a warning message "Please enter a valid tracking ID to confirm shipment." Once you have entered a valid tracking ID, you will be able to confirm your shipment.

Do I need to provide shipping service (or ship method) details during the shipment confirmation process?


Shipping service (or ship method) details are not required to confirm a shipment, but we highly recommend that you provide these details. This helps Amazon to provide accurate shipment tracking information to customers

.
Product images now available for A/B Tests with Manage Your Experiments
The Manage Your Experiments feature now includes A/B testing of product images. For the first time, sellers can test alternate versions of the main product image and see what images may drive higher conversion rates with customers. At no additional cost, sellers can use A/B tests to help optimize product images which can generate confidence with customers and help drive purchase decisions.
With Manage Your Experiments, you can run A/B experiments on three areas of your detail page: A+ Content, product titles, and images. Experiments are easy to start and the results are simple to understand, so you can be confident you are making the right choice for your products. It takes less than five minutes to create an image experiment with results shared weekly.
You can start an experiment in the Manage Your Experiments tool in Seller Central.
Action required for radio frequency device listings on Amazon.com
Starting in Q2 2021, to create new listings or update existing listings of radio frequency devices, sellers will need to fill in the FCC Radio Frequency Emission Compliance attribute. In the attribute, sellers must do one of the following:
Provide evidence of Federal Communications Commission (FCC) authorization by using either an FCC ID number or a Supplier's Declaration of Conformity.

Certify that the product is exempt from FCC equipment authorization requirements.
All radio frequency devices must comply with FCC regulations and all applicable state and local laws, including registration and labeling requirements. Amazon also requires you to provide accurate information about your products on the product detail page.
The FCC broadly classifies a radio frequency device as any electronic or electrical product that is capable of emitting radio frequency energy. According to the FCC, almost all electronic or electrical products are capable of emitting radio frequency energy. Examples of products that are regulated by the FCC as radio frequency devices include, but are not limited to, Wi-Fi devices, Bluetooth devices, radios, broadcast transmitters, signal boosters, and devices with cellular technology. FCC guidance on what is considered a radio frequency device can be found on the Equipment Authorization – RF Device page on the FCC website.
For more information, see Amazon's Radio Frequency Devices policy. 
Fee waivers to help you start selling in Singapore
To encourage sellers to start selling in Singapore, Amazon is waiving the Professional selling plan subscription fee (S$29.95/month) and promotional fees for all Deals and Coupons through June 2021.
For more information, you can watch this Facebook video from Amazon Southeast Asia Online Seller Summit 2021 (Singapore) held in January 2021, or visit the Sell Globally page on Seller Central.
Amazon Business sellers can now use Automate Pricing to manage their business prices
With the newly launched business pricing rules, Amazon Business sellers can now create rules that will automatically update their business prices and quantity discounts. Similar to existing price rules, you can control the prices by defining rule parameters, setting minimum and maximum price boundaries for single-unit business prices, and selecting the SKUs on which to automate pricing. For quantity discounts, the percentage discount you enter for each quantity tier will be used to determine the minimum price applicable for that specific quantity tier. 
For more information, see Create a business pricing rule, or visit the Automate Pricing tool to get started.
BQool launched AI Repricer to help sellers win and keep the Buy Box for greater sales & profits
BQool AI repricer intelligently adjusts pieces based on market condition and continuously improves the strategy to win the Buy Box. The repricing result has improved drastically and supports sellers to capture greater sales and profits.
To celebrate our AI Repricer launch, we have some special offers that let you save up to $160 off AI Repricer. To redeem the discount, you can get the coupon code here. 
Get the latest eCommerce news and Amazon seller tips at blog.bqool.com. Subscribe for updates!