//php the_post_thumbnail( 'post-thumbnail' ); ?>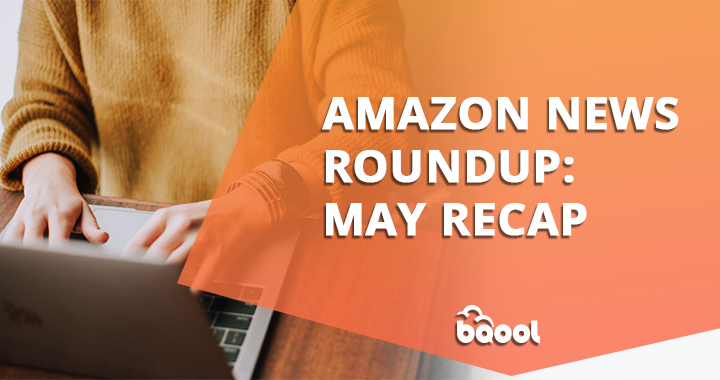 Get the latest and most updated Amazon news here in case you missed it.
Refund at First Scan (RFS) for seller-fulfilled returns
Amazon has introduced the Refund at First Scan (RFS) feature to all sellers who use the Prepaid Return Label program. Products returned through Amazon's Prepaid Return Label program will automatically be eligible for RFS. This mandatory feature is new for seller-fulfilled items and already required for sellers who use Fulfillment by Amazon.
With RFS, sellers will no longer need to rush to process a refund within the two business day SLA. Customers will receive a refund after the first carrier scan when they drop-off or ship back their return using an Amazon prepaid return label. Sellers will continue to be notified about refunds by Amazon notification emails for all refunds processed with RFS.
Amazon's return and refund policies will apply to refund amount calculations for RFS eligible orders. Refunds issued through RFS will be eligible for SAFE-T reimbursements if sellers received a damaged or materially different return due to customer fault.
Discover how Amazon Pay can help you grow your business
Amazon Pay is a digital payment service that businesses use to optimize their checkout experience for hundreds of millions of active Amazon customers globally.
Customers can check out through your branded, digital store using the billing and payment information stored in their Amazon account. They don't need to set up a new account or re-enter their credit card details.
Find out how you can launch Amazon Pay in one click.
VAT Services on Amazon: 6 months of free filings and fiscal representation for new members
VAT Services on Amazon is a VAT compliance solution that allows sellers to manage their European VAT registration and filing obligations through a third-party tax service provider that is available in seven countries:
UK

Germany

France

Italy

Spain

Poland

Czech Republic
From May 1, 2021, Amazon will provide the first 6 months of filing and fiscal representation for free in all the countries sellers subscribed in when they join. After the first 6 months, sellers will pay a monthly fee starting as low as €33.30/month (for filing in one country without fiscal representation).
Sellers can also obtain a UK and an EU EORI number from their tax service provider free of charge. The tax service provider will determine the appropriate country in the EU to apply for an EU EORI number.
IP Accelerator launched to secure a trademark in Canada
The Intellectual Property Accelerator (IP Accelerator) makes it easier and more cost effective for small and medium-sized businesses (SMBs) to obtain trademarks, protect their brands, and tackle infringing goods, both in Amazon stores and the broader marketplace.
IP Accelerator directly connects SMBs with a curated network of Canadian law firms and provides the following:
Reduced, pre-negotiated rates on key services

Access to expert legal and general IP advice that may otherwise be cost-prohibitive or hard to find
SMBs that use IP Accelerator also receive early access to Amazon's brand protection tools, such as Brand Registry, even before their trademark is officially registered.
Read more about IP Accelerator here.
HTML tags no longer available on your listings
After July 17, 2021, Amazon will stop supporting the use of HTML tags in the product description on product detail pages. If you use HTML tags in one line of a product description, the line might be removed or shown without HTML formatting, depending on the usage of the tag.
We suggest you update any product detail page for your listings with an HTML tag ahead of the date indicated above. You can use Seller Central or your usual channel for such updates.
Refrain from using HTML content on detail pages as outlined on the Product detail page rules Help page. 
Amazon Custom: New bulk listing tool available
We have released a new bulk listing tool that allows sellers to apply customizations to numerous ASINs at the same time through a self-generated excel template.
For more information, go to Enabling bulk customizations.
Sellers can use the bulk listing tool to:
Reduce listing and catalog management time

Create or edit SKUs/ASINs across all customization types (text, images, and options) and product surfaces

Export customization data and apply it to products with similar fonts, colors, and components

Edit and update your existing listings and add new custom products
The bulk listing tool for customizable products is available to registered Amazon Custom sellers. If you have a professional selling account, but have not joined the Amazon Custom program yet, you can register here without any additional fees to experience the new tool. 
Set faster default handling time for your seller fulfilled standard shipping orders
Beginning May 25, 2021, sellers can set a faster default handling time of 1 business day for products depending on operational capabilities.
Customers love faster deliveries and are more likely to purchase products that have faster estimated delivery times. Products with faster estimated delivery times are also more likely to be the featured offer on product detail pages. Previously, Amazon used a default handling time of 2 business days to set the estimated delivery times for sellers who fulfilled standard shipping orders. With this launch, sellers with professional selling plans can now choose a faster default handling time of 1 business day to provide faster estimated delivery times.
You can update the default handling time for your account on the Shipping settings page on Seller Central. Here are the steps:
Under

Settings

on Seller Central, click

Shipping Settings

.

On the

Shipping Settings

page, navigate to

General Shipping Settings

tab.

Scroll down to

Handling Time

and click

Edit

.

Select

1 Day

or

2 Days

and click

Save

.
Note: For new Sellers joining the program, the default handling time will be set to 1 business day and Sellers will have the option to change it to 2 business days.
Try FBA Liquidations and recover value from your products
FBA Liquidations is a new program that lets sellers recover value from excess and customer-returned inventory and avoid storage fees.
Amazon sends your inventory to wholesale liquidators, allowing you to recover typically 5% to 10% of an item's average selling price. The program offers an alternative to having your inventory disposed of or returned to you.
To liquidate your inventory, select Liquidations when you create a removal order from any inventory planning page.
Starting June 1, 2021, Amazon will charge FBA Liquidations fees, which will be incurred when shipments leave fulfillment centers. If you submit a liquidation order before June 1, these liquidation fees will apply if your inventory is shipped to a liquidator on or after that date.
For more information, go to FBA Liquidations and the program's terms and conditions.
Sellers to U.S. federal government agencies: Submit section 889 certification
If you sell or plan to sell to U.S. federal government agencies, we encourage you to complete the 889 certification in Seller Central. Submitting your 889 certification can help you reach buyers who are looking to purchase products from certified sellers only.
The U.S. federal government's Section 889 regulation aims to protect national security and intellectual property by limiting the government's access to certain equipment or services.
For instructions on how to upload a certification, go to Business Credentials & Certifications. 
Get the latest eCommerce news and Amazon seller tips at blog.bqool.com. Subscribe for updates!