//php the_post_thumbnail( 'post-thumbnail' ); ?>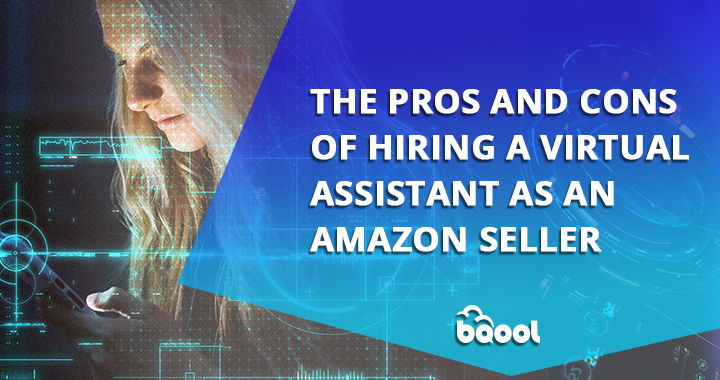 The term "virtual assistant" (VA) came about in the 1990s to describe an individual who provides remote support services to businesses of all sizes. Thanks to new technologies – including artificial intelligence and big data – software can perform many of the same tasks as a living, breathing human VA. Learning more about the pros and cons associated with utilizing a digital virtual assistant as an Amazon seller can help you make better decisions about your future.
Do You Need a Virtual Assistant?
No matter how big or small your business might be, a virtual assistant can make running your business much, much simpler. A VA can undoubtedly save you time, and according to at least one study, hiring a VA can save you as much as 78% on your annual operating costs. By utilizing a VA to perform certain tasks on your behalf, you can save a great deal of money on recruitment and training your employees to properly run your Amazon business. In fact, you may even eliminate the need for training altogether.
What Tasks do Virtual Assistants Perform?
In theory, virtual assistants can do anything traditional onsite support staff can do. Most provide a great deal of clerical services, but in today's high-tech world, they also lend their expertise to things like web design, digital marketing, and even content writing. You can find VAs who specialize in specific types of tasks, including marketing or public relations, and you can even find some VAs who specialize in a particular industry like real estate or medicine.
Some of the specific tasks a VA can perform include:
Bookkeeping – Keeping up with things like bills, accounts receivable, taxes, and more is time-consuming, so many people rely on a VA.
Data Entry – If you need to keep track of your customers' names, addresses, buying preferences, email addresses, and more, consider a VA to help with data entry tasks.
Reports – Running reports often take a great deal of time, and it can be frustrating for a business owner to spend hours each week compiling data into an easy-to-read format. VAs can do it in the background and save countless hours.
Email Management – If you spend too much time in your inbox, or if you find that managing your email marketing list has become difficult, a VA can take on this role and handle all the important things for you.
Booking and Scheduling – Whether you need to schedule an appointment for yourself, time a mass email perfectly, or ask your customers for feedback at just the right time, a virtual assistant can keep track of these things and make your life much simpler.
For the most part, a virtual assistant can help you perform any task that takes up too much of your time and effort. This allows you to spend more of your time researching new products, talking with your customers, and discovering new ways to grow your Amazon-based business.
What Is a Digital Virtual Assistant?
A digital virtual assistant is just that – software that performs the same tasks as a human VA. It provides you with a dashboard that centralizes everything important to you and your business and gives you countless options for delegating a wide variety of tasks. As an Amazon seller, you likely perform many of the same tasks day in and day out. Some of these include:
Managing messages from buyers. Customer queries can overwhelm you in a matter of hours, especially if you have multiple seller accounts, but a digital virtual assistant can make things simpler. It will centralize all your messages from every account and allow you to respond to your customers more efficiently.
Asking for reviews and feedback. One of the best ways to grow your Amazon business involves gathering feedback from your customers, and many sellers will send email reminders to their buyers in order to get that feedback. VA software automates this process and allows you to grow your brand's reputation with far less work.
Responding to questions. Per Amazon, if you can respond to a buyer's question about his or her order within 24 hours of submission, you are 50% less likely to get negative feedback. A virtual assistant can automate your responses when you are unavailable to respond on your own, and with such responsive customer service, you are sure to get better feedback.
Writing emails. Sending emails out to buyers to make them aware of sales and promotions can be time-consuming, but with a VA, it doesn't have to be. A digital VA provides you with email templates you can use for the most common scenarios, and you can even create your own templates – in numerous languages, too.
Getting to know your customers. One of the most important parts of running a successful business as an Amazon seller involves getting to know your customers. The ability to track their orders, their refund history, their feedback, and more can help you tailor your responses, emails, promotions, and more for specific people or groups. A virtual assistant can provide you an incredible overview of this data.
Are There Any Downsides to Using a Digital Virtual Assistant?
While the benefits associated with utilizing a digital VA are certainly wonderful, there are a few other things you should consider before making the leap. VA software truly can save you time and money, but it cannot compare with real physical collaboration with another person. What's more, whereas a human VA might specialize in Amazon selling, email marketing, or some other aspect of running an ecommerce-based business, software does not. It cannot offer you personal insight and suggestions based on what has worked (and what hasn't worked as well) in the past, and it cannot bring fresh ideas to the table like a living, breathing human being can.
If you would like to grow as an Amazon seller by saving yourself time and money, consider utilizing CRM software that can perform many of the same tasks you would otherwise delegate to a virtual assistant. Though there are a few logistical shortcomings, you will never have to worry about another individual having access to confidential information, you won't have to question the software VA's dedication and commitment to your business, and you won't have to learn its behavioral patterns or wonder whether the work you've delegated is actually getting done.
To get started with your own software-based virtual assistant, consider a 14-day free trial of BQool's BigCentral software. This amazing all-in-one Amazon solution tool provides you with the ability to improve your customer service, gain more positive feedback, and manage your business from one simple dashboard to save time and money.