//php the_post_thumbnail( 'post-thumbnail' ); ?>
Black Friday falls on November 23rd this year, many retailers have already revealed their Black Friday deals early to hype up the upcoming shopping frenzy in a hope to encourage potential buyers to spend more on holiday gifts throughout the season. Just three days ago, Amazon announced that they will offer free shipping on all US holiday orders. This is the very first time Amazon has provided free shipping for non-Prime members during the holiday. This big move has intensified the already competitive e-commerce landscape, with other rivals including Walmart and Best Buy.  However, consumers will be the big winners during this holiday season, taking advantage of free shipping offers to start their Christmas shopping sprees.
As an Amazon seller, while you are gearing up for this busiest shopping day after Thanksgiving, you will more than likely be overwhelmed by the increased number of orders and possible returns. Handling customer enquiries and managing feedback to maintain buyer confidence and satisfaction will no doubt take a huge chunk of your time. Don't allow your time to be consumed by requesting feedback and product reviews when Feedback Central can do it for you.
Let BQool's automated email manager streamline your after-sales process, while increasing your seller rating and retaining your customers!
Rejoice, Amazon sellers! BQool has some good news for you!
For a limited time only, we are now offering 10% off the price of our annual subscription for both new and existing BQool Feedback Central users. Be proactive in managing your online reputation by collecting feedback with ease.
If you are a NEW user, start your Feedback Central 30-day free trial and get 10% off your annual subscription by entering the coupon code YSFLEZ4W at checkout!
If you are an existing user who wishes to upgrade Feedback Central from a monthly plan to an annual plan, you can enjoy the 10% discount simply by entering the coupon code LVJASBEH at checkout!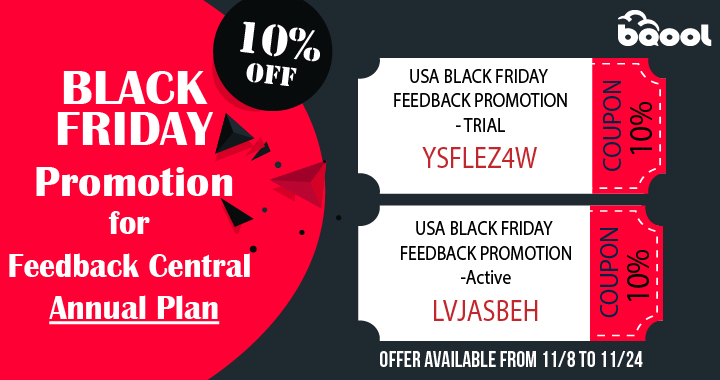 Our offer ends on November 24th, 2018. Redeem your voucher code today! If you have any questions or require any further information, please contact our support team at support@bqool.com Alternatively, please feel free to use our website's live chat feature – www.bqool.com
Don't let negative feedback mess with your jolly holiday! Get it now!