//php the_post_thumbnail( 'post-thumbnail' ); ?>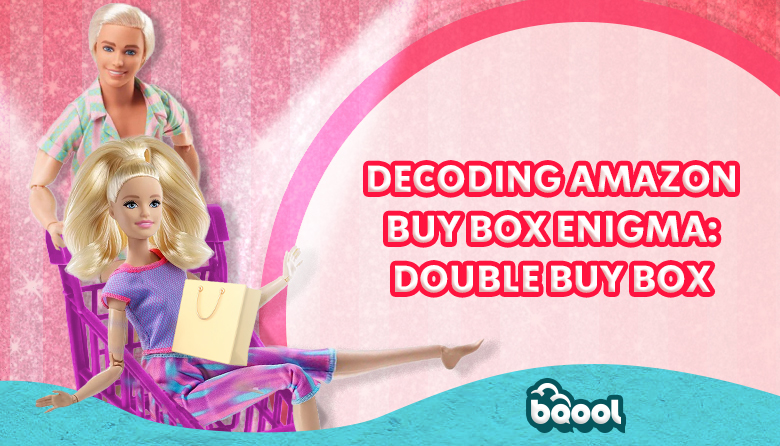 It is no secret that securing the Buy Box can be challenging because of the fierce competition on Amazon! But do not worry, sometimes Amazon shows two buy boxes on a listing and that will work IN YOUR FAVOR! To maximize your success, use a good Repricer to adjust your price that suits the market changes. Don't panic if you have two Buy Boxes and have no idea on how to capitalize your Repricer to respond to the situation, look no further – we now provide you with the best strategies to win the buy box at a higher price.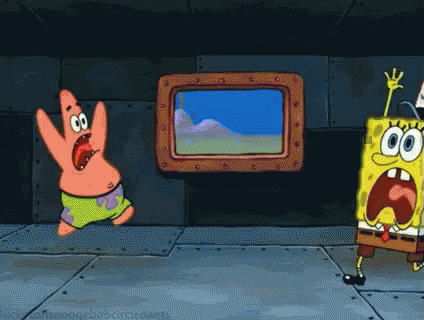 Before you jump into strategizing your repricing to try and take one of the 2 buy boxes, let us refresh your memory a bit on what buy box is.
Why Does the Buy Box Button Matter So Much?
As you know the Buy Box button is the holy grail of all Amazon Sellers. It is a great opportunity to stand out from competitors and make sales. However, it is important to remember that Amazon is not only looking at the price metric when it is about to attribute the buy box button, but it considers other metrics like the following ones:
Featured Merchant Status
Selling Price
Shipping Time
Customer Response Time
Feedback Rating/Count
Sales Volume
Order Defect Rate
Late Shipment Rate
Refund Rate
Seller Rating
Keep in mind that your Buy Box eligibility may be taken away if you fail to maintain a good account health rating. So, keeping a healthy account with good seller performance is crucial in getting the buy box.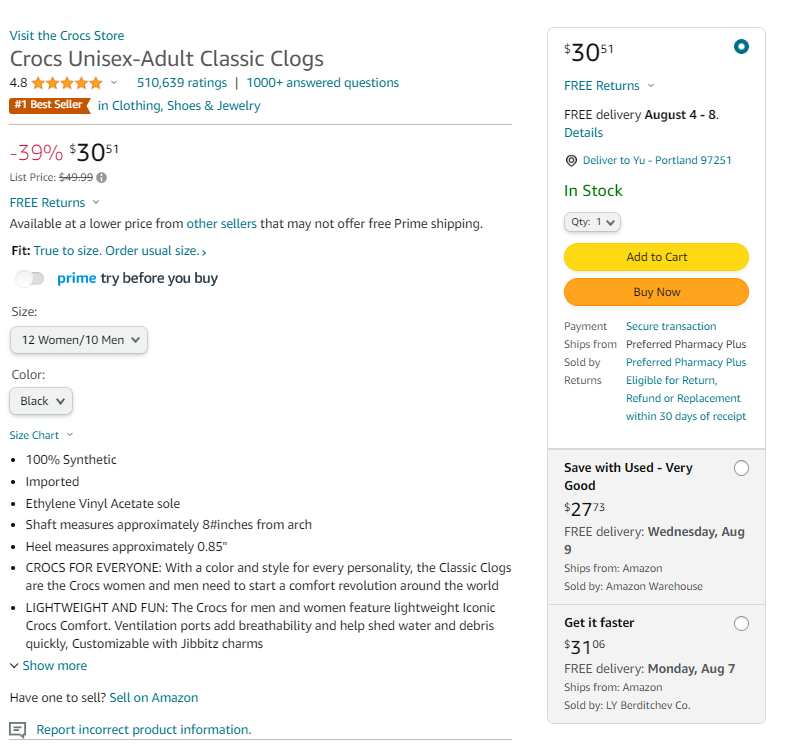 A Second Buy Box?
The first thing you need to do is to look at the competitor analysis in BQool Repricing Central, it will help you figure out the position of your offer among the competition.
Usually, you will only see 20 competing offers (BQool repricer uses the data from the Amazon report) then you can observe how competitive your offer is in comparison to your competitors' ones and which offer has the buy box. This overview will enable you to act and set up the right repricing strategy for your listings.
Step 1: Look at the Competitor Analysis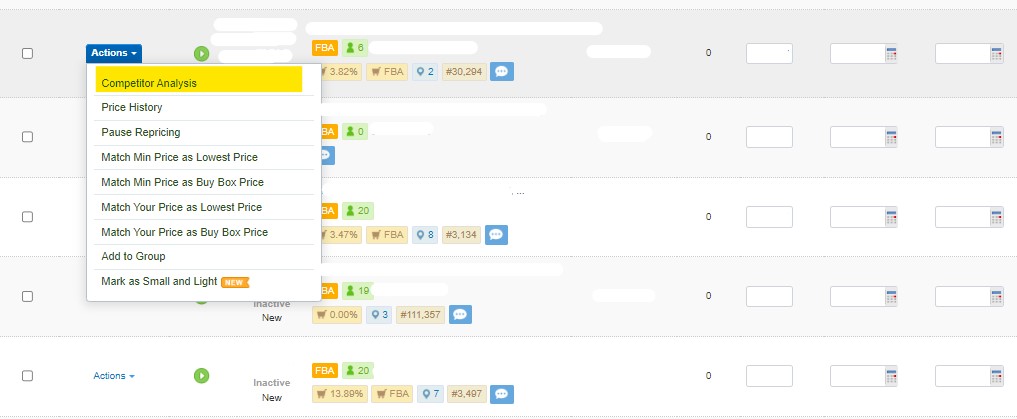 Step 2: Look at Where You are Among the Competition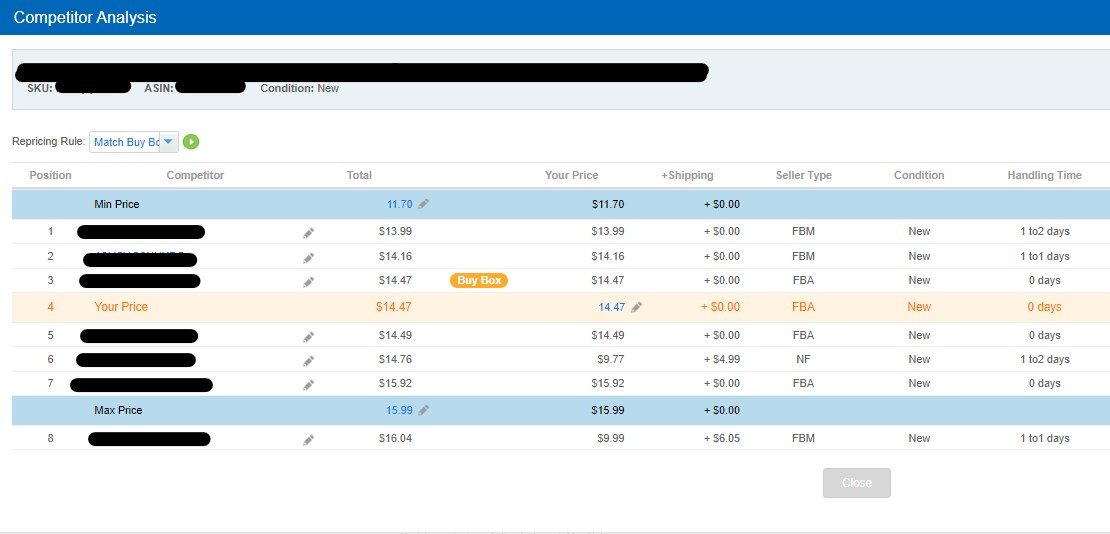 Why is There a Second Buy Box Button?!
Having a second Buy Box is meant to provide customers with multiple options when they shop on Amazon. As we mentioned in the first chapter of this Buy Box Series, Amazon is a customer centric company, that will always put customers first, and this is the reason, Amazon allows customers to compare different prices and vendors so that they can make the best purchase decision. Having Double Buy Boxes also allows sellers with different fulfillment to compete for two featured spots with equal opportunity and this often results in a winner in each FBA and FBM buy box. By providing customers with a marketplace in which sellers compete fiercely in sales and delivery price, Amazon can offer the best prices to its customers.
Which Repricing Strategy Can You Implement in Response to the Second Buy Box?
If you are trying to get the Buy Box on Amazon, you can think of it like being in an auction, the best offer for the customers will win the bid. With the introduction to the second Buy Box, there are three common scenarios and three different repricing strategies to tackle this.
A Buy Box Below Min Price and Second Buy Box Below Max Price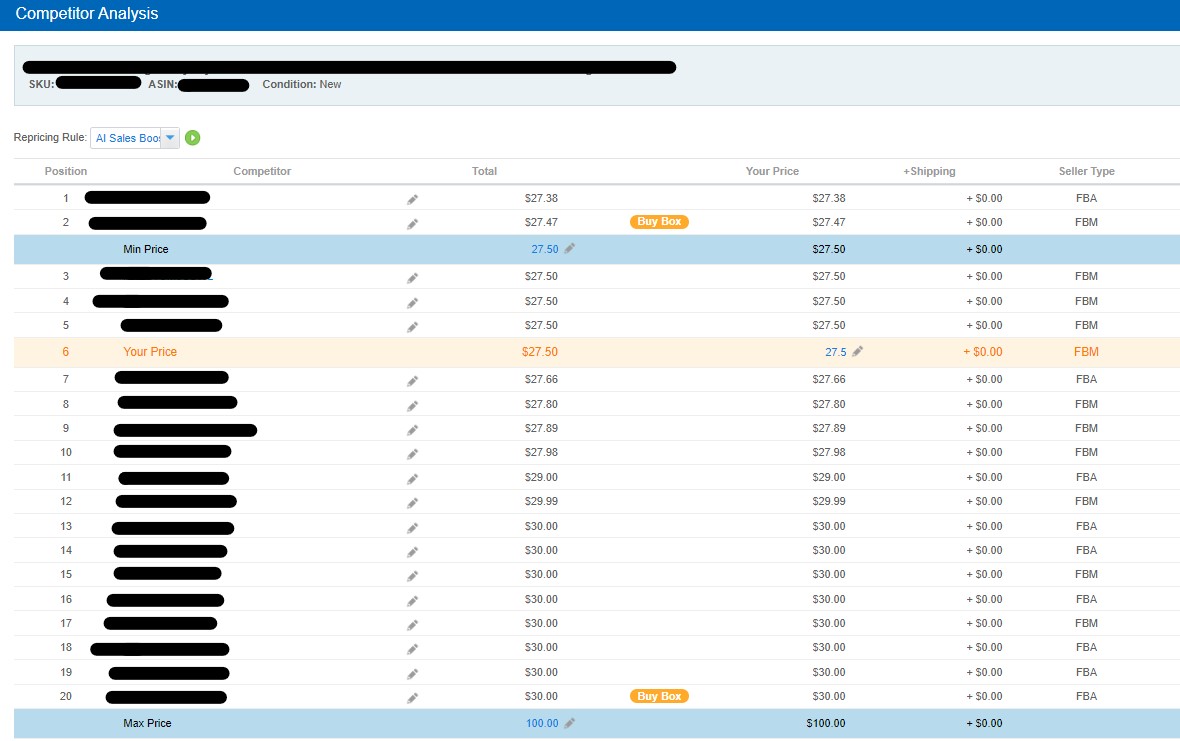 As you can see from the competitor analysis, there are two buy boxes for this listing, one FBA offer that is within the min and max and one FBM offer that is below the min price. The first thing you need to decide is who you will compete against.

This is an important step because the parameters you set up will have an impact on the next steps of the repricer configuration. Make sure to select compete with Buy Box Price. Then, depending on how you want to compete, you can choose your competitors.
Then you can set up the Repricer as follow:

The first Buy Box Price is below your Min Price, using the auto compete feature will automatically target the next buy box winner that is within your floor and ceiling price because BQool repricer will never reprice under the Min Price you have set.
If you wish to compete against FBM and FBA buy box differently, you can customize BQool repricer with advanced settings. For example, some sellers who wish to only match FBA buy box offer and raise price against FBM buy box would set the advanced settings to achieve as such.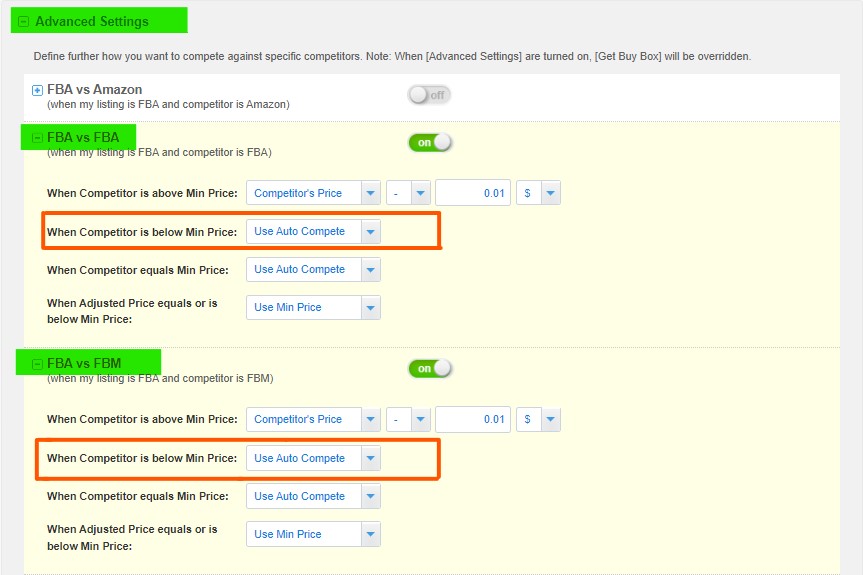 Double Buy Boxes Between Min and Max Price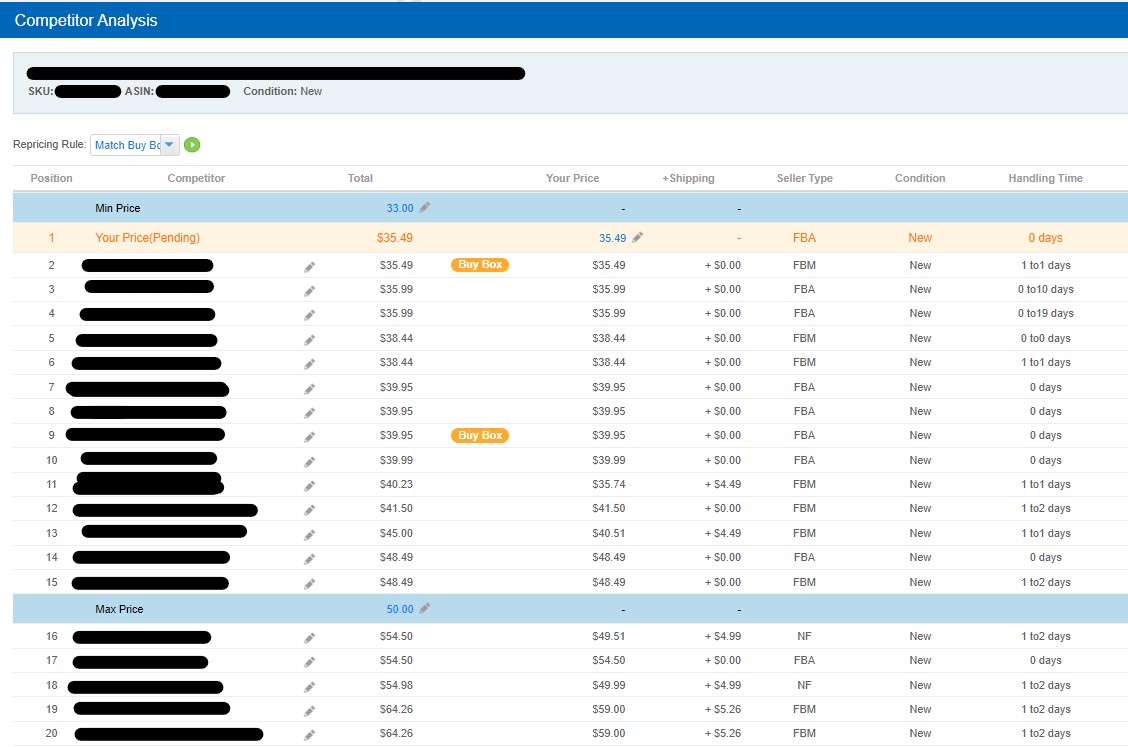 If a Buy Box winner is found between the Min & Max price, the repricer will apply "Buy Box Winner is above Min Price" setting, which is our example here, and it will compete against the Lowest Buy Box offer.

Double Buy Boxes Below Min Price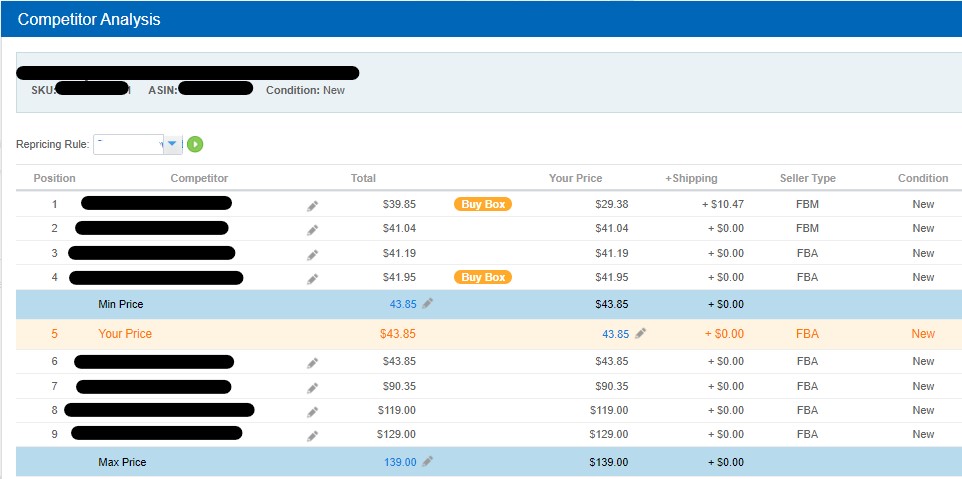 Since the two buy boxes are all below min price, the first setting "When Buy Box Winners found above Max Price" does not apply, it switches to the next following setting which is "When Buy Box Winners found below Min Price". In this scenario, the Repricer will not reprice according to the setting shown in the above screenshot.
What Should You Do When the Buy Box Price is Lower Than Your Min Price?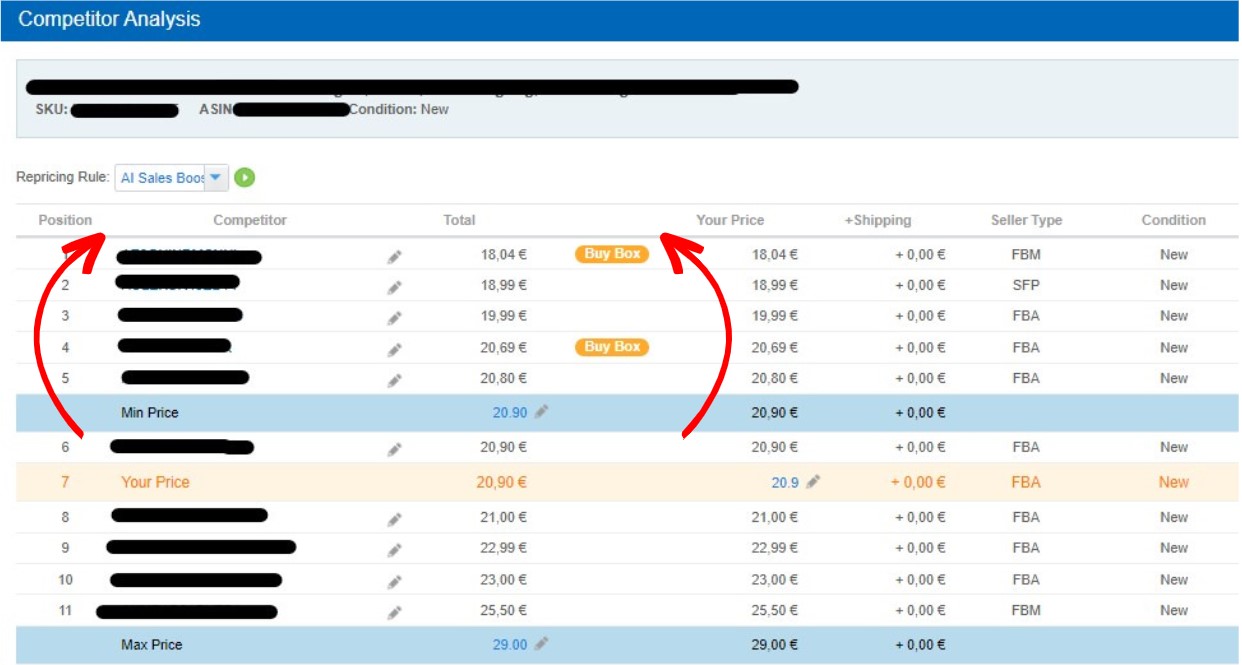 Sometimes you might want to drop your min price below the buy box price so that your repricer can compete more effectively. When a buy box that is sitting below your min price, it may lead to your listings sitting at the min too. When this happens, you can choose to readjust your min price manually or you can automate min price adjustment on BQool. First you want to spot the listings that are at min price with Listing at min price filter.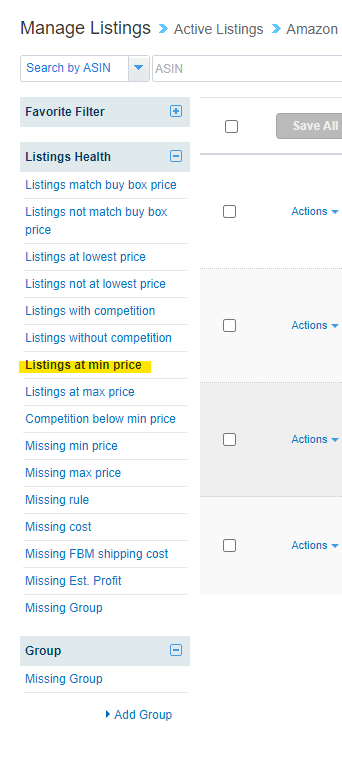 Thit will show you all the listings that are stuck at the min price.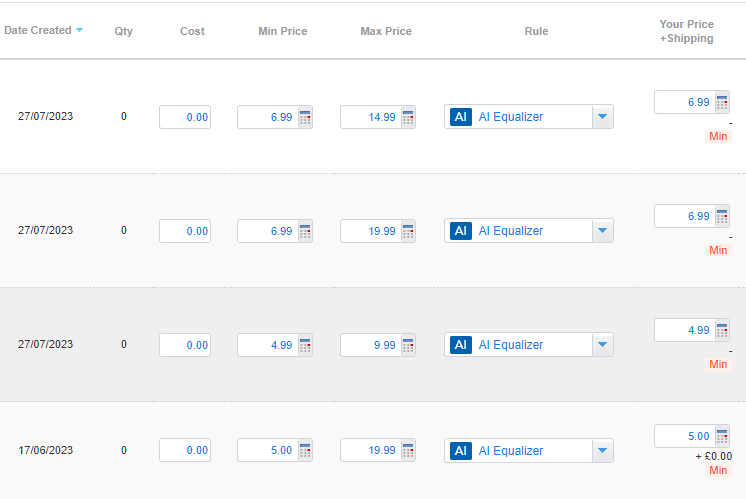 Then you can set up a conditional repricing strategy with "listing at the min price" condition and choose your desired number of days that your listings have been sitting at min.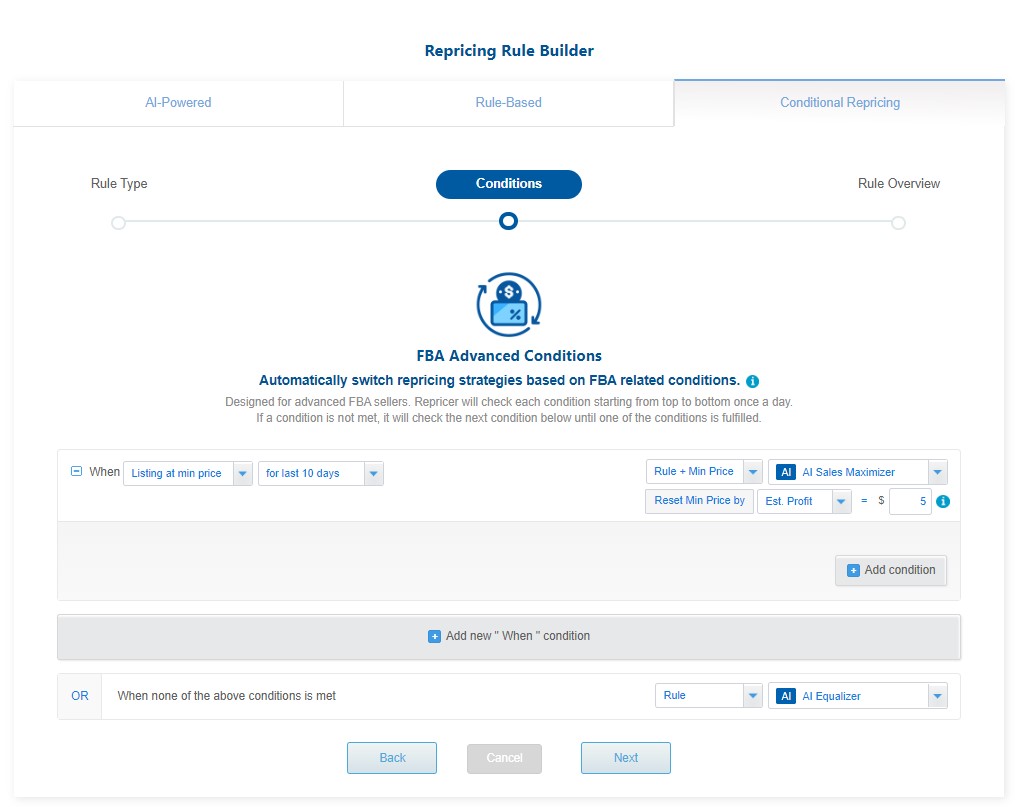 And then you can assign a value that you wish the min price to be reset to, based on ROI, Estimated Profit and Estimated Profit Margin.

Assign this newly created rules to your listings at min price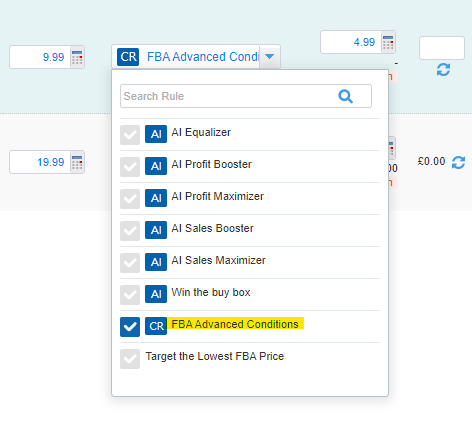 Amazon introduces the second buy box not only provides more options for buyers to buy from, but it also provides an opportunity for FBA sellers to be featured in the buy box even with a higher price. With a good understanding of how you can reprice when there are two buy box winners, you can maximize your chance to get the buy box and stand out among your competitors. The results will depend on the way you set up the repricer but also keep in mind the other metrics you can optimize to improve your odds for the buy box ownership.
Want to Read More about the Buy Box Button?