//php the_post_thumbnail( 'post-thumbnail' ); ?>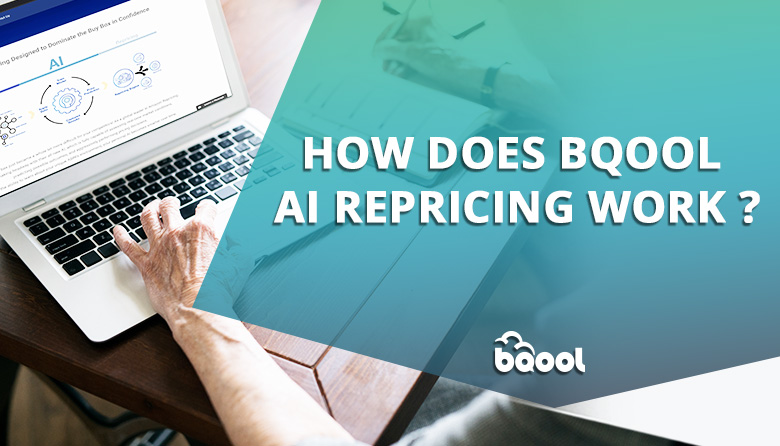 We have received a lot of positive feedback from our customers about AI Repricer since its launch this March. We also received many customer queries about how BQool AI Repricing works? In this article, we will explain the theory behind AI and machine learning and how BQool AI Repricer can improve your Amazon sales.
AI is the ability in machines that performs tasks simulated to human intelligence such as reasoning, learning, and problem-solving. The computer programs can automatically adapt and learn from data to make the best decision or prediction. Our previous blog post explained this topic in detail.
What Data Will You Feed Your Artificial Intelligence?
Like the way how people learn, we need certain information and constant training to develop a skill and accomplish a task. Similarly, the AI system accumulates data and recognizes the patterns and insights in the data through a machine learning algorithm, then making predictions based on that information.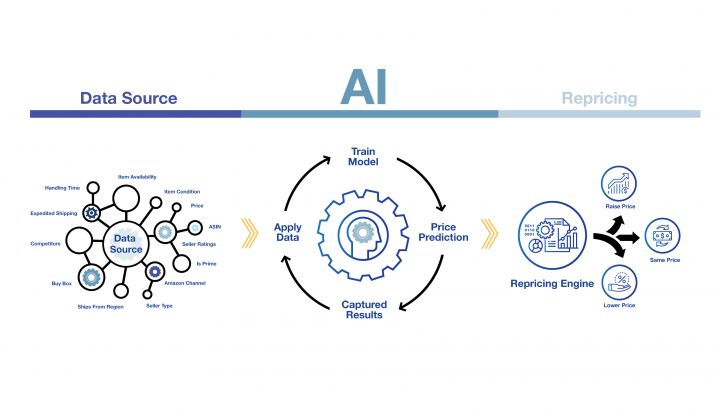 We applied machine learning to our repricer, feeding our AI system with data collected from Amazon. The data sources include item availability, item condition, price, ASIN, seller ratings, Prime status, Amazon channel, seller type, shipping location, Buy Box, competitors, expedited shipping, handling time, and any contributing factors that would impact the buy box %. The machine learning algorithm finds patterns in the training process based on the data provided and offers price predictions that can win the buy box. The algorithm will capture these results and input them into the training model to develop a more capable algorithm. The better the algorithm, the more accurate the decisions and predictions will become as it processes more data and successful outcomes.
5 AI Repricing Strategies for Winning the Buy Box
Our unique AI repricing strategies will focus on one thing – winning the Buy Box. You win the buy box a lot more, and you get more sales. The AI repricing strategies are designed at five repricing levels, and you can choose the desired repricing strategies depending on your competition and business needs.
If you face intense competition, the best approach is to reprice your product aggressively for winning the Buy Box quickly. As this aggressive repricing strategy aims to maximize sales at a competitive price, it's also appropriate to apply to liquidate your inventory. 
When the competition is acceptable, maybe around 10-15 sellers and your target customers are not very price sensitive. The moderate competition repricing strategy can help you earn higher per-unit profits than immediate sales. And it will incrementally raise your price to increase profit after winning the Buy Box.
When you're hoping for pricing incrementally or even aggressively to maximize profits per unit, you can apply the low competition repricing strategy to raise the Buy Box price. This strategy is a good fit for when you only have a small inventory or when your competitors fall off the listing.
The below table illustrates a summary of differences for each BQool AI Repricing Strategy that you can choose based on sales and profit ratings.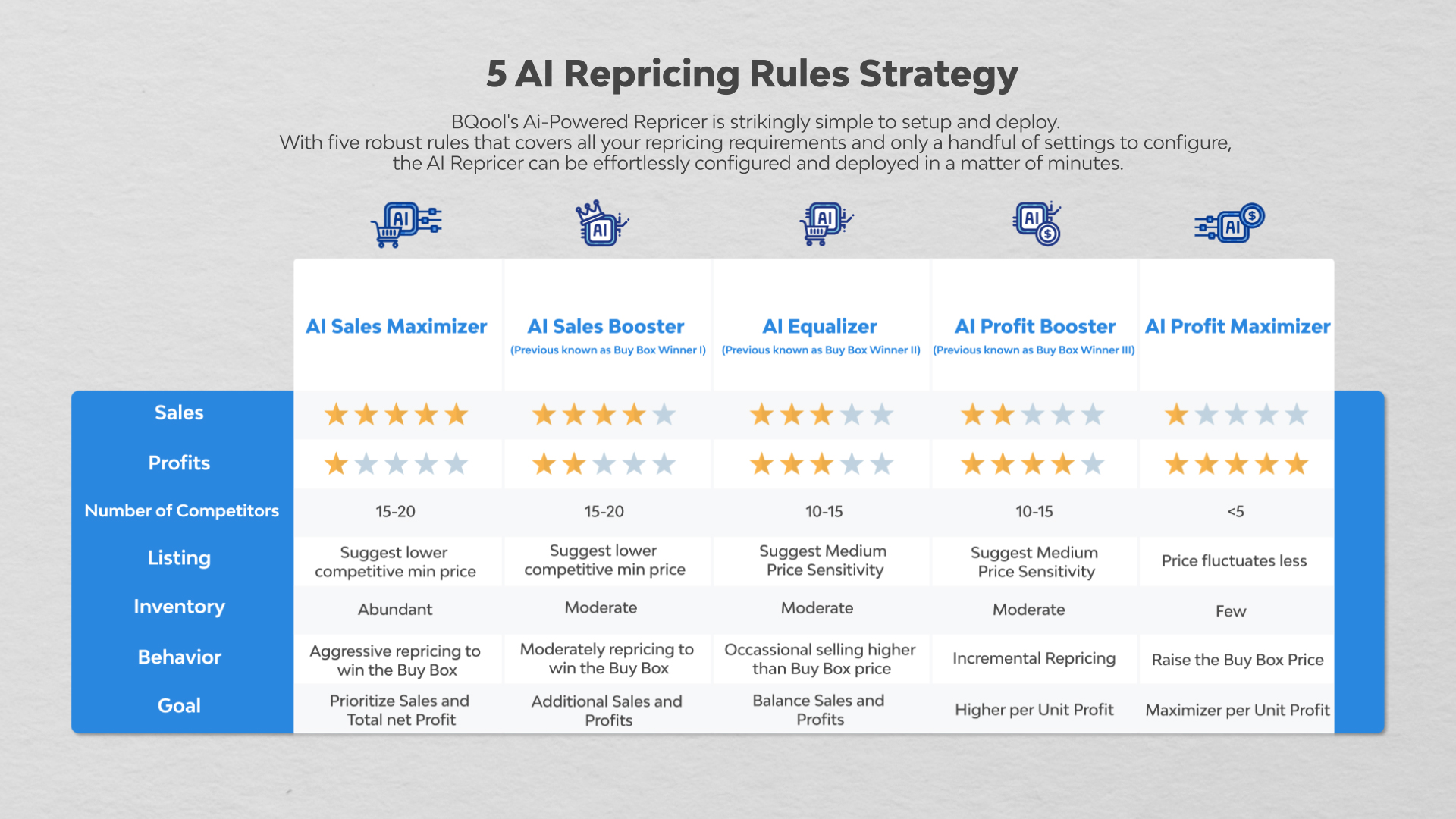 Winning More Amazon Buy Box 
When it comes to the best repricing strategy, it depends on your repricing goal. The competition on Amazon can be dynamic and unpredictable, this is why you need to have an AI repricer that can adapt to respond to unexpected price changes quickly and efficiently. BQool AI Amazon Repricer is an intelligent tool that can monitor and learn from your competitors and personalize a winning Buy Box strategy for each of your ASINs.
This blog post was originally published in March 2021 and was updated in April 2023 due to product updates or Amazon policy changes.
Top Article Recommendations related to Repricer 
🔗Our Predictions for Black Friday and Cyber Monday
🔗Conditional Repricer & Buy Box Conditions
🔗How to Maximize your Profit this Q4 with a Repricer?
🔗Conditional Repricer: Reprice on Sales Conditions
🔗Conditional Repricer : Reprice on Inventory Conditions