//php the_post_thumbnail( 'post-thumbnail' ); ?>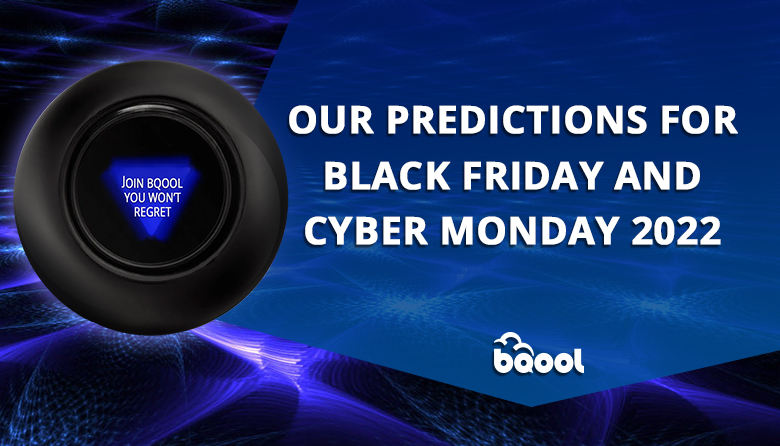 As you know 2022 has been impacted by inflation. Shoppers are more cautious about what they are going to buy this Q4, and they are waiting for special deals this Black Friday and Cyber Monday. Even though sellers like yourself may have to be extra generous this year with promotion and deals, you can still make a profit, especially if you have a good repricing strategy. We recommend that Amazon sellers should set up different strategies according to the product(s) you sell and reprice based on Sales and other conditions. In this article, we have prepared a list of bestselling products and repricing strategies you can set up this black Friday and Cyber Monday with BQool Conditional Repricer.
Just a Few Words about the Second Prime Day 2022
Second Prime day was held from October 11th until October 12th. This Second Prime day started the holiday shopping early but did not skyrocket the Amazon sales as it was expected. However, according to Amazon even if this shopping event did not generate many sales, it has enabled liquidating the products stocked into the Amazon warehouses and free up some space for new products.
This second Prime Day has not compromised your chance to make money this Black Friday and Cyber Monday!
Recommended Conditional Repricing Strategies You Can Set Up
In the advanced mode of Conditional Repricer, you can set up different combinations of sales conditions to activate suitable repricing rules so that each repricing strategy you set up will adapt to your products' needs and market changes.

Scenario 1 _ Reprice on the Available Quantity
For the first scenario, we have selected shapewear as an example and we have an available quantity of 100 pieces, but we do not want to deplete our stock and sacrifice our profit.
We decided to design a repricing strategy using the available quantity conditions and then we had set up 3 different AI rules:
When the available quantity is greater than 81 pieces, the Repricer will apply AI Sales Maximizer as rule.
Then when the available quantity is less than or equal to 80, the AI rule applied will be AI Sales Booster.
Finally, when the available quantity is less than or equal to 50 pieces, the repricing rule will be AI Equalizer.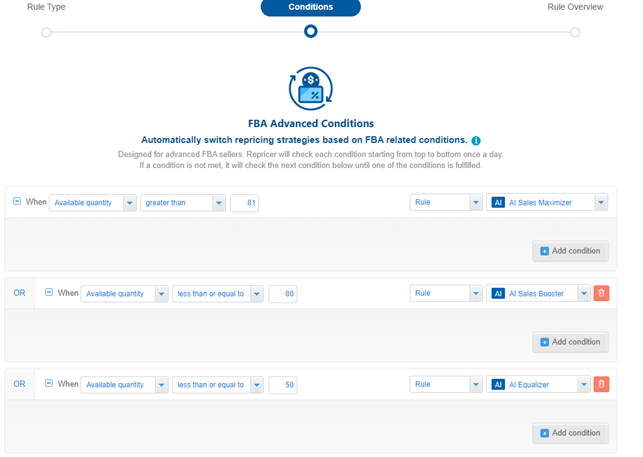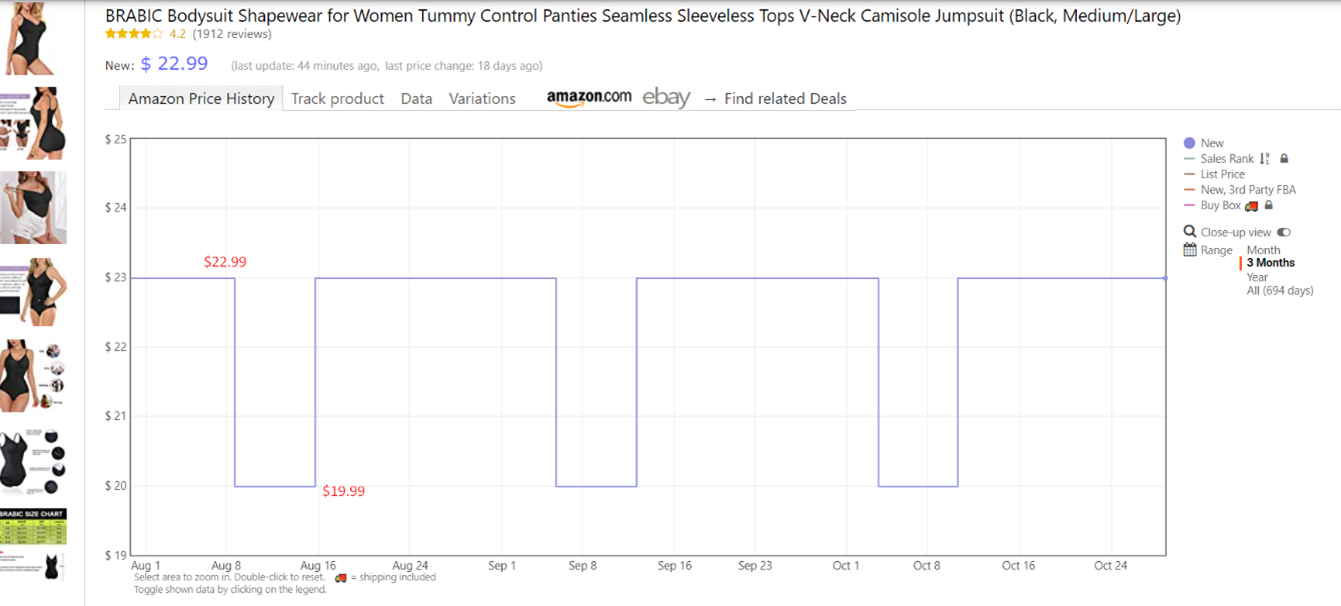 Scenario 2 _ Reprice on Unit Sold with a Fixed Price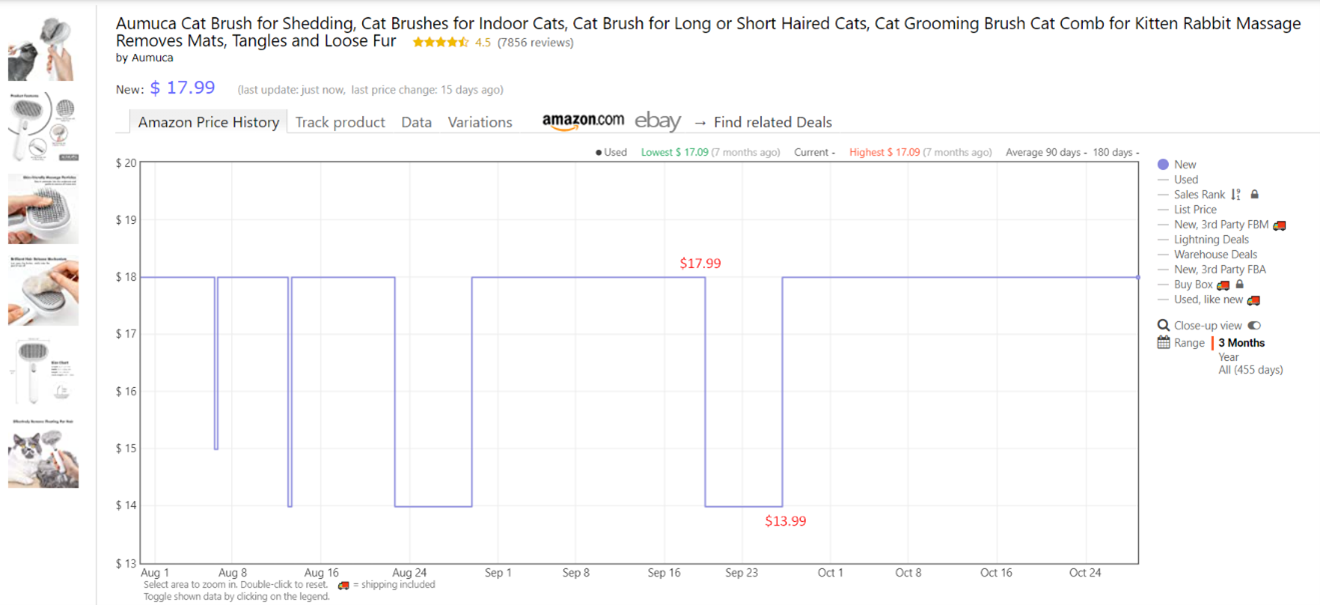 In this situation, we take the cat brush product, as you can see on the graph there's a major price fluctuation in August and September, from $13.99 to the maximum price of $17.99.
With the Conditional Repricer you can set up Unit Sold condition and choose a fixed price.
If you do not want to use the AI repricing rule, you can choose to configurate the fixed price, like the example below.
Unit sold the last 14 days + your fixed price $13.99.
If you look at the graph, you can see a price variation. The price has increased to 17.99 because the number of units sold in the last 14 days has been greater than 10 units. Then when the units sold have been lower than 9 units, the fixed price would be $13.99.
This repricing strategy reacts directly to your sales performance and enables you to secure your profit based on supply and demand.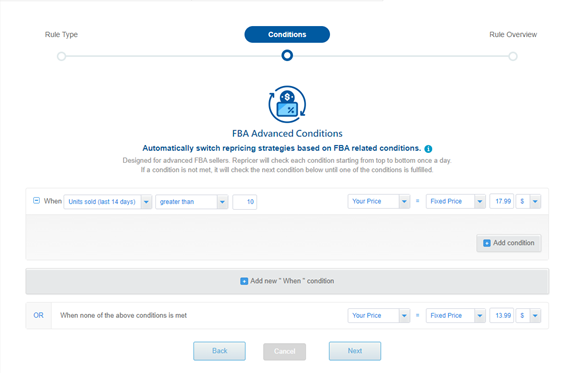 Scenario 3 _ Reprice on Sales Condition and Available Quantity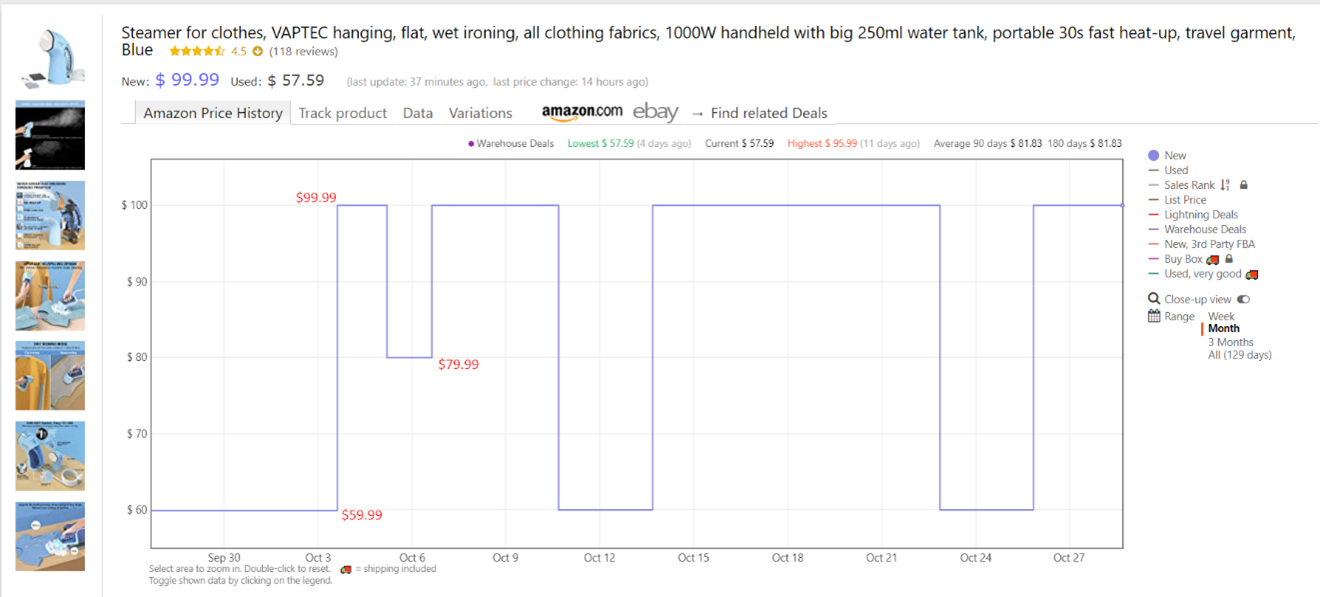 If you look at the graph you can see three different prices, the reason is because the repricing condition being based on the Sales Amount ($) that we have set up.
The product goes on sales for $59.99 for a period once every 10 days. Once the promotion ends, the price will return to normal and reprice with AI profit booster repricing rule if the past 7 days sales amount is more than $2000 which brings the price to $99.99.
However, if the sales over the last 7 days have been less than $1000, our offer will be repriced aggressively using AI sales booster to lower the price. In our chart the product was repriced to $79.99.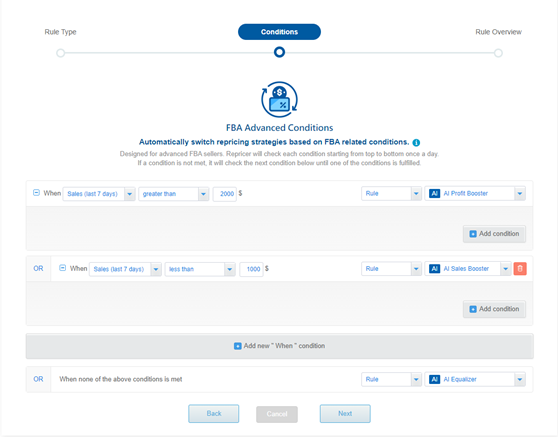 BigCentral Top Sales Product Research
If you run out of product ideas this Q4, you can still check BigCentral the product research tool to find what you can add to your listing.
BigCentral will indicate the latest product trends on Amazon, and it will show you the price, the rank, the number of sellers.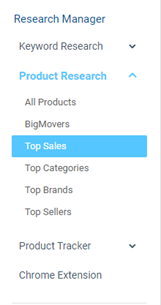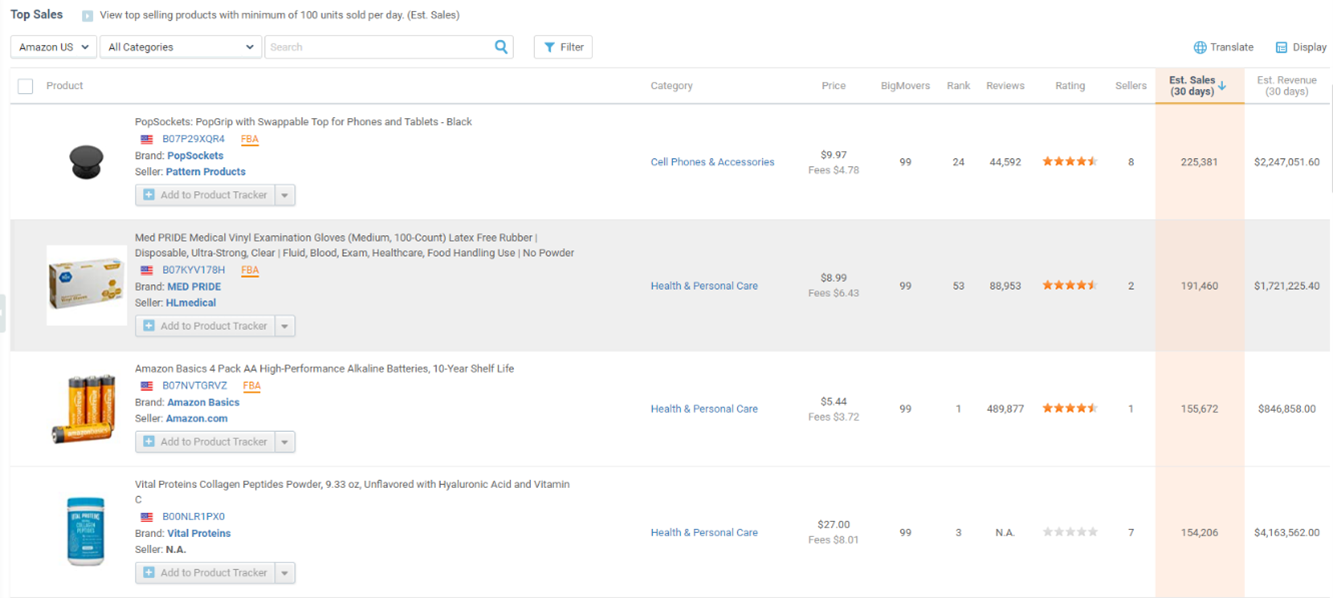 We recommend that you use our Conditional Repricer Advanced Mode to design unique repricing strategies to help you achieve more sales and profit this Q4. As we have demonstrated how conditional repricer can reprice each product in a unique way and are great examples of what conditional repricing rules are capable of. Last thing, we suggest you check out the couple of articles that we wrote about Conditional Repricer to have more tips and scenarios for running your business this Q4.