//php the_post_thumbnail( 'post-thumbnail' ); ?>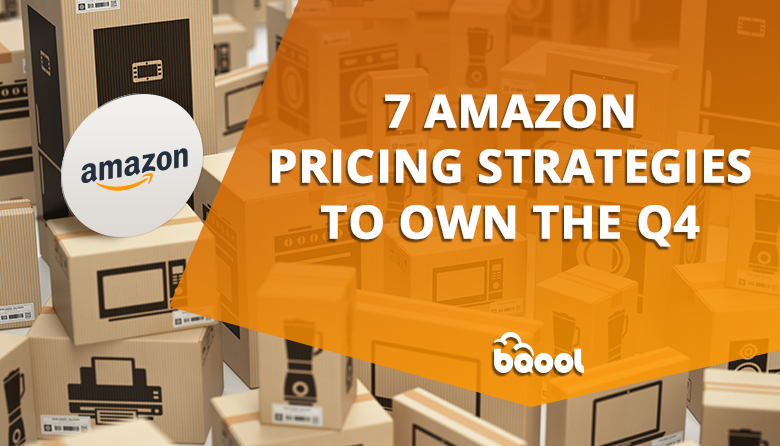 Q4 is no doubt the most important season for Amazon sellers and it usually brings at least a 30% increase in sales over the previous period but it also means that the competition for the Buy Box is fiercer than ever. Pursuing aggressive pricing strategies will prevent you from getting the most out of a very profitable time that includes Black Friday, Cyber Monday, and Christmas.
We have put together a list of tips that you can follow to make sure your pricing strategies are always on point. 
#1 – 

Ignore "Amazon Selling Coach"

 
Basically, Amazon Selling Coach is an automated trainer. As Amazon itself describes it, "Amazon Selling Coach offers personalized recommendations to help you increase your success on Amazon. " 
The suggestions range from inventory management tips to listings optimization. 
In theory, it is a smart tool that uses a complex algorithm to collect data and provide useful tips. Unfortunately, when it comes to pricing suggestions, it leaves a lot to be desired.
Many sellers noticed that the integrated "guru" often believes your price is not competitive enough and suggests lowering it, even below the current Buy Box or below FBM sellers. This is obviously leading to a race to the bottom and it will eventually take all your profit away. 
Instead, it is better to completely ignore the Selling Coach's suggestions and use other methods to reprice. You can manually check the listings and follow the Buy Box price, or you can use an automated repricer. 
#2 – Beware of untrustworthy repricers 
A repricer is a tool that automatically lowers or raises your prices, depending on the existing competition. 
More advanced repricers, like BQool's Repricing Central, can really make a difference and quickly increase your sales. But not all tools in the market might be trustworthy. 
First, make sure that the company behind the tool is well-established in the community and officially authorized by Amazon. You can search for the tool in the Official Amazon Marketplace Appstore or the AWS Partner Solutions Finder. 
Additionally, beware of tools that promise new revolutionary features but conveniently never seem to release them. No one wants to deal with vaporware, after all. 
#3 – Buy Box rotation is better than low profit 
Once you have chosen your repricer, it is important to have multiple Amazon pricing strategies in mind. As mentioned earlier, lowering your price too much leads to a race to the bottom. You are raising your chances to stay in the Buy Box, but at the same time, you are losing a big chunk of your profit. 
Instead of trying to win the competition at the expense of profit, it is advisable to match your price with other FBA offers in order to trigger a Buy Box rotation. 
When Amazon's algorithm believes that multiple offers are worthy of being in the Buy Box, it will periodically rotate which seller stays in the Buy Box, so that everyone will have the chance to sell.
Just set your repricer to match the Buy Box price instead of undercutting and grab your well-deserved piece of the pie. 
#4 – Beware of the Double Buy Box 
Recently, Amazon has increased cases where they assign two Buy Box winners on a listing at the same time. Generally, one is an FBA offer and one is a Seller Fulfilled offer. 
Probably, the idea behind this decision is for Amazon to be more flexible with their buying options, in order to offer the best solution for every buyer. If you are not a Prime member, for example, you might want to just save some money and purchase from the cheapest price. 
What does this mean for sellers? Well, having two Buy Boxes means that the chances of being in the Buy Box are increased.
Unfortunately, most of the third-party tools on the market are not ready to react to this new phenomenon, especially when dealing with repricing. So, make sure to use a repricer that offers multiple options to cover all the scenarios that might occur while experiencing a double Buy Box. 
BQool, for example, just released a new update that adds settings for multiple Buy Boxes. 
#5 – Handle the Suppressed Buy Box correctly 
Sometimes there are two Buy Boxes… and sometimes there is none. 
If the Buy Box is suppressed, it means that Amazon believes current offers are priced too high to win the Buy Box. 
Since the Buy Box is up for grabs if you price your item a bit lower, one of the best pricing strategies is to periodically try to lower your price until it's won. 
You can configure your repricer to lower your price by a penny or two until the Buy Box is assigned again based on your pricing strategies. If it's assigned to you, bingo! If it's assigned to another more aggressive seller, then your repricer will be able to compete with the Buy Box again.  
#6 – Avoid Potential High Pricing Error 
Amazon has an internal algorithm that periodically checks items that may have been incorrectly priced, and it will eventually disable the listing with potential pricing error to prevent merchants from selling for a loss. 
It is obviously very useful to have a "safety net" in place to prevent a big disaster to happen, but at the same time, this measure can quickly turn your Seller Central into a delisted item galore. 
To make sure your items will not be deactivated, it is important to follow these two steps: 
Set Max prices 

for your items 

in your 

repricer

 that are reasonable. Instead of 

assigning the max price with a high value,

 try to calculate the Max price 

that would feasibly give you the highest yield. 

For example, you can use an ROI of 500% or less.

 

 Amazon allows you to set Min and Max prices in Seller Central and it usually 

checks 

those values to decide if the prices 

of your items 

are too high or too low. 

If you are setting a min and max prices of an item on a 

repricer

. You need to m

ake sure that the 

min and max 

values

 on the repricer would not exceed the values you have given on Seller Central

.

 
Lastly, it is a common belief that Amazon may deactivate a listing if it finds out that the listing item is sold at a lower price on other e-commerce platforms, such as eBay, Walmart or Shopify. It doesn't sound fair, but we are playing their own game, after all. 
#7 – Get into wholesale 
Arbitrage is the perfect entrance to the Amazon world. You don't need too many resources to start and finding the right products can give you that initial boost in sales we've all experienced. 
But selling on Amazon with an arbitrage model also means that you must deal with the fierce competition. 
If you wish to scale your business to increase your profits while minimizing the effort spent on fighting a price war, you should enter the world of wholesale. 
Amazon wholesale is the selling model where you are an official reseller who purchase directly from manufacturers or official distributors. 
The prices will be more stable, the competition is less fierce, and some brands are even forcing a MAP price to prevent the devaluation of their products. 
 No matter if you are dealing with arbitrage or wholesale, the perfect automated repricer will make a difference for your pricing strategies. BQool Repricing Central is an officially recognized Amazon repricer that offers several advanced features that can help you deal with multiple pricing scenarios, such as Double Buy Box, Suppressed Buy Box and more. It also offers 5-min repricing speed, rules with a high level of customization, and an advanced Profit Calculator. You can sign up and try BQool Amazon repricer for a 14–day Free Trial.