//php the_post_thumbnail( 'post-thumbnail' ); ?>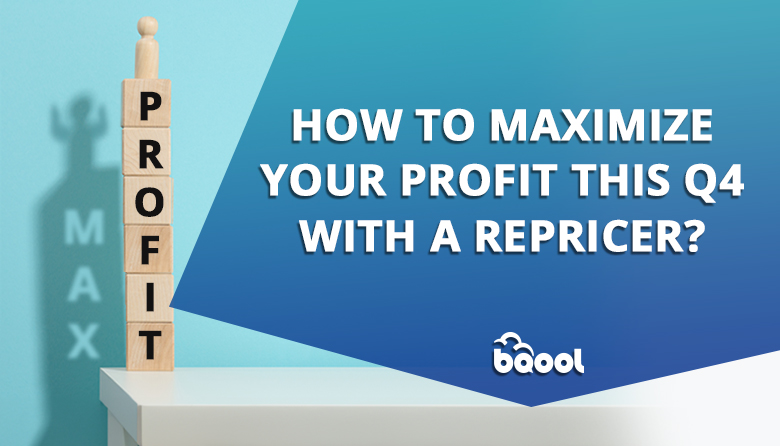 We know Q4 is a good opportunity to sell seasonal products to maximize your profit. Maybe right now you struggle to clear out your old inventory and make room to stock new products for the last big sales events of the year. If so, you can use Conditional Repricer to help you get rid of your stagnant inventory and slow-moving products.
Bad inventory management could have dramatic consequences on your business and hurt your profit if you are a FBA seller. Do not let that happen, especially this year with the inflation (every cent count) you do not want to lose money and pay extra storage fees this Q4.
Now we hope, you probably have started to source seasonal products (check out this article if you need inspiration to source seasonal products for this Q4) so let's solve your stagnant inventory and clear out your slow-moving products to get your business ready for the shopping season.
In this article we will explain to you the advantages of using Conditional Repricer advanced Condition to automatically adjust the prices of your products based on inventory, sales, or your listing price.
The Benefits of Using Conditional Repricer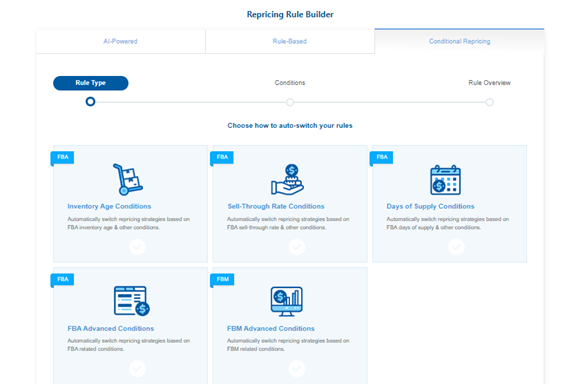 No matter if you are a FBA or a FBM seller, you want to improve your sales performance this Q4, BQool Conditional Repricer can help you. Here are the main benefits of using Conditional Repricer for your Amazon Business:
📌First, the most important thing about Conditional Repricer is that it can auto switch between the different repricing rules and select the best repricing strategy for your listings.
📌 Conditional Repricer can automatically adjust prices based on your sales velocity. So, if your sales are increasing, BQool can raise prices, if your sales are declining, BQool can drop prices. The dynamic auto price adjustment can help you increase sales or profit based on your sales performance.
📌 Conditional Repricer can help you liquidate your old and stagnant inventory based on inventory related conditions and improve your Amazon Inventory Performance Index (IPI) score.
📌It can increase the buy box win percentage and prolong your buy box possession. Our Repricer can trigger a more aggressive rule to help you get the buy box when needed.
Conditional Repricer Advanced Mode for FBA & FBM Sellers
Both FBA & FBM advanced condition strategies provide flexible customization when you are creating your own conditional repricing rules. We recommend you try advanced conditions when you are familiar with the preconfigured rules such as Inventory Ages, Sell-Through Rate, or Day of Supply.
In the previous articles that we wrote about Conditional Repricer, we mentioned the different situations where you can use Conditional Repricer with preconfigured rules. (conditional repricer: reprice on sales conditions & conditional repricer: reprice on inventory conditions)
Now, we want to show you how the FBA & FBM advanced conditions can be a game-changer for your business.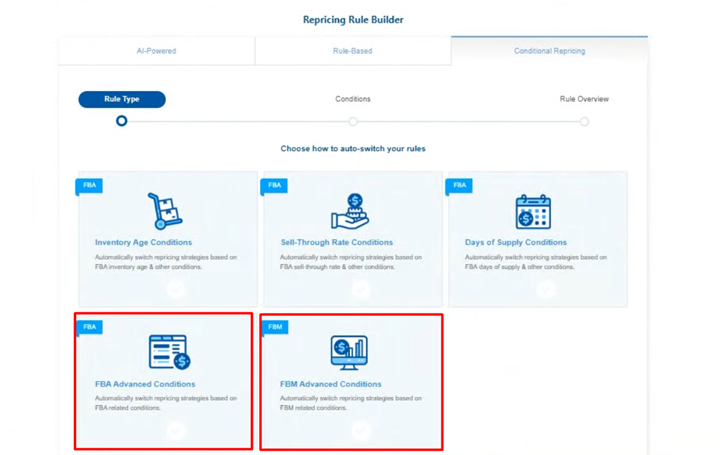 Conditional Repricer advanced conditional strategy has 4 general types of conditions that will focus on different metrics according to your goals:
The first type is pricing that focuses on your listing price.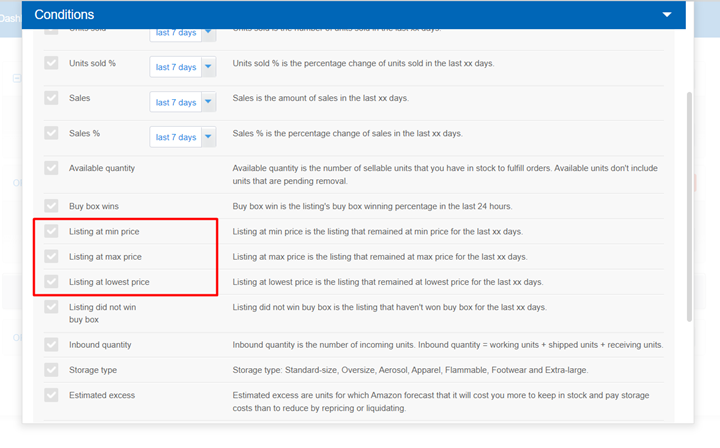 The second is the sales conditions that will focus on your sales performance.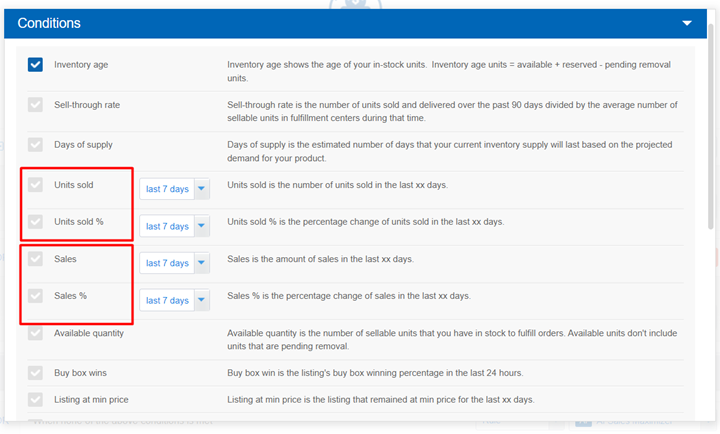 The third one is inventory conditions that will focus on your inventory level or age. These conditions are useful for your stagnant, slow-moving inventory or if your inventory volume has a propensity to fluctuate violently.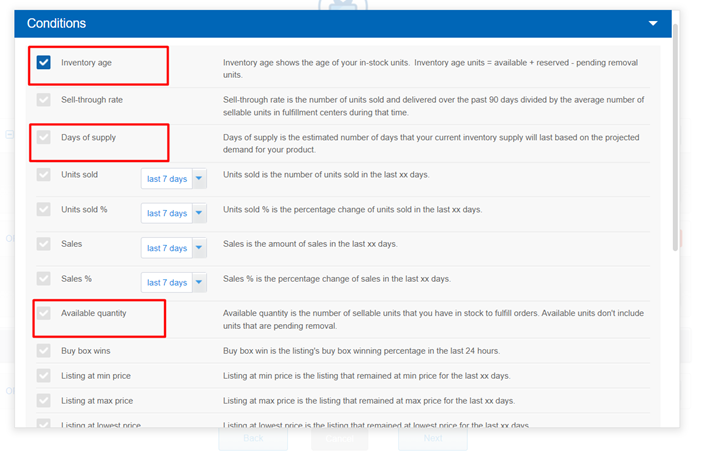 The fourth type of conditions emphasizes the buy box status.
Conditional Repricer is designed to adapt itself to market changes so it will always find the applicable condition that you set and reprice accordingly. For beginners, we recommend you set up just one or two conditions at first and work your way up to more conditions that can cover more scenarios for BQool repricer to react to. There is also no "one size fits all" conditional rule for your listings in a dynamic marketplace like Amazon.
The Conditional Repricer has a default rule that will fall back on if all the conditions you set have not matched with the existing scenario.
Capitalize on Low Stock 
Low stock that leads to out of stock for FBA sellers could damage your IPI score, and this is not a situation you want to be in as this may limit the number of units you can send to the FBA warehouse.
To prevent this from happening too quickly before you finish prepping the next batch sent to the warehouse to replenish your stock, you can price up your offer when your stock is low. It would slow down your sales for sure, but it will increase your profit and avoid the risk of being out-of-stock.
We recommend you use Conditional Repricer advanced conditions and set the repricer to react to your inventory volume. In this case, you can set the repricer to switch up your profit driven repricing strategy to increase your offer price to increase your profit margin when the sales are good or when your inventory level is bottoming out. This would be your best asset to help your business capitalize on fast seller products and maximize your profit on low stock items.
IPI score is a good indicator of how well your business is performing, so we would suggest you keep a keen eye on your metrics but even if you can't get the best score, it will not mean that your business is not profitable. Instead, you should always try to get your products moving and avoid slow moving inventory and try to be more flexible on your product pricing. So long you do not run out of bestselling products, and other slower selling products do not hurt your inventory performance, your business will still sail smoothly.
Examples:
As a seller when you have a low stock situation, your immediate reaction could be to restock and raise your price for that close to out-of-stock product. BQool conditional repricer can do this automatically and here is how it works.
Scenario 1_Repricing on the Available Quantity
If you wish to reprice based on available quantity, you want to set your conditional repricing strategy exclusively with the available quantity condition. You can configurate multiple tiers of available quantity to trigger different repricing rules for your conditional strategy, you should still stick to just available quantity as the exclusive condition. This is easier for you to expect the repricing outcome that would match your goal. Check the screenshot below.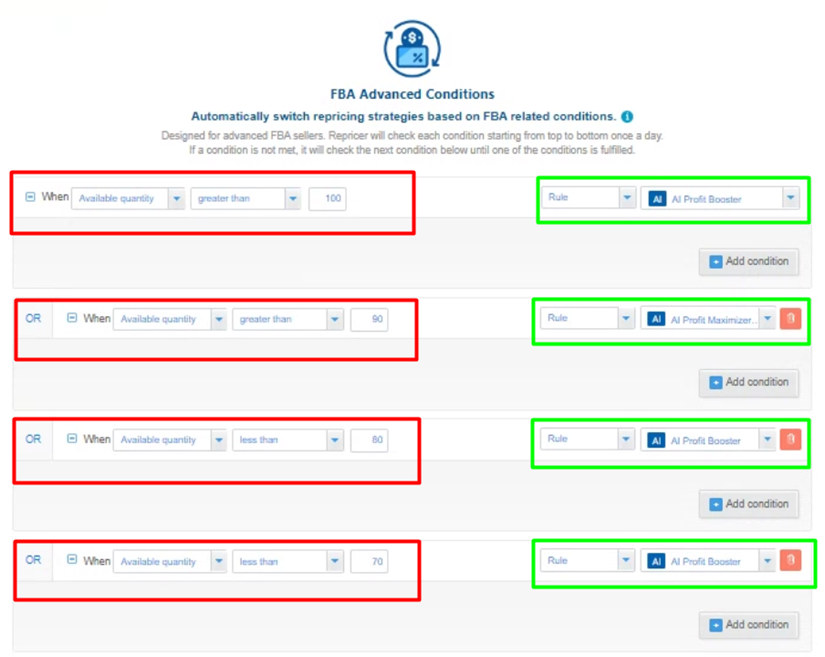 This setup allows the repricer to reprice with the rule of AI Profit Booster, which is an AI repricing rule that is profit orientated, if the available quantity is greater than 100.
If the Repricer doesn't match the first rule it will switch to the next applicable condition from top to bottom.
Scenario 2_ Profit Oriented strategy based on Unit Sold Condition
Another method to help alleviate products selling out too quickly would be reprice based on unit sold. You can configure the repricer to price up. We suggest you set up a profit-oriented strategy that enables you to make more profit on your fast-selling products and keep your stock level healthy.
If the units sold (last 7 days) are equal to 30 then the Repricer will reprice with profit booster rule. Same as the previous example, if the Repricer doesn't match the first rule it will switch to the next applicable condition from top to bottom.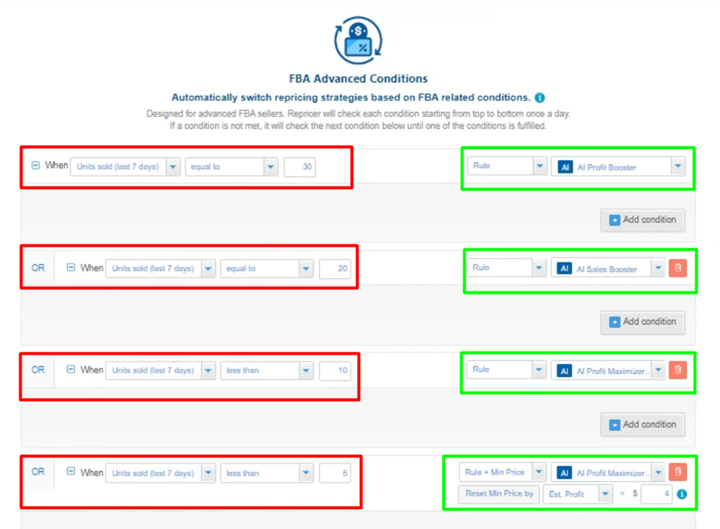 Conditional repricing strategies are like frameworks or policies for Repricer to adhere to. Based on your goals you can adjust how your repricer behaves and how it changes strategies on the fly.
Storage Fees for FBA
As you already know if you are a FBA seller, Amazon is constantly updating its policy regarding inventory and recalculates very often the FBA storage fees. Bad inventory management can damage your profit. You do not want to lose money because you have stagnant products in your inventory, or you have miscalculated the quantity of the items in your inventory, and you are not selling them fast enough. You need to constantly monitor your inventory and that could be time-consuming.
With Conditional Repricer you can select conditions that will focus on your inventory and will help you to sell off your old, stagnant inventory and slow-moving products. You can customize your own strategy based on your inventory health situation.
Examples:
You have carte blanche to decide how you want to reprice based on inventory related conditions. We will introduce the two most popular inventory conditions among FBA sellers.
Scenario 1 _ Reprice Your Listings Based on Inventory Age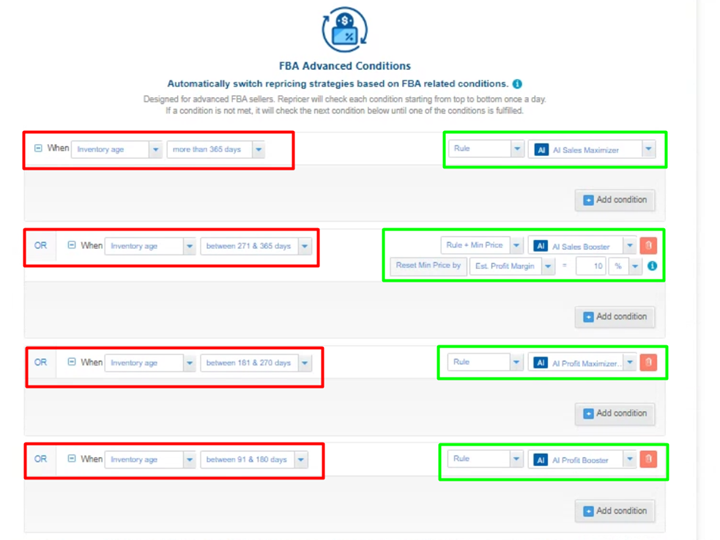 With Conditional Repricer, you can reprice based on inventory age. It means you can focus your repricing strategy on your inventory to liquidate your stagnant inventory or slow-moving products.
We recommend you set up inventory age conditions and then try different combinations of rules. For example, repricer can reprice aggressively with AI sales Maximizer for products with Inventory age that are older than 90 days. In that situation the Repricer would focus on your sales speed and not on the profit that means the Repricer will lower your price to enable you to sell faster.
Scenario 2 _ Reprice on Your Forecast Inventory
This condition is suitable for replens and perishable products. Days of Supply will help you to know how many days it will take you to sell off all your inventory based on your sales performance.
That condition enables you to have better restock management for replenishing products and avoid paying extra storage fees.
For example, you can set up days of supply greater than 90 days (depending on the number of days you expect your stock to be depleted). Then you can decide which kind of AI rule* you are going to combine with Days of supply. In the first situation we had combined Days of Supply and Rule + Min Price. The Repricer will change your minimum price and then apply the main repricing rule you have selected.
You have many possibilities to configurate conditional repricer and customize your own repricing rules based on the metrics you want.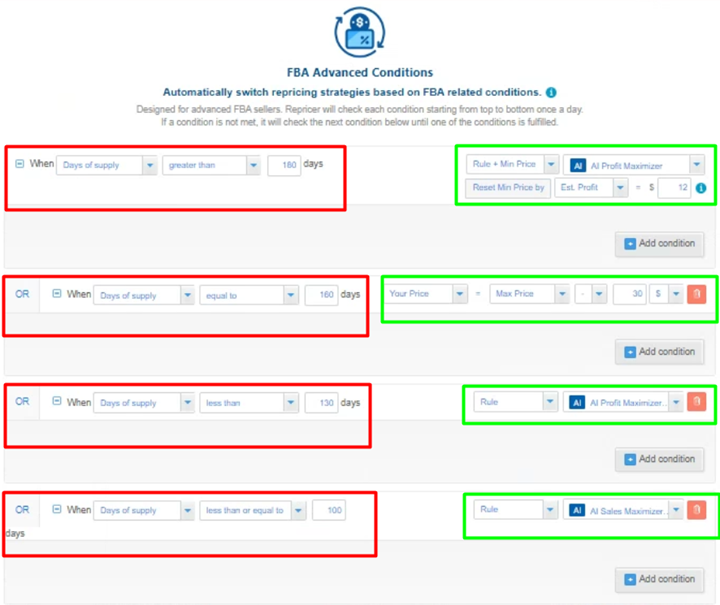 *AI rules & your own customized rules can be chosen in conditional repricer
This Q4 will be special because Amazon had mentioned a potential Second Prime Day that might occur during Q4 but it has not confirmed anything yet. We will see how things will go, but so far you still need to prepare your business for Q4. We suggest you use our Conditional Repricer to get the most flexible and customizable repricing strategies for your Amazon business. Do not hesitate to check out the couple of articles that we wrote about Conditional Repricer to have more tips and scenarios for running your business.
Condtional Repricer Articles: