//php the_post_thumbnail( 'post-thumbnail' ); ?>
 
As an Amazon seller, it's essential to keep up with the latest news in ecommerce. With Ecommerce News Roundup, it's easy to stay updated with everything that matters to your business. Let's recap the top headlines in September.
📌Simplify your B2B Pricing with Automation
To save you time and effort when managing your pricing strategy, Amazon developed new automation features that enable you to set B2B pricing rules with a few clicks.
Pricing competitiveness is vital to attracting business customers, who tend to buy in larger quantities and return products less frequently. Adding business prices and quantity discounts increases your visibility among this growing segment of more than five million business customers.
To automate business prices and quantity discounts across your catalogue, use the Business Catalogue Rule. If you want to automate across specific SKUs, set a custom Business Price and Quantity Discount rule. For more information, go to Create a business pricing rule.
To learn more, go to Optimize your B2B pricing strategy.
📌Review summary for "Business Catalog Rule by Amazon"
When active, this rule is applied to your entire catalog (including newly added SKUs), across all marketplaces and will set your Business Price dynamically relative to your Standard Price.
SKUs with Business-Only Offers will not be repriced.
SKUs that are assigned to other Business Pricing rules will be excluded.
⚠️ Updates to UK Multi-Channel Fulfilment Fees Effective November 12
As Amazon continues to respond to challenges brought about by the global economic situation, Amazon will revise Multi-Channel Fulfilment (MCF) fees in the UK on November 12, 2022.
The MCF single-unit-order fulfilment fees will increase, inclusive of a fuel and inflation surcharge, across size bands. To view the revised rates, go to 2022 Multi-Channel Fulfilment annual fee revisions.
These updates reflect the rising costs of fulfilment and transportation and will ensure that we can continue to provide the delivery speed, reliability and quality of service expected of Amazon.
In addition, based on your feedback, Amazon is launching multi-unit discounts. These discounts will allow you to ship multi-unit orders at cheaper per-unit rates and will offer average savings of 25.2% .
To continue to support your business growth, Amazon made the following improvements and feature additions to our fulfilment and delivery network:
Launched unbranded packaging in the UK, which is now available for no additional fee
Achieved an on-time delivery rate of over 99%
Invested in increasing fulfilment center capacity to help meet rising demand
⚠️ Amazon Seller Wallet (Update)
Amazon Seller Wallet – The wallet for your global business
With Amazon Seller Wallet, you can view, hold and convert sales proceeds from the US store directly to your bank accounts. Manage and move funds globally, all from Seller Central.
Amazon Seller Wallet is a new service that empowers you to store proceeds from your sales on Amazon.com in a digital account and have more control over when to convert proceeds, and how much to convert.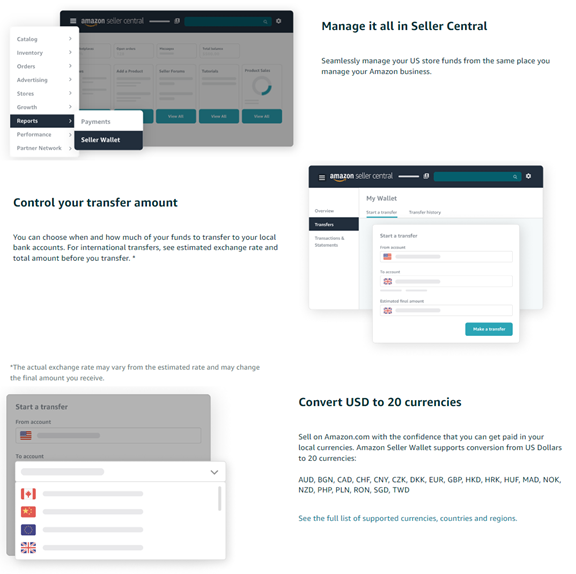 Notes:
US transfer is free but there is a fee for international transfers.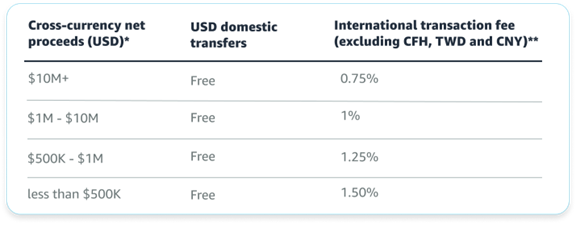 Amazon Seller Wallet can only be used to receive Seller Central disbursements. You cannot receive sales proceeds earned from other e-commerce sites in Amazon Seller Wallet.
As of now, you can use Amazon Seller Wallet to manage funds earned from selling in the US store only, but more stores to come in the future.
transfers to CAD, HKD, EUR, CNY, AUD or domestic USD accounts are received in the next business day, and transfers to GBP or TWD accounts are received in two business days.
References:
https://sellercentral.amazon.com/gc/sellerwallet-program
https://sellercentral.amazon.com/help/hub/reference/GW57DZACAZGNREVQ#wjz_cjc_jcb
https://sellercentral.amazon.com/help/hub/reference/GY2HWC8DQNU8NZJ2
After 10/03/2022, Seller central will no longer offer the old design.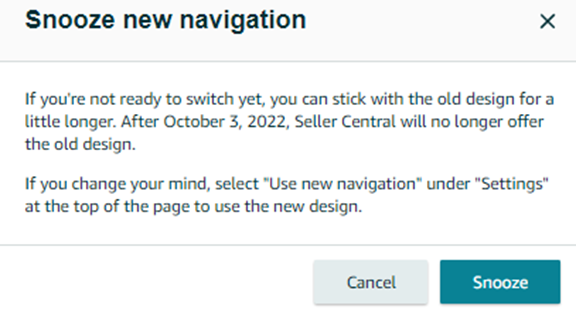 📌 Track your Brand Referral Bonus with New Report
Amazon updated Brand Referral Bonus report helps you track all the bonus details in one location.
Details on what influenced your bonus earnings and how it was used is available when you download your Brand Referral Bonus report, including:
Bonus earned in the trailing 365 days.
Bonus amount paid each month.
Transactions of how your bonus was used to credit referral fees in the previous 90 days.
 Amazon Attribution dashboard has been updated to include the Brand Referral Bonus amount for your attribution campaigns.
With Brand Referral Bonus, you can maximize your non-Amazon marketing efforts now through the peak shopping season.
For more information on leveraging Brand Referral Bonus, go to Lumineux and Honest Paws case studies.
Sell with Brand Referral Bonus
Manage Your Customer Engagement _ tailored audiences' beta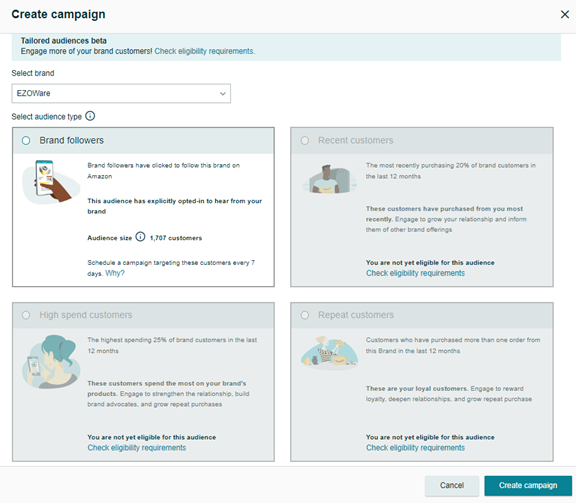 Campaign include 1 primary ASIN + up to 4 supporting ASINs
Select Promotion details to feature with the primary product ASIN. In this case, no promotion available. 
To be eligible for tailored audiences, your brand must have:
Sent 10 or more customer engagement campaigns with at least 1000 total emails sent over the last 10 campaigns
Average opt out to click rate less than 1% over the last 10 customer engagement campaigns (To calculate your average opt out to click rate, calculate the number of clicks that each campaign had by multiplying the 'Emails delivered' by its 'CTR' (Click through rate), and divide the sum of all clicks in your most recent 10 campaigns by the total 'Emails delivered' in those campaigns)
Schedule your campaign: Select the date you want your campaign to start sending. Your campaign will be sent in the 5-day period starting on the date you select, subject to several restrictions.
| | | | |
| --- | --- | --- | --- |
| Audience | Definition | How to engage | Campaign frequency |
| Repeat customers | Customers who have ordered your brand's products more than once in the last 12 months | These are your loyal customers. Engage to reward loyalty, deepen relationships, and grow repeat purchase | 14 days |
| High spend customers | The highest spending 25% of your brand's customers in the last 12 months | These customers spend the most on your brand's products. Engage to strengthen the relationship, build brand advocates, and grow repeat purchases | 14 days |
| Recent customers | The most recent 20% of customers who have purchased from your brand | These customers have purchased from you most recently. Engage to grow your relationship and inform them of other brand offerings | 14 days |
| Brand followers | Brand followers have clicked to "follow" this brand on Amazon | These customers have opted-in to hear from your brand. They may or may not have purchased from you previously. Engage to strengthen the relationship and inform of brand offerings and deals | 7 days |
📌 How is Campaign Overlap Handled?
For a particular audience, you can schedule one campaign over the duration of the "campaign frequency" of that audience. For example, you can engage your brand's "repeat customers" with a campaign scheduled once every 14 days.

You can schedule overlapping campaigns which will be sent to different audiences. However, customers will only receive one email from your brand in 14 days. If you schedule overlapping campaigns, customers who were eligible to receive both campaigns will only receive a single campaign email.
Will my campaign be sent to the entire audience?
We will send your campaign to all customers in your audience unless they have:
opted-out of email marketing communications.
not clicked or opened any Amazon emails in the past one year.
not made a purchase in the past two years.
purchased any ASIN (not including variations) featured in the campaign in the past two years.