//php the_post_thumbnail( 'post-thumbnail' ); ?>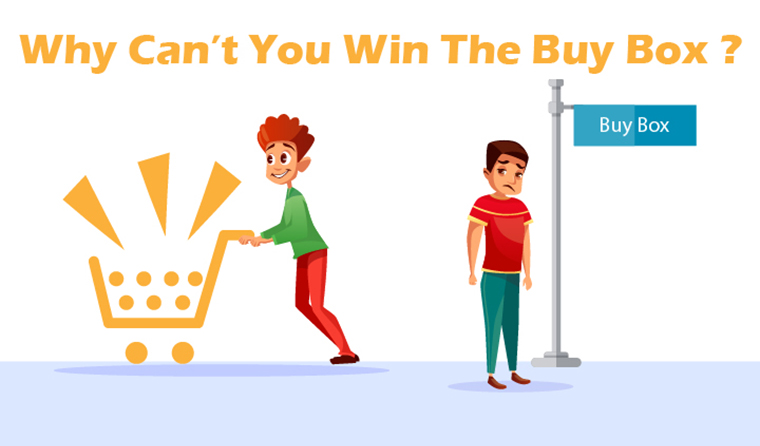 One of your product has held the Buy Box for a long time. Until recently, it cannot get the Buy Box unless you set its price below your profit margin. But this pricing strategy is hurting your business. No Amazon seller would want to win the buy box at the expense of their profits. So is there any way to win the Buy Box that doesn't involve in making chump change selling on Amazon.
How do you become Buy Box eligible?  
Due to Amazon's complex and machine-learning algorithm, the Buy Box winner is selected from a pool of eligible sellers offering that product based on specific seller performance criteria and provided customer experience. Let's check again if you meet all the essential criteria as follows: 
√ You have a Professional Seller account. 
√ You have a successful track record of selling and fulfilling orders that meet Amazon standards. 
√ You sell only new items. (used items have their own Used Buy Box) 
√ You have available stock. 
√ You are an FBA seller. 
Δ You achieve high-performance metrics. 
As you can see, the first five criteria are easier to achieve except for the last one. Keep it in mind that your Buy Box eligibility is subject to rotate if you fail to maintain your seller performance metric criteria. 
If you are an FBM seller, you still have chances to beat FBA sellers, but you will need to get extremely high scores across all seller performance metrics and set your product prices low.   
Amazon Seller Performance Measurement  
Whether you are an FBA or FBM seller, you will need to maintain excellent performance metrics when competing for the Buy Box placement. The metrics include your Seller Ratings and Seller Feedback, according to Amazon, the following seller performance targets you need to achieve for every product you sell:  
Order Defect Rate under 1% 

 
Order defect rate (ODR) is the important metric of your ability to handle orders with a less than 5% negative feedback, a low credit card chargeback rate, and keeping A-Z claims to a minimum.  
Pre-Fulfillment Cancel Rate under 2.5% 

 
This metric is to measure the number of orders you have canceled as a percentage of total orders. A high number of cancellations means the products you have listed on Amazon is out of stock, damaged, or inaccurate item details.  
Late Shipment Rate under 4% 
Regardless of the reasons for a late shipment, you need to ensure all orders with a ship confirmation that is completed after the ship date expected by your buyers to avoid the potential problems such as customer complaints, negative feedback, etc.
Valid Tracking Rate at least 95%
Valid Tracking Rate (VTR) only applied to non-FBA orders. If you fulfill orders by yourself, you need to ensure all shipments with a valid tracking number that your customers can expect when to receive their orders.  
On-time Delivery Rate above 97% 

 
This metric also only applied for non-FBA orders. Seller-fulfilled orders need to be delivered by the specified date you promised in the valid tracking information you promised for your customers. 
Return dissatisfaction Rate under 10%  

 
Return Dissatisfaction Rate (RDR) is considered including how your customers satisfied with their return experience. The metric is based on the percentage of valid return request that is responded within 48 hours, were incorrectly denied, or received negative customer feedback.  
Customer Service Dissatisfaction Rate under 25%  

 
Customer Service Dissatisfaction Rate is the number of "No" voted by your customers in a response to the survey questions "Did this solve your problem?" in Buyer-Seller Messaging. You can use this metric to help you understand customer satisfaction with your responses to improve your service.
How to increase your seller ratings and Seller feedback? 
In order to achieve better seller ratings, you can use an AI-Powered email campaign manager like Feedback Central to solicit positive feedback and reviews. Delivering beautifully designed email templates provided by Feedback Central to your customers will grab their attention, they will more likely read the message in your email. Our email campaign manager also alerts users when they receive negative feedback so they can take action to solve it immediately. The latest feature on Feedback Central is the revolutionary AI-Powered solution. AI-Powered Email Subject and AI-Powered Smart Schedule, can constantly optimize email performance by finding the best-performing email subject and delivery time for all your emails. A higher email open rate will lead to more successful feedback request.
Conclusion
Compared with other aspects of running your Amazon store, the part of soliciting feedback can be time-consuming and overwhelming when you have other sales related tasks at hands. Feedback Central can save you from handling the mundane emailing task and free up your time so you can focus on the important day-to-day sales plan. Why waste your time to manually request feedback via emails when you have BigCentral to automate your emails and get more feedback and product reviews. If you want to win the Buy Box frequently, try BigCentral now and start collecting feedback effectively!