//php the_post_thumbnail( 'post-thumbnail' ); ?>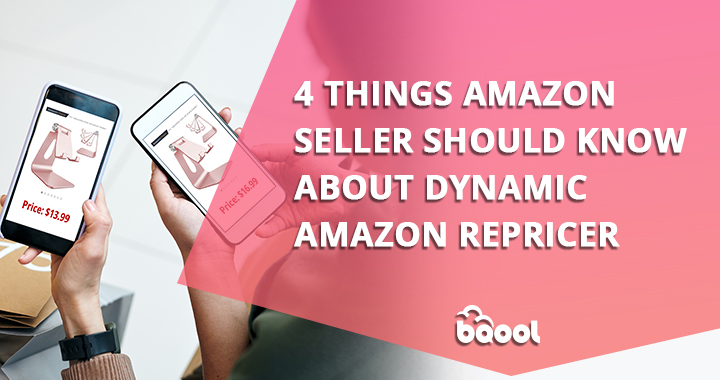 Over the years, information technology has completely changed our lives. With the vast ocean of information available on the internet, we can easily gain access to new knowledge within a blink of an eye. For example, travel lovers can check out Skyscanner to find cheap flights while planning their trips, and the lowest fares are usually caught by the early birds. 
Uber users can see the real-time price of their fare before they request their ride. When the requests of riders exceed the number of drivers during busy periods, users are more likely to pay a higher than usual price. 
Online shoppers can find the best deal on Amazon, thanks to Amazon's complex pricing algorithm. All these are achieved with dynamic pricing. In today's post, let us delve into what dynamic pricing is and how this would affect you as an Amazon seller.
Amazon's Dynamic Pricing Algorithms  
Dynamic pricing is also known as demand pricing that retailers change prices based on supply and demand, competitors' prices, and take into account other environmental factors in real-time. So, consumers will see different prices applied to goods during different times of the day.
Amazon has 2 million active sellers, and its dynamic pricing algorithm technology monitors several variables such as competitor's prices, consumer behavior, inventory, and other factors to adjust product prices. This way can ensure their prices are always competitive and maximize profit.
To compete with millions of sellers on Amazon, you have to keep an eye on your competitors and adjust prices in response to their pricing strategy. This is the main reason why Amazon sellers choose to use a dynamic Amazon repricer instead of repricing manually to keep up with the competition.
What is a Dynamic Amazon Repricer?
Dynamic Amazon repricer or Amazon repricing software, is the best tool for guarding your prices so you can have a competitive advantage in the Amazon marketplace. The dynamic Amazon repricer monitors your competitors' prices 24/7 and is programmed to adjust your prices to optimize sales and profit. 
Essentially, Dynamic Amazon repricers should perform, if not better, as well as you reprice manually but repricers achieve this in an even more efficient manner.
Some of the best repricing software is designed by Amazon marketplace sellers. They created repricers as a new way to effectively manage their prices on a large scale, and in a more time-efficient manner. An ideal repricer for any Amazon business should be designed with these four philosophies in mind:
1. The dynamic Amazon repricer allows you to protect your profit.
A repricer monitors your competitors' prices and takes into account the pricing rules and minimum and maximum prices you've set to compute a new price for you to beat the competition. A good Amazon repricer should also raise your prices once you get the Buy Box to protect your profit.
You shouldn't worry about your prices spinning out of control, or dropping to a cent. As long as you set the bottom-line prices for your items on your repricer, the software will adhere to your pricing rule.
2. The dynamic Amazon repricer lets you choose your competition to reprice against.
Which competition can you realistically compete against? Which competition is not worth pursuing? An Amazon repricer can exclude the strong competition or sellers with low-ball offers but poor feedback ratings so you can then choose the sellers whose prices you ideally want to compete against. A good dynamic Amazon repricer also allows you to customize pricing strategies in response to different competition scenarios so you can optimize prices effectively.
3. The dynamic Amazon repricer enables you to pay more attention to what matters most.
In addition to repricing your listings, there are other responsibilities a seller has in running an Amazon business. While you are busy with finding the product to sell or handling order issues, repricers can 24/7 continuously monitor price, and be scheduled to reprice repeatedly or on any given date. Repricers can not only automate your daily tasks and increase your productivity and effectiveness at work but also eliminate human errors.
4. The dynamic Amazon repricer allows you to make strategic pricing decisions. 
Having a full understanding of your business can help you succeed more quickly in your job. However, pulling out countless data and information from your increasing orders to analyze could drain your energy and get lost in the weeds. 
With a repricer, you can effortlessly transform your data into actionable intelligence and visualize the sales performance and pricing history to view key metrics on allowing you to focus on the products that require immediate action.
Win the game with a dynamic Amazon repricer
A performance-driven repricer can help you to set up a repricing strategy by specifying your own rule. Find the lowest price offered and go above or below it by a specified currency value or percentage, choose the type of competition: FBA, FBM, or Amazon and automatically detect price changes ahead of your competitors and push up or reduce prices by responding to their moves. 
Repricing Central effectively reduces the amount of time spent by manually repricing and turns information and data into a competitive advantage to maximize sales and profit margins. Most importantly, it helps you beat your competitors and dominate the Buy Box!