//php the_post_thumbnail( 'post-thumbnail' ); ?>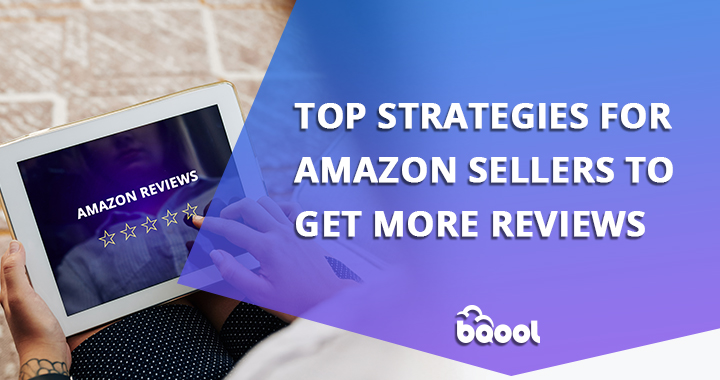 If you're an Amazon seller, product reviews can have a huge influence on your success. Amazon continues to expand, and sellers have to deal with strong competition. When it comes to online products, reviews are one of the main factors that drive buyers' decisions. According to research, 92% of consumers are more likely to buy a product after they find a positive review.
Reviews become even more important if you're a beginner because they determine your reputation. It turns out that sellers who have five reviews increase the likelihood of making a sale by as much as 270%. Therefore, if you're planning to launch a product soon, you should know how to get more Amazon reviews. Moreover, you should be able to get them quickly.
In this article, we're going to consider the most effective methods and practical tips that will help you get more Amazon reviews. There are Amazon's internal tools and programs created for customers to facilitate and encourage leaving reviews. In addition, there are less obvious practices that will help third-party sellers. Check out our tips, develop an effective strategy, and boost your sales on Amazon.
1. Know all Amazon's official rules
First of all, knowing Amazon's rules is crucial for your success as a seller. We recommend that you memorize all the rules so that you will know all of them perfectly. When you know what is appropriate and what is not, you don't need to worry about whether you're choosing the right approach.
You can check out the guidelines in your Seller Central account. Here are a few of the most important rules:
Your reviews should be written by unbiased people, not your friends or relatives.

You shouldn't vote on the helpfulness of your reviews to keep them unbiased.

Don't write reviews yourself.

Don't accept unverified reviews from users who haven't purchased your product yet.

Don't offer promo codes or discounts for reviews. Coupons are allowed on Amazon but you shouldn't give them in exchange for a review.

Don't offer a

free product for Amazon reviews

. The only exception is if you're participating in the Amazon Vine program.

Don't write positive reviews on other products in exchange for reviews of your products.

Don't leave negative comments about your competitors' products.
2. Use the "Request a Review" button
You can review request emails to your customers by using Amazon's "Request a Review" option, which is available along with each "Order details in Seller Central account. Your customers can leave a review within four to 30 days after they've purchased something from you. Amazon only allows sellers to send one request for a review. However, if you combine it with the first email sent by Amazon after the purchase, your chances to get a review will increase.
The 'Request a Review' button seems to replace external messaging and email systems, but the downside is that sellers must manually click the button to request a review for each order. Private label sellers who receive hundreds of orders daily still use third-party messaging systems and email autoresponders such as BQool to automate the bulk email requests to all buyers. This helps them to save a great deal of time.
3. Apply for the Early Reviewer program
Although Amazon has very strict policies regarding incentivizing reviews, it has its own program aimed to help businesses get more Amazon reviews. The Early Reviewer program offers gift cards in exchange for product reviews. To take advantage of this program, you should meet certain criteria.
For instance, your products must cost at least $15, and they should have no more than five reviews. The participation costs $60 per product. If you choose to participate, Amazon will send your customers requests to leave their reviews in exchange for gift cards. This way, you'll be able to quickly get more Amazon reviews of your new products.
4. Participate in the Amazon Vine program
The Amazon Vine program is intended for sellers with Amazon brand-registered products that have fewer than 30 Amazon reviews. You can submit 30 products so registered Vine reviewers will try your products for free, and then write their reviews.
Using such an approach to get more Amazon reviews is prohibited by Amazon, but this program is legal so you can incentivize reviews with no consequences. "Another good thing about his program is that it's currently free for third-party sellers. However, Amazon might start charging third-party sellers soon, and we don't know the cost yet," notes Velma Reed from a writing service reviews website Online Writers Rating.
5. Create email lists
Amazon removed contact information except for the buyer's last name and shipping address from "Order details", so you might want to find other ways to communicate with your customers. However, when people purchase something on Amazon, they are Amazon's customers, and you have to overcome this barrier.
The simplest way to do it is to build your own email contact list. For example, you can do it using social media, or you can create a blog where you'll ask people to subscribe. After you build your own contact list, you'll be able to request reviews from your customers directly.
6. Use Facebook
There are many review groups on Facebook where both sellers and buyers communicate. However, there are different rules on Facebook, as most reviewers will only leave their reviews in exchange for products or good discounts.
You may contact reviewers directly, or you can contact the admin of a review page and ask them to promote your message. The biggest problem with such reviews is that this approach is a bit risky: some people may just take your products without writing a review.
7. Add packaging insert to your products
Packaging insert is a common marketing approach that sellers can add to the package and send them together to customers. Traditionally, retailers put marketing messages, advertisements, special offers, service contact information, or any call-to-action content on the insert card to carry with the package to the customers in order to achieve different marketing goals. 
However, Amazon does not allow sellers to deliver the above messages to buyers and the prohibited content would get your account suspended according to Selling Policies and Seller Code of Conduct.  This means you have to be very careful and accurate when creating packaging inserts.
To encourage your customers to leave you a review and turn them to a repeat customer, you may provide outstanding customer service that adds value to the product they bought. For example, the tips or instructions on how to use the product, and a little note of customers are welcome to contact you directly via Amazon if they have further questions.
Wrapping Up
Reviews have a big impact on an Amazon seller's success so we hope that our tactics will help you. These are the most effective ways to get Amazon seller reviews that will enable you to encourage your customers to leave their reviews without breaking Amazon's rules. Don't forget that selling a few more products thanks to a fake review isn't worth putting your account in danger.
This guest post is provided by Frank Hamilton.