//php the_post_thumbnail( 'post-thumbnail' ); ?>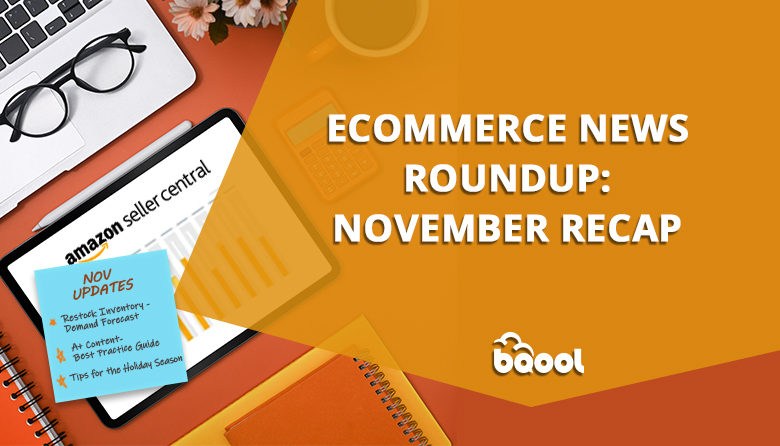 In case you have been busy preparing Christmas and you haven't heard about the latest news on Amazon, here is the November recap of the news you need to know for 2023.
Restock Inventory – Demand Forecast
The demand forecast tool provides you with an estimate of future demand for your products for up to 40 weeks.


Demand estimates are built using a probabilistic forecast model that is unique to each of your products. The model incorporates information that includes previous orders, active deals, and any seasonal influences.
The tool provides two prediction levels:
Mean: The expected quantity of weekly customer demand. The mean prediction level is represented by the green line in the tool.
Optimistic: The dotted line shows the optimistic forecast. Demand for your product is expected to be at or lower than this level 90% of the time.
– New ASINs with limited historical data and ASINs that don't fall under a specific category also don't show a forecast.


Seller central => Inventory => FBA Inventory => Restock Inventory
https://sellercentral.amazon.com/restockinventory/recommendations?ref=fbacentral_nav_fba
Seller Central – Account Health Assurance (Update)
Account Health Assurance (AHA) is a new benefit available to professional sellers who consistently achieve a high Account Health Rating (AHR). With Account Health Assurance, Amazon will no longer deactivate your selling account as long as you work with Amazon within 72 hours of contacting you to resolve any issues.
AHA is available to professional sellers in the US and Canada who maintain an AHR score of 250 or more for at least 6 months with no more than 10 days below 250, and have a valid emergency contact number on file.
be eligible for AHA (1) Engage with Amazon account health team within 72 hours of notification that Amazon needs to work with you regarding an issue (2) Fully resolve issues when working with Account Health Support (3) Keep your AHR from falling below 250 for more than 10 consecutive days
Brands: Download the updated A+ Content Best Practice Guide
A+ Content helps you encourage repeat purchases and potentially increase sales by 5%, by using rich content to showcase your brand story and product features.
If you need help getting started, or want to optimize your content, look no further than Amazon A+ Content Best Practice Guide.
This complete guide to A+ Content covers the following:
Understanding the available features.
The benefits of using A+ Content.
A step-by-step tutorial with images.
Tips on making the best use of your content space.
Visit the A+ Content Manager to start creating A+ Content today.
Tips for the Holiday Season
The busy holiday season is here, and Amazon put together a list of tips to help you get the most out of peak.
Review your listings for relevant, holiday-specific keywords, including alternate spellings through Manage Inventory. Take advantage of the prominent placement of bullet points to highlight your most important product information.
Watch out for "discount stacking"
Review your active Coupons to make sure you don't accidently "stack" both Deal and Coupon discounts on a single ASIN. Discount stacking can lead to an extreme discount on a product that causes it to sell out quickly, often before the issue can be corrected, and with little profit.
Check Seller Central for updates
If you normally rely on email for notifications about your Amazon account, double check Seller Central to make sure you don't miss any important updates such as Account Health warnings, listing violations, or restock opportunities.
Create a Coupon and Prime Exclusive Discount
While it's too late to submit Deals for the holidays, you can create a Coupon and Prime Exclusive Discount up to 6 hours before the start time.
To stay competitive, create custom pricing rules for specific products and set maximum and minimum prices.
For seller-fulfilled orders:
As Christmas and New Year's Day fall on a Sunday this year, Amazon's shipping holidays will fall on Monday December 26, 2022, and Monday January 2, 2022. Go to Shipping settings for a full list of shipping holidays or check out our recent Forums post.
Manage your orders closely
Don't solely rely on "Sold, ship now" emails to let you know that you have orders. Check your Amazon Seller app and Seller Central frequently, and fulfill new orders daily. Update your Notification Options to make sure you've subscribed to the right notifications, and that the right email address is on file.
Review your staffing and handling time
Make sure your team is prepared for an increase in order volume during the holiday season. List only those items you can ship by or before the expected ship date.
Streamline your shipping and fulfillment
Review your shipping templates and make sure that you can meet the transit time set. Ship orders before the Expected Ship Date when possible. Hand over packages the same day that you buy shipping labels so that your carriers provide first scans the same day.
For more tips for seller-fulfilled orders, go to Prepare for the Holiday Season.