//php the_post_thumbnail( 'post-thumbnail' ); ?>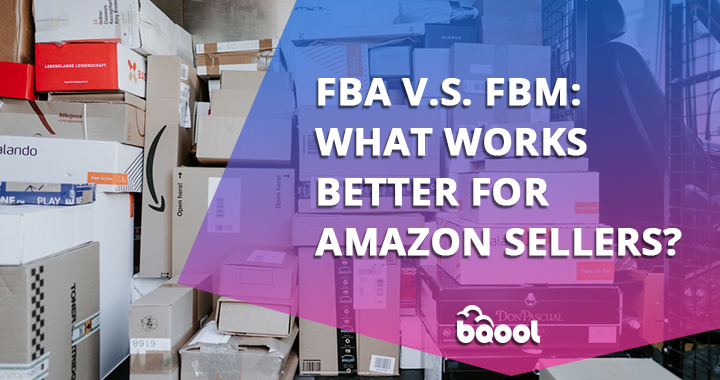 One of the most important decisions for sellers to make when they start selling on Amazon is to choose a suitable fulfillment method: Fulfillment by Amazon (FBA) or Fulfillment by Merchant (FBM). Either fulfillment method has its pros and cons, so we've put together a comparison table that you can use as a reference to understand which fulfillment works better for you.
FBA VS FBM Comparison
Fulfillment Methods

FBA

FBM

Definition

Fulfillment by Amazon. Amazon stores sellers' products in Amazon's fulfillment centers, and pick, pack, ship, and provide customer service for these products.

Fulfillment by Merchant (known as seller fulfilled). Sellers pick, pack, and ship items to the buyers directly with no intervention from Amazon.

Fulfillment Fees

FBA charges fulfillment fees per unit and has a set tier of fees for products with different sizes.

Long-term storage fees will apply to all items stored in a fulfillment center for more than 365 days.

Sellers with the Professional plan set their own shipping rates (except for books, music, video, and DVD products)

Sellers with the individual plan use Amazon's set shipping rates for all products.

Inventory Storage Fees

Charged for all items stored in an Amazon fulfillment center and based on sellers' daily average volume

Sellers decide their own warehouse/storage

Willingness to Pay

Amazon customers like to purchase from FBA as FBA items are eligible for 2-day Prime Free Shipping.

There are approximately 150 million Prime subscribers in the US.

Fewer customers would choose FBM due to the possibility of a higher shipping price.

Listing Position

Order processing speed is considered when Amazon is calculating the listing position on a search result page. FBA arguably has the faster order processing speed which will help sellers' listings to be placed on a higher position for better visibility

Buyers usually try to purchase from FBA sellers, and this puts FBM sellers at a disadvantage. If a product has a high exit rate and a low conversion rate due to FBM, it is likely to have an undesirable outcome on the search result position of a listing

Buy Box Priority

Amazon prioritize FBA to win the Buy Box

Amazon does not prioritize FBM to win the Buy Box

Packaging

There are general preparation requirements for sending inventory to Amazon fulfillment centers as well as the specific product categories that require specialized prep

Sellers have absolute control over their packaging and prep.

Prime – Shipping Eligibility

Amazon Prime Shipping Benefits

FBM sellers may be eligible for

Sellers Fulfilled Prime

. Although the program is not accepting new registration

After-Sales Support

Amazon is responsible for customer support (with the exception of the Returns Processing Fee for select product categories)

FBM sellers need to handle customer support

Returns

Amazon accepts and handles all the return request for sellers

FBM sellers need to handle returns themselves and they could reject return requests.

Customer Trust

Easier to build customer trust  with the already established FBA service

Sellers may need to invest more time and efforts to build up customer trust for FBM

Inventory

FBA service is subject to change during the hot selling season or certain events (Coronavirus outbreak) and this may affect sellers' inventories

More inventory control for FBM sellers
FBA VS FBM – Which one should I choose?
FBA is best for the sellers if:
Your products are small and lightweight

You have high volume, larger margin products

You have a high inventory turnover

You don't mind to let Amazon take control of your customers

You want Amazon to handle your customer service

You don't have space to store your products and well-established logistics network

The cost you fulfill your own products is significantly more than FBA

You want more free time for yourself or other important aspects of your business
FBM is good for the sellers:
Your products are heavy or oversized

You have smaller scale, small margins products

You want greater control over the business

You are confident about providing stellar customer support as Amazon

You have space to store an adequate inventory and reliable logistics network

You have a slow inventory turnover

You want a higher margin for each sale

You're able to reduce the expenses associated with the fulfilling your own products
Every Amazon seller should know how to get the most from FBA, FBM, or both. When choosing which method is right for your business, you need to take a lot of factors into consideration, such as the product you sell and the resources you have. A successful seller can adapt to the constant changes in the market and the needs of their customers. This especially rings true during the coronavirus outbreak that has affected millions of online and offline businesses. FBA sellers can consider switching to FBM if Amazon continues to prioritize the essential items in its U.S. and EU warehouses.
Not familiar with FBM and want to learn how to start?
Here at BQool, you can get a ton of free information if you are interested in selling on Amazon. Marco Negri, our YouTube Channel curator, has a video guide to show you how to switch from FBA to FBM so you can safeguard your business in a time of crisis.
BigCentral is a new All-in-One Amazon seller tool that combines the power of CRM & Feedback Software – BigCentral and product & keyword research tool – BigTracker into one central platform. BigCentral now has a 14-day free trial with no credit card required, so what are you waiting for! Sign up today!