//php the_post_thumbnail( 'post-thumbnail' ); ?>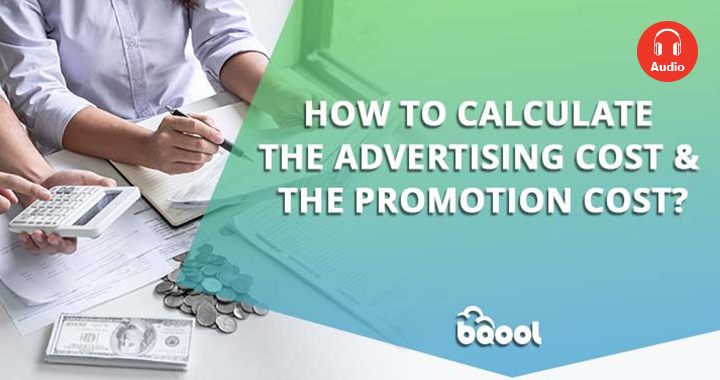 Amazon sellers always look for ways to increase sales and drive more traffic to their online store. What better ways to achieve this than by Amazon advertisement? Advertising cost and promotion cost are common marketing expenses for Amazon sellers. First, we will introduce which kind of promotion you should pick to boost your online business and engage shoppers on Amazon. Finally, we will explain in detail what is included in the cost calculations and how to calculate the advertising cost and the promotion cost in your profit and loss statement.
1.Promotion
How it works?
Amazon provides different promotions for sellers to choose from.
1) Social Media Promotion
You can promote your products through social media platform. This service is free, and you can create as many promo codes as you want to promote your products on any social channels.
These are the steps to create a Social Media Promo Code:
Advertising > Promotions > Create a promotion > Social Media Promo Code
Once your promo code is created you can share this promo URL publicly.
2) Coupon
The coupons are limited in time. For each coupon redeemed, Amazon charges sellers $0.60.
To be eligible for coupons, you need to be a Professional seller with at least a 3.5 Seller Feedback Rating. Even if you do not have received reviews yet, you are eligible for creating promo with coupons.
To be eligible, the products must meet these following requirements:
Products with 0 reviews are eligible without any average rating taken into consideration. However, if a product has reviews, then the product must meet the average criteria.
Products with 1 – 4 reviews must have an average of at least a 2.5-star rating on Amazon.
Products with 5+ reviews must have an average of at least a 3-star rating on Amazon.
Can be Seller-Fulfilled, Fulfilled by Amazon, or Seller-Fulfilled Prime
Must be in new condition
If you want more information about coupon creation you can check this page or navigate on your Seller Central from Seller Central Help > Increase sales > Promotions > Create a coupon.
3) Lightning Deal
Lighting deal refers to a limited in time, promotion, usually between 4 and 12 hours, the length of the offer is decided by amazon. Featuring an item as a Lightning Deal may help increase sales and reduce your inventory.
To be eligible for special deals you have to be a professional seller and your products have to meet these following requirements:
Have a sales history in Amazon stores and at least a 3-star rating.
Include as many variations as possible.
Not be a restricted product or offensive, embarrassing, or inappropriate product.
Be Prime eligible in all regions.
Be in New condition.
Be compliant with customer product reviews policies.
Be compliant with pricing policies and have a valid reference price
Be compliant with deal frequency policies
If you want to learn more about requirements you can go to check on your seller central account or visit Seller Central Help > Increase sales > Deals > Make your products eligible for Deals.
What is Included in The Promotion Cost Calculation?
We calculated the promotion cost as followed: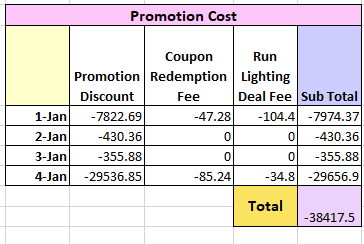 Calculated as: Promotion Principal + Promotion Shipping + Promotion Tax Discount
Promotion Principal is the amount of the discount on the item original price.
Promotion shipping is included in the calculation.
Coupon Redemption Fee
The fee of coupon redemption is 0.60$ (per coupon).
Run Lightning Deal Fee
For every new product or parent SKU you submit for a Lightning Deal, you'll be required to pay an associated fee.
The Advertising Cost
Advertising on Amazon Explained
This option can help you to improve your store visibility on Amazon when customers search similar products to yours. You are charged only when customers click on your ad. We recommend you use Sponsored Products for increasing your store visibility and your product discoverability.
Sponsored Brands is a PPC that helps you to build brand awareness. These ads appear in Amazon results and show your brand logo and your products. Sponsored Brands are convincing ways to attract new customers to your store, moreover, compared to Sponsored Products, you can further customize your campaign(s) by creating headlines, videos etc. you can also link multiple product pages together on a store landing page.
Sponsored Brands are available for professional sellers enrolled in Amazon Brand Registry, vendors, book vendors, and agencies.
Sponsored Display is an advertising solution that helps you grow your online business and brand.
Early Reviewer Program Fee
The Amazon Early Reviewer Program helps you to obtain honest reviews from buyers to increase your store visibility on Amazon and your listing(s). As you already know reviews on Amazon can make the difference and lead to a higher ranking of your store.
This program costs $60 per SKU and you are limited to 1-5 reviews per item if you do not receive reviews, you will not be charged.
The buyers who can leave a review are selected by Amazon for their credibility. Finally, buyers who enroll this program received a gift card by Amazon.
Early Reviewer Program is a good way for sellers to accumulate reviews for new products.
Sponsored Products and Sponsored Brands
Professional sellers and brand-registered sellers can make use of the three ads types on Amazon: Sponsored Products, Sponsored Brands, and Sponsored Display. If you are not enrolled in Brand Registry, only Sponsored Products is available to you.
We calculated the advertising cost as followed: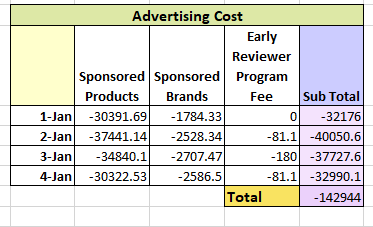 The formula we used:
Sponsored Products + Sponsored Brands + Early Reviewer Program Fee
Sponsored Products
Total cost of all clicks on Sponsored Products, which can be divided by clicks to obtain the average CPC.
Sponsored Brands
Total cost of all clicks on Sponsored Brands, which can be divided by clicks to obtain the average CPC.
Early Reviewer Program Fee
The payment required for the Early Reviewer Program.
Running promotion can help your business to increase your sales and get rid of your old inventory.
Finally, using a sponsored product or sponsored brand is the best way to build an efficient marketing strategy that will boost your sales, bring new customers to your store, and increase your brand awareness on Amazon.
We suggest you using at least one of these two options promotion or advertising to improve your marketing strategy on Amazon. You should also manage your marketing expenses by calculating advertising and promotion cost to optimize your ad campaign spending.