//php the_post_thumbnail( 'post-thumbnail' ); ?>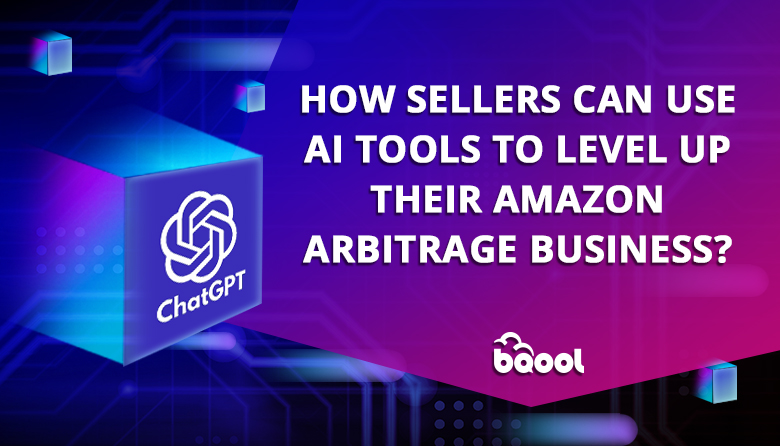 Are you an Amazon seller looking for ways to optimize your listings and increase your sales? Tools powered by AI are here to help and they are real game changers for your Amazon Business! Indeed, these powerful AI tools are designed to help you save time and energy so you can focus on what matters most – growing your business. With the help of Artificial Intelligence (AI) tools, such as Chat GPT, you can make or improve your product descriptions, research new product keywords, and optimize your Amazon listings to increase your sales and stay ahead of the competition. Chat GPT helps you take advantage of every opportunity to maximize your potential for success and become the top-performing Amazon seller you strive to be.  
In this article, we will discuss how sellers can use AI tools to improve their amazon business and maximize their potential for success.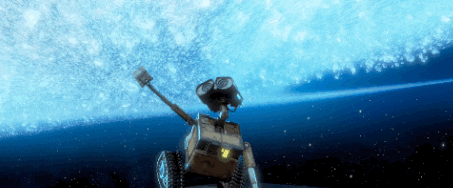 What is Chat GPT?
If you have heard about Chat GPT, you would know it is a trendy topic these last months. Many Amazon sellers have adapted to use ChatGPT to help with their Amazon business like improving the content of product listings on Amazon.
So, what is ChatGPT exactly? Let us ask Chat GPT itself what it is:
"Chat GPT is an AI-powered chatbot platform that allows users to create and deploy conversational AI chatbots quickly and easily. Chat GPT provides a visual conversation builder, natural language processing (NLP) and automated conversations that are easy to create and customize. It is used by businesses of all sizes to create virtual assistants, customer service bots, and more."
Definition wrote by chat GPT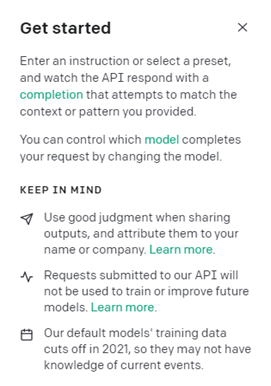 For Amazon sellers, Chat GPT is a powerful Multitasking Assistant that can help them with day-to-day tasks.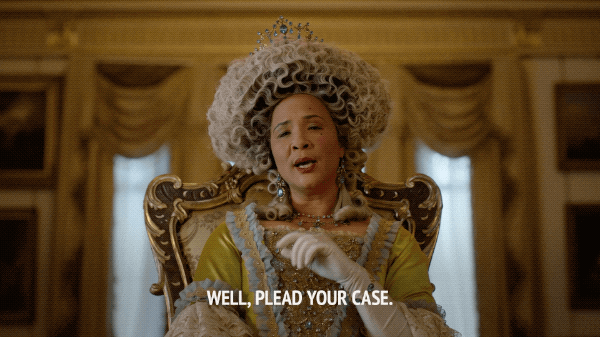 How Can You Use Chat GPT to Improve your SEO?
Chat GPT can significantly improve your writing, giving your ideas and sprucing up product descriptions. With its versatile capabilities, you can use it for nearly every aspect of your Amazon product page, from basic inquiries to complex commands–the possibilities are endless. In addition, you do need any special engineering skills to use it, though some modes require advanced knowledge, for writing content, it doesn't.
Which Commands Can I Input in Chat GPT?
Well, the sky is the limit here. You can play around to understand and see what is working for you. We give you a list of the commands we have input in chat GPT for improving Amazon SEO.
Like "Give me 20 trendy keywords related to a product on Amazon"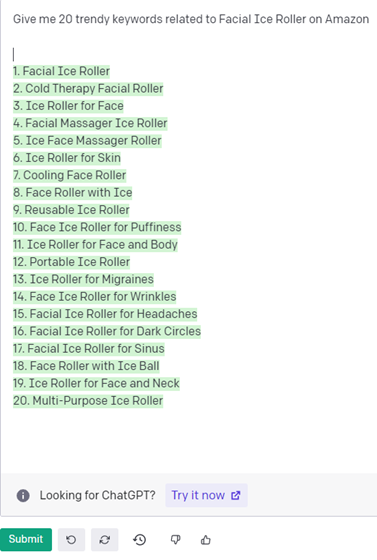 Or "How can I improve the SEO of my online Amazon store this year? Give 5 ideas."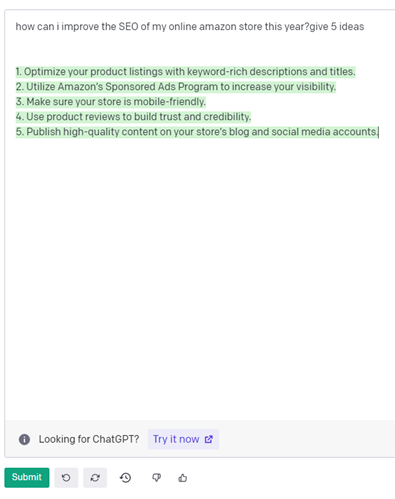 Chat GPT is an impressive and powerful tool, but it has its limitations. The quality of the results depends on how precisely you feed it information – the more ambiguous the instructions, the less accurate the answers. Chat GPT is certainly a talented multitasker, but it will never be able to take the place of a real human writer. When you use Chat GPT the critical thinking is linear, there is no depth of insight or sparkle of creativity, so you still need human guidance to get the best results.
What Else is Powered by AI?
AI is no longer just a trend that companies are using to sell products – it is a powerful tool that is being used by many valid companies. At BQool, our software is powered by AI and helps sellers increase their chances of winning the Buy Box and improve their sales. With Amazon's competitive environment, making fast decisions is essential for success. Our AI Repricer is designed to adapt to any situation, giving you the power to make the decisions that are best for your listings.
How Does it Work?
Both BQool AI Repricer and Chat GPT have machine learning. We applied machine learning to our Repricer, feeding our AI system with data from Amazon. These data range from item availability, condition, price, ASIN, seller ratings, Prime status, Amazon channel, seller type, shipping location, Buy Box, competitors, expedited shipping, handling time and more.
The AI finds patterns in the data, offering price predictions to win the Buy Box. It captures results and inputs them into the training model to develop a more capable algorithm, leading to more accurate decisions and predictions as it processes more data and successful outcomes.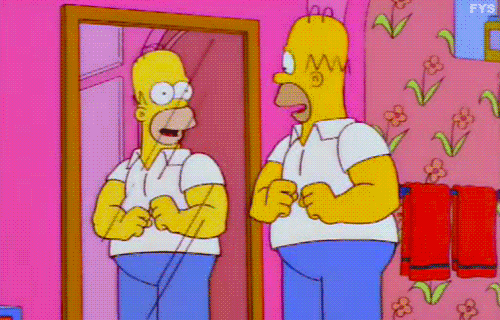 What are the Benefits of Using an AI Repricer for Your Store?

Our AI Repricer allows you to select from 5 different Repricing goals to build a strategy that best fits your competition and business needs. So, you can choose the one that works best for you.
These strategies can help you reach your goal, whether it's to boost sales, maximize profits, or raise your Buy Box price. BQool's AI-Powered Amazon Repricer makes it simple to calculate your product's profit margins and ROI.
With BQool's advanced conditional repricing strategy, you can easily and effectively take control of the buy box.
BQool conditional repricing strategy automatically switches between your favorite AI repricing and your trusty customized algorithmic repricing rules based on multiple market conditions to help you outsmart your competition. Utilize the power of AI to keep your prices competitive and limit your rivals' buy box win rate by keeping them locked at min or max prices. Take the lead in the market and make the most of your sales with BQool!
If you want more information and tips on how to set up the AI Repricer, check this page.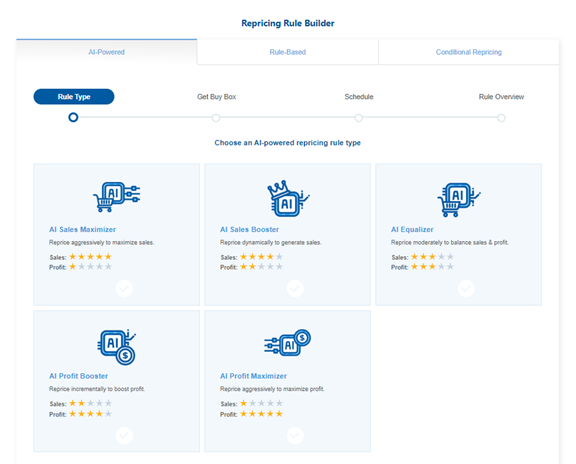 BQool AI provides a lot of customizable possibilities for your Amazon Business. To provide a clear understanding of the differences between the five AI repricing strategies, BQool has created a summary table that rates them according to sales and profit. Therefore, you can make an informed decision when selecting the best strategy for your business.
Increase your Chances to Get More Buy Box
If you have been selling on Amazon for a while you know how important the buy box is for sellers. Using a Repricer powered by AI is a real game changer. Our AI repricer can learn the market trend to optimize your prices to get the buy box while maintaining a decent profit margin. Because Amazon encourages sellers to lower their prices but with AI repricer you can reprice at your most profitable time.
In conclusion, AI is a powerful tool for Amazon sellers. With the help of AI tools like Chat GPT, you can optimize your Amazon listings, research keywords, and create better descriptions for your products to stand out from the competition. In addition, BQool's AI Repricer is an excellent tool to increase your chances of winning the Buy Box and maximize your sales. With its customizable strategies and powerful AI technology, you can focus on growing your business, while the tool takes care of the rest.