//php the_post_thumbnail( 'post-thumbnail' ); ?>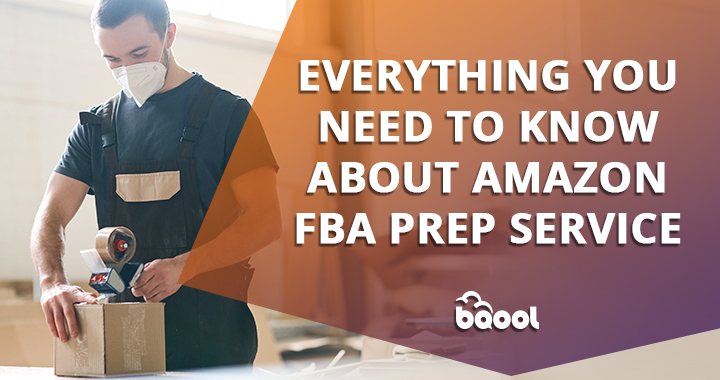 As an Amazon seller, you need to deal with different aspects of the selling process from the product sourcing to the sales, there are many steps you need to handle by yourself. Packaging and labelling are one of the steps you need to take care of, although it seems a minor procedure, packaging and labeling are an essential part of selling on Amazon, especially if you are a FBA seller. Without a suitable packaging and labelling, your products can be refused by Amazon fulfilment centers.
To take care of this essential step you have 2 options: Amazon FBA Prep Service and Prep Centers. In this article, we explain to you how Prep Service and Prep Centers work.
First Option: Amazon FBA Prep Service
FBA Prep Service is an Amazon service that you can choose to sign up to help you to deal with the packaging process.
When you made the decision to use a FBA Prep Service, you need to set up some parameters on your seller account. You must select on your prepare products page "Who Preps" field and choose "Amazon prep".
You can still prepare the products by yourself by selecting "Merchant", if you do not want to use Amazon prep Service. Amazon provides tutorials to learn how to pack properly your items.
If you just start to sell on Amazon, we highly recommend you sign up to FBA prep service because Amazon has different products categories with different packaging criteria. It could be confusing at first and be a huge time-consuming especially when you must ship many items to Amazon Warehouse.
Labels Service
Amazon FBA Prep Service only focuses on the packaging, so you still need to apply for Labels Service for having the full packaging and labelling process completed.
If you sign up for Labels Service, Amazon will put Amazon barcodes to your products once they arrived at the amazon fulfillment center. You will be charge $0.55 per item fee. Amazon can only label your units if they have a scannable barcode (ISBN, UPC, EAN, or JAN).
You can choose to put by yourself the barcode label by selecting in "Who Labels" section "Merchant" on your account seller.
You can change your preferences for each product you have created a shipment and the data would be saved by Amazon for your futures shipments.
To make sure that your products would be identified as FBA Prep service, you need to notify it in your shipping plan on your seller account.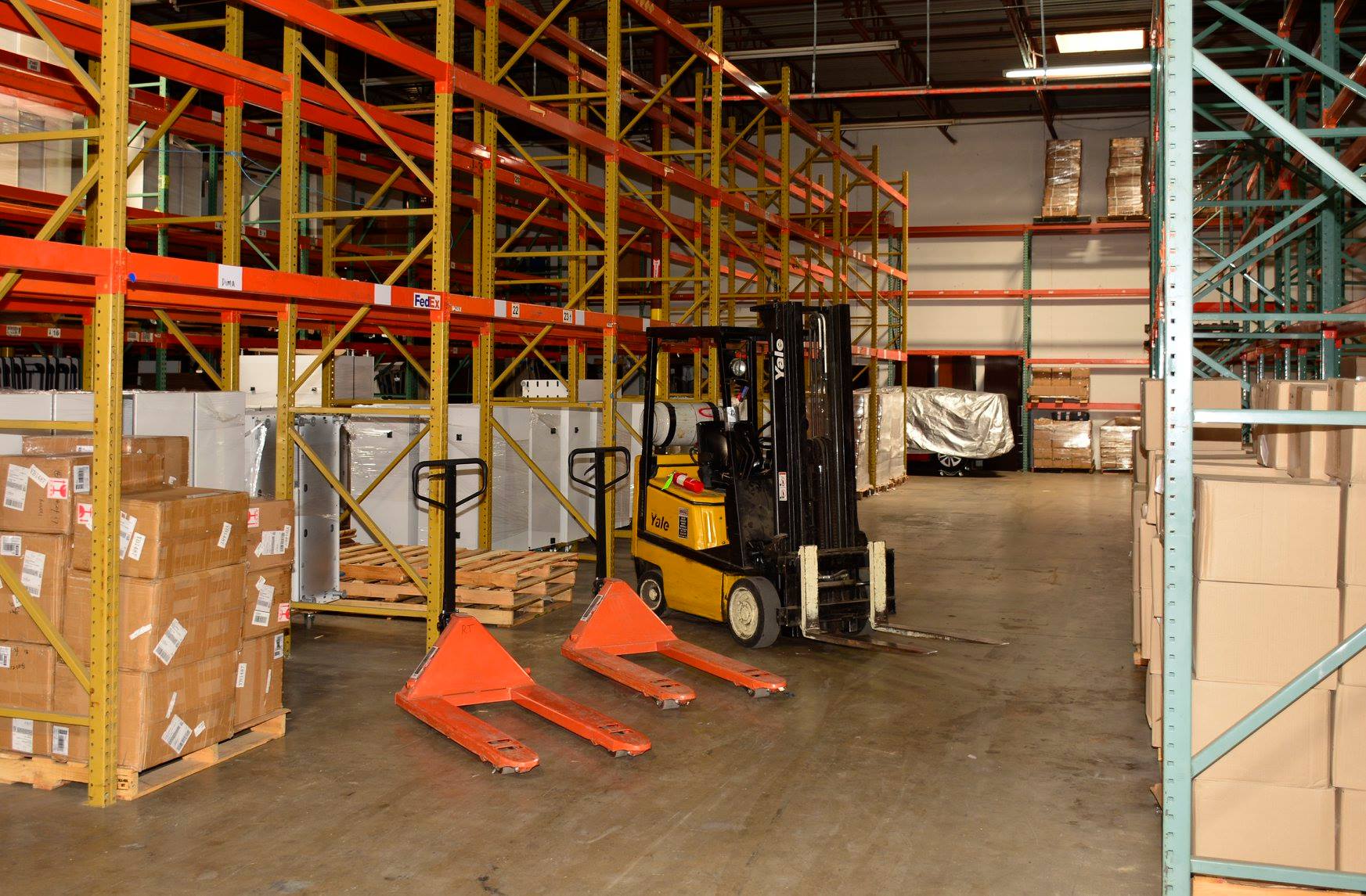 Prep Centers
You can contact a prep center that is a third-party company specialized in logistics and that offers a FBA Prep Service to take care of the special packaging and the labeling process for you.
Prep Centers respect and follow the amazon packaging and labelling policies and handle the required FBA process for your products. The fees can differ according to the logistic company you choose. You can find many prep centers on the internet, they have different way of proceeding they usually align their fees on amazon's ones (you can refer to the Amazon fees table below), but because they are in charge of the logistics of your products, you need to pay extra fees for stocking and shipping.
Prep Centers need to use your amazon account data to coordinate your shipment and enable them to print out the FNSKU labels with you and Amazon warehouse. Once you choose a Prep Center you need to give them the limited access to your seller account. For that you need to create an assistant account, and don't worry, they will not be able to see your sensitive data since they will just have a restricted and secure access to your shipping plans.
We recommend you use prep centers service when you already have an establish system with a manufacturer or a supplier to directly send the goods from the manufacturer or supplier straight to the prep center.
Here is an example of the different steps and how you have to proceed to start using prep center services.

*source from FBABee logistics
Why it is so Important to Meet Amazon' Packaging Requirements?
Amazon packaging and labelling policies are strict, your products could be charged for noncompliance by Amazon or refused to be added to your inventory that will make you lose money and time. Signing up to a FBA Prep Service or paying a logistic company, enables you to make sure your products will meet the packaging and labelling requirements.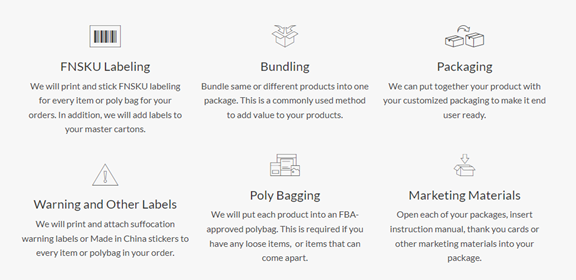 *source from FBABee logistics
These are the different services that prep centers can provide to you. The price might vary, check your prep service center webpage to know the applicable fees for each service.
FBA Prep Service Fees
The data from the table below comes from Amazon website (updated fees 2022). Each product category has specific packaging and labeling requirements. It could also have more requirements and extra fees based on the nature of the product and its dimensions.
Per-Unit Fee
Standard-Size
Prep category*
Prep
Labeling
Total
Fragile/glass

·         Bubble wrap

·         Labeling

$0.80
$0.55
$1.35
Liquids

·         Bagging

·         Labeling (optional)

$0.70
$0.55**
$0.70 to $1.25
Apparel, fabric, plush, and textiles

·         Bagging

·         Labeling (optional)

$0.70
$0.55**
$0.70 to $1.25
Baby products

·         Bagging

·         Labeling (optional)

$0.70
$0.55**
$0.70 to $1.25
Sharp

·         Bubble wrap

·         Labeling

$0.80
$0.55
$1.35
Small

·         Bagging

·         Labeling

$0.70
$0.55
$1.25
Adult

·         Bagging (black or opaque)

·         Labeling

$1.00
$0.55
$1.55
Powders, pellets, and granular

·         Bagging

·         Labeling (optional)

$0.70
$0.55**
$0.70 to $1.25
Perforated packaging

·         Bagging

·         Labeling (optional)

$0.70
$0.55**
$0.70 to $1.25
In Conclusion
If you are a novice seller, we recommend you sign up to the FBA Prep Service and Label Service. You will save time and you can focus on dealing with other aspect of your online store. Once you have an established system with a manufacturer you can choose to expedite your goods from the manufacturer to a prep center that will take care of the logistics.
If you are looking for a prep center that can deal with your business, we recommend you ZonPrep.
✨
Prep Centers Serie
🔗 Amazon FBM Sellers & Prep Centers | BQool Blog