//php the_post_thumbnail( 'post-thumbnail' ); ?>

In 2015, FBA (Fulfillment by Amazon) volumes have grown significantly and the inventory levels were extremely high. Especially in November and December, U.S fulfillment centers were fully packed. In order to store all the overloading inventory, they had to set up hundreds of temporary warehouse canopies. To avoid situation like this and the potential capacity constraints during the holiday season in 2016, Amazon FBA warehouses are accelerating their storage capacity expansion. They have decided to change the current FBA storage fee structure to encourage all sellers who send in products in November and December to sell by the end of 2016.
The table below shows the shift of FBA monthly storage fees. The inventory fees for standard-size and oversize items were reduced for October and increased significantly for the holiday season between November and December.
Monthly Inventory Storage Fee Adjustment

Due to the slow sales after the holiday season, the change of storage fees encourages sellers to ship in inventory before October which prevent stock overloading at the end of year. Although the storage fees have increased, Amazon fulfillment centers decided to reduce weight handling fees for all items shipped in November and December.
Weight handling fees in November and December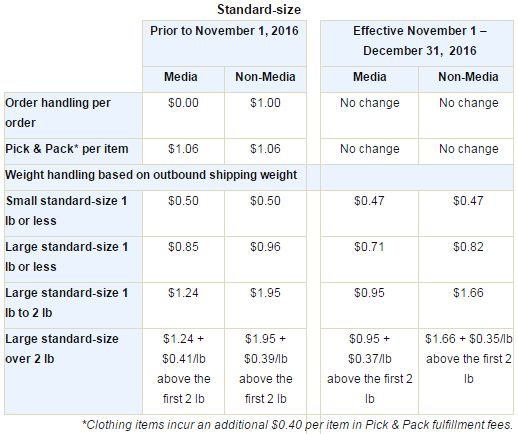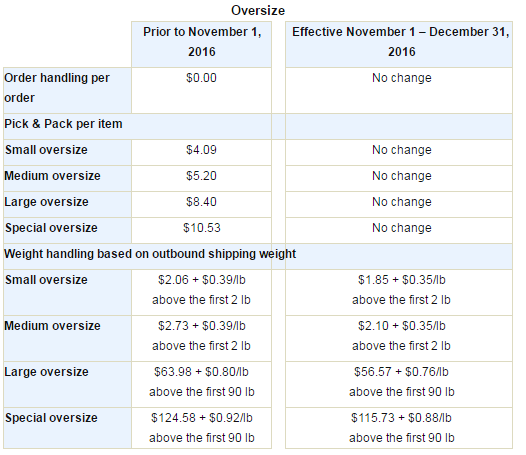 This reduction will take place from November 1st to December 31st, 2016, planning to offset the increase in monthly storage fees for sellers who reduce or sell through inventory. Please refer to Amazon Help for more detailed information and FAQs.
If you're currently using fulfillment by Amazon (FBA), get ready for a slight price increase in 2016. To avoid such expense, use a repricing software to help you clear out your inventory. For those obsolete in-stock items, you can boost sales by customizing an aggressive repricing rule. The system will always reprice your listings within the boundaries of your pre-determined minimum and maximum prices. So while you are able to clear out the inventory, it also helps maintain your minimum profit margins.
Learn more about: