//php the_post_thumbnail( 'post-thumbnail' ); ?>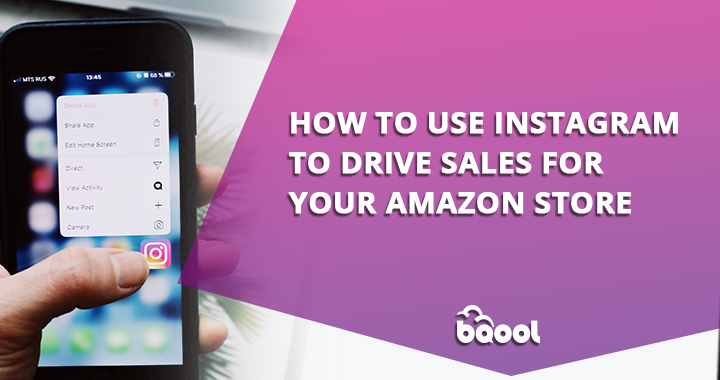 Instagram is now home to 25 million companies worldwide and it's easy to see why sellers should learn how to use Instagram for Amazon growth.
With 1 billion monthly users, a ranking as the second-most downloaded free app in the Apple store and a potential advertising reach of 849.3 million users, it's where smart marketers go to increase their reach and revenue. 
Positioned as the 'Home for Brands' as Facebook moves in favour of friends and family-centric content; Instagram assumes the role as the home of the swipe-up, a user-friendly tool to fire you straight to a landing page, blog post or eCommerce listing. With a reported 130 million Instagram users clicking through on shopping posts each month, the 'gram is worth its digital weight in gold when it comes to driving traffic and increasing sales.
In this article we will look at how you can use Instagram to drive sales for your Amazon store; how to curate content which speaks to your target audience, and how to market your business to increase visibility and awareness, securing that all-important click-through. 
Let's get started.

First, some housekeeping 
Make sure your Instagram profile is optimised for selling. Turn on your Instagram business profile to unlock analytics features. Do this by clicking Settings, then Switch to Business Account. From here, you can link up associated pages, such as your company Facebook Page and add in your contact details.
You now have access to key data to understand your followers and how they interact with your brand. You can view basic stats like Profile Visits and Website Clicks, as well as deeper insights like your week-by-week Reach and Impressions. Both of which are key metrics that chart your growth and impact. 
Per-post, you can see the total number of interactions and a breakdown of where your traffic came from, e.g. via hashtags, your home page or your profile. Plus, you can analyse individual Story posts and understand where users drop off and exit and when and how they skip through your content.
Now you need to give your profile a spring clean. Make sure:
Your bio is clear about what you do

That you link to a key page for your business, like your Amazon storefront

You're using the best hashtags for your audience
You're using Instagram's Collection categories wisely
Encourage follower engagement
Instagram is a social, visual-first platform at its core. When you're looking to drive sales for your Amazon store, you need to tap into the app's heartbeat – a hard-sell rarely performs as well as soft, relatable content. So, don't treat your Feed like a shop window with no two-way conversation.
Your existing and potential followers want to feel an affinity to your brand. Company profile interactions can encourage this, and your use of relevant hashtags plays a large role. 
By initiating a sharing hashtag bespoke to your company, you can not only gain engagement but have your followers create additional advertisements on your behalf so that when they have bought an item, they feel encouraged to post about it.
Content performs best when in-situ, from the home of someone relatable and real, so when this happens, ensure you re-post either in Stories or on your main feed to keep that momentum flowing. 
Invest time in commenting, liking and re-sharing organic posts – and finishing with a clear call to action (CTA) to drive the customer to your Amazon seller page to pick up a product themselves.
Shoppable posts
You can make things even easier for your customers by tapping into Instagram's Shoppable Post feature. You can do this by connecting your product catalogue and applying for approval. 
If you haven't got more than 10,000 followers and so can't enable the swipe-up feature, but you feel like the 'link in my bio' line is a bit weak, this is a great alternative that offers an accessible customer experience (CX) and an eCommerce transaction with fewer papercuts.
A key consideration is the roadmap to conversion when using Instagram to drive sales to your Amazon store. Customers can get turned off and drop off at any point in the transaction journey. By employing in-built features like these which promote a smoother CX, you can enhance the checkout process, keeping it as seamless as possible for the user.
Use influencers
With an influx of users wanting natural and sincere content, Instagram influencers are on the rise, bringing with them increased product sales and company engagement. Gone are the days of advertising in static environments – the trend and want for real people, using real products, giving real opinions is paramount in 2020.
79 percent of people consider Instagram the best channel for influencer marketing and working with micro and nano influencers (influencers with between 1,000 – 50,000 followers) can be a good entry-point for lower budgets. Research is vital: you need to ensure the influencers you choose align with your product and company values, and that their feature won't be jarring in their feed.
Influencer marketing is commonplace, and users are au fait with the practice. The influencers have built followings of dedicated and engaged users, who, when given the right product and when positioned in the right way, can lead to increased revenue and sales for you.
Keep your content agile and reactive
Finally, it's not good enough to create one content plan and follow it step by step through to completion. By making use of the analytics features unlocked once you have an Instagram for Business account, you can keep reactive and on the pulse of what's working, and what's not.
By sharing insights between influencers and your own profile, you can form a picture of what performs best. No two sales are the same, with different needs and reasons for purchase powering customers, so agility is essential to keep content fresh and engaging, whilst ensuring CTAs and conversions to your Amazon store remain constant with an ever-present aim for growth.
To sum things up
By employing these methods, you can look to use Instagram to drive sales for your Amazon store. With a digital-first approach, you can reach potential customers from all over the globe, all with channels of their own from which to further promote your product with hashtags and product links back to you. With a focus on customer engagement and interactions, you can not only drive sales, but also enhance your customer base, which is essential to long-term eCommerce growth.
This guest post is provided by Lucy Farrington-Smith.