//php the_post_thumbnail( 'post-thumbnail' ); ?>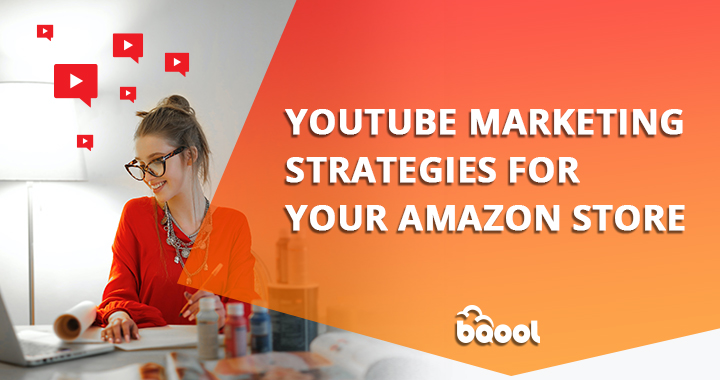 Why promote your products on YouTube?
Krista Daniels, who sells handmade chocolates on Amazon FBA, says her biggest customer attractions are her YouTube videos. Her clips are short and sweet. One of her viral videos featured a very romantic marriage proposal involving Krista's chocolate products. With dozens of consumer videos of her products appearing on YouTube, Krista says her sales have shot up by more than 40%.
 
It might not sound like a priority for your Amazon product's marketing strategy, but setting up your brand's YouTube channel can open up a feasible, very lucrative marketing channel for increasing your Amazon FBA sales. 
#1 – Develop a Successful Strategy 
A solid YouTube presence is definitely a spectacular way to drive traffic and sales to your Amazon store. But before creating your first videos, you need to understand your audience and implement proven YouTube marketing strategies to gain that extra edge over your competition. 
The videos need to showcase the potentiality of your products used in real-life scenarios, something that no static pictures on the Amazon page can ever provide.
Krista's customers range from lovesick teenagers to corporate executives ordering chocolates for company occasions. In her various video logs, she offers ideas, advice, and inspiration in relation to her products. Her discussions vary from the therapeutic value of chocolate to which types of chocolate is the best for impressing a high school sweetheart. 
#2 – Customize your YouTube Channel 
When you create your YouTube channel, choose to set up a Brand Account instead of a personal channel, given its most suitable features for your Amazon FBA business down the line.
Then, give your channel a professional look to increase your brand credibility. You can customize the background and the colors of your YouTube channel; add your company logo, other relevant information, and links to your Amazon store. In the channel setup, there are options for enabling subscriptions via the click of a button. You can also set the channel search bar options to search only your uploaded content. YouTube also allows users to highlight the latest uploads, playlists, favorites, etc. When writing your channel description, give a brief outline of your brand and your Amazon products. Make sure to describe your mission and, most importantly, to mention all the relevant keywords you want to rank for. 
#3 – Decide on the Type of Content 
Once you have set up your channel look, it's time to focus on the actual videos you are going to publish. 
Instead of delivering only descriptive videos of how the products look, you can consider mixing things up with different goals in mind:
Educational: A big chunk of YouTube searches starts with "How to". You can create videos where you teach your audience how to use your product, how to perform certain actions, and improve your skills. You can even structure them as listicles, such as "5 ways to improve your baking skills". 
Funny & Entertaining: to gain higher rankings in a YouTube search, your videos have to retain its viewers throughout the entire show. Make sure your videos are entertaining by adding humorous sections and interesting facts. One trick for keeping viewers engaged is to vary the camera angle every 20 to 30 seconds and add multiple cuts to different scenes and backgrounds.
Brand Storytelling: You're not only selling products, but you're also selling a lifestyle. Creating inspiring videos that reflect your brand identity can go a long way in increasing your audience's loyalty. For example, if you are selling travel accessories, you can create appealing videos of trips, natural spots, adventure, and so on. 
#4 – Engage with your Audience 
Just like any other successful social media campaign, regular and consistent updates are the key to creating and retaining a loyal following. Consistent content production should be a part of your YouTube marketing strategy. At least one video per week will keep your channel feed active and help in building more subscribers. 
One of the most important steps in the YouTube marketing strategy is directing the audience to your Amazon store. In the video description, create a link back to your product page. Another method is to add your store information in the End Slate. This will appear at the end of the show to direct the viewers to your Amazon store or to other videos from your channel. 
YouTube is primarily a social network of video creators and their audience. Prompt your viewers to take actions that help you reach a larger audience. End the show asking viewers to Subscribe, Like, or Share the video with their friends. Encourage your viewers to comment on your video by asking for their opinion or by asking questions. Use the middle or the ending of the show to prompt them into taking such action.  
#5 – Optimize your Channel 
There is no point in creating great content if no one will watch it. SEO (Search Engine Optimization) is crucial on YouTube to stand out from the crowd, so you need to put extra effort into video title, video description, keywords, and tags.
You need to spend a bit of time performing Amazon keyword research to discover the most relevant keywords for your brand and products. Check competitors' videos and experiment with different types of titles and descriptions. 
The attention span of online audiences is notoriously short. The first few seconds of your video have to be captivating enough to hook them. YouTube's algorithm gives more weight to average watch time than the number of views. This is important in increasing the visibility of your videos on YouTube as higher- ranked videos get displayed at the end of shows as well as on the right sidebar which displays related videos.
Also, adding subtitles make it possible for the millions of hearing-impaired people across the world to access your content. Additionally, many people have difficulty in understanding certain accents, or sometimes, the sound quality may make it difficult to decipher the language; in such cases, subtitles are what makes the show understandable.
Lastly, make your channel more viewer-friendly with playlists that group relevant videos together. Organize your video content into folders and write your playlist titles and their description creatively to maximize their appeal. 
#6 – Analyze your Performance 
YouTube offers several tools to analyze the video and channel performances. The data is pretty straightforward but it can be a bit overwhelming because so many different metrics are displayed. 
So, what are the aspects that matter the most when checking your channel performance?
Views and Watch Time are definitely important to understand how popular and captivating your videos truly are. If the views are not enough, try to improve your SEO through better titles and keywords. If the watch time is low, then it means your content's quality could be improved.
The Traffic Source is also a key indicator of your brand's reach. Apart from organic YouTube searches, views can also come from Social Networks (Instagram, Facebook, Pinterest), your own channel, suggested videos on other channel's videos, and from paid advertising (Google AdWords).
Other metrics you can take into consideration when analyzing your videos are Audience Demographics, Audience Location, Subscription Retention, and comments quality. 
This blog post was by Alysha T. Rohaan, and it's originally published in March 2014 and was updated in June 2020 due to product updates or Amazon policy changes.