//php the_post_thumbnail( 'post-thumbnail' ); ?>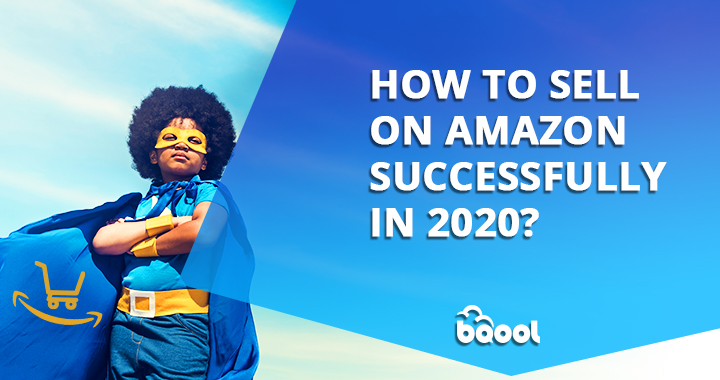 Just like all other online platforms, Amazon is constantly tweaking its algorithms and requirements. To stay on top of it, you need to keep up with recent developments and adapt your shop to novelties introduced in this online platform.
No matter if you are an experienced seller or a complete newbie, 2020 will bring quite a few changes in the way we do eCommerce, so you will have to alter some operational techniques.
In this overview, we're bringing you some of the main things to keep in mind to start or continue selling successfully on Amazon in 2020.
Do Market Research and Analyze Competition
You might already have an idea on which products you want to sell, but before investing in branding, procurement, storage, and marketing, you should do extensive market research first.
You can follow the example of hot-selling products from 2019 or take a look at some of the expert recommendations on what's going to sell well in 2020.
When you decide on the products, do deep research on your competition. Is this niche highly competitive? What are the strengths and weaknesses of your competitors? How can you improve the customer experience and provide better value than them?
Researching your competitors is also a great source of information for your own store. To avoid having to go through testing and trial-and-error with your own online store, you can see what your competitors have done according to what worked for them.
Find a Good Niche
If you're just at the beginning of your eCommerce adventure, one of the most common mistakes that you can make is to go too wide in regards to your product offer. By providing a product catalog in a general category such as clothing, you will immediately compete against some of the top companies in the world.
For starters, it would be much more profitable to focus on a particular niche rather than sell products for the general audiences.
Let's take a look at the same example: instead of selling clothes, narrow down your offer to, for example, baby apparel. This is also a very competitive industry, so let's narrow down even more. Focus on a particular baby apparel item, e.g. baby overalls. Now, narrow it down to fit in a very specific niche, such as 'funny and cute baby overalls' with humorous quotes or illustrations.
Focusing your product catalog on a specific type of collection is almost always more profitable for beginners, but make sure you don't go too niche so that your products interest only a handful of people.
Create Beautiful Product Descriptions
Next to reviews and pricing, a product description is one of the main factors that customers use to make the decision of whether to buy or pass. That's why it's extremely cost-effective to invest in great product descriptions because a one-off investment into a product description can bring you sales and profit for years to come.
If you don't know how to write product descriptions that sell, you can hire professional writers to do them for you. For example, writers at Studicus are experienced with following exact specifications provided by clients. After discussing your needs and preferences, the writers will submit to you a final product that will be tailored to your brand and products and increase your sales.
If you want to try whether you can do it by yourself, stick to some of these guidelines for effective product descriptions:
be original and unique
use visual and emotional adjectives and adverbs; save technical specifications for last
break up your description into paragraphs so that they're more easily readable
include links to other similar products
check your product descriptions for SEO-friendliness using online services such as Small SEO Tools
If you take a look at some of the most popular sellers on Amazon, you will see that their product descriptions are extremely detailed and well-crafted. This is because successful eCommerce business people know the value of a great product description.
Take a look at this example from one of the top Amazon sellers of dietary supplements: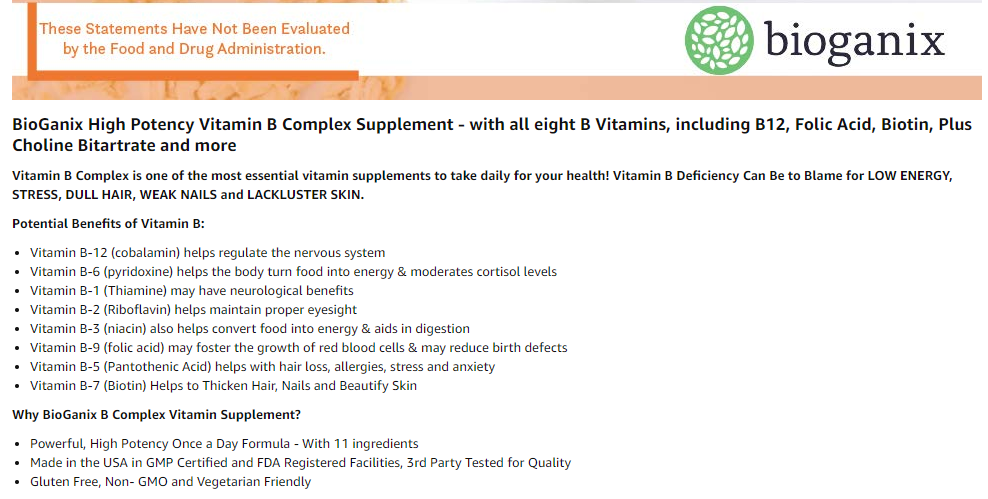 If Bioganix can make B vitamins seem exciting, you can surely achieve the same effect with one of your products!
Use Many Different Marketing Channels
You can use many social media platforms and other channels to redirect traffic to your Amazon store or product.
In 2019, one of the most effective ways of acquiring users through outside sites was blogging, i.e. search engine traffic from Google. Organic traffic is highly valuable because each visitor is a qualified lead who already showed interested in one of your products via a keyword.
Remember not to neglect other marketing channels. Facebook, Instagram, and YouTube continue to be great drivers of traffic to Amazon, and the trend is expected to continue in 2020.
Also, to stay ahead of your competitors, you can use some marketing channels that are not yet overcrowded with eCommerce advertisements and can help you stand out from the pack.
Some of the newer social media networks that you can use for Amazon products promotion in 2020 are Snapchat, Pinterest, Etsy, TikTok and Quora.
Another possible great source of traffic is forums. However, producing content that will advertise your products can sometimes be prohibited on forums, and it's also not that time-efficient. However, Amazon product links included in forum posts will also help with backlinking, which boosts your SEO.
Conclusion
In order to enter 2020 ready and prepared for more sales and ever, you need to keep up with the trends and use marketing channels that are not overcrowded with the competition.
As for your Amazon store, one of the best investments you can make is to set aside time or funds to craft effective and compelling product descriptions that will help your buyers decide to go through with their purchase.
Also, keep an eye out for new, trending products and incorporate them into your store while they're still not highly competitive. Being one of the first stores to offer a super-popular product (think fidget spinners) is a surefire way of launching your store's reputation and profit to the max.
Author Bio
Nicole D.Garrison is a content strategist, writer, and contributor at a number of platforms for marketing specialists such as Best Essay Education. She is a dedicated and experienced author who pays particular attention to quality research. In her free time, Nicole is a passionate runner and a curious beekeeper. Moreover, she runs her own blog LiveInspiredMagazine, where she shares useful tips on running a business and succeeding in the digital industry.