//php the_post_thumbnail( 'post-thumbnail' ); ?>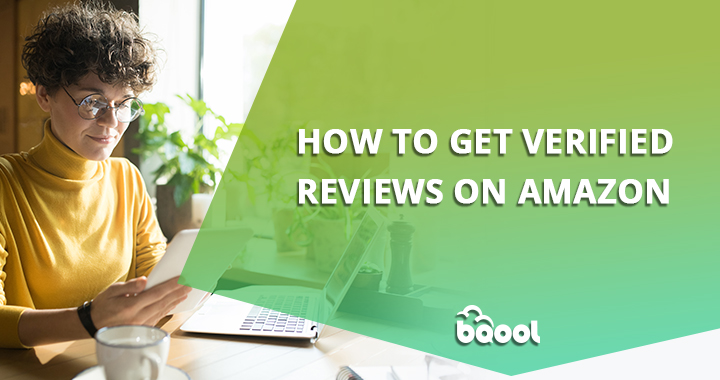 Needless to say, professional sellers who make a living on Amazon are fully aware of just how important product reviews are. Product reviews help Amazon shoppers get to know the products better and make informed purchase decisions. On the other hand, seasoned shoppers not only check reviews on Amazon, they know to look for reviews with the Verified Purchase badge
What is the Verified Purchase Badge and Why Do You Need Them? 
Amazon has traditionally allowed consumers to leave reviews on any product they may not have necessarily purchased through Amazon, but Verified Purchase badges are only given to reviews that were purchased through the Amazon platform. Since there are no restrictions on writing product reviews, consumers tend to trust Verified Reviews more than unverified reviews.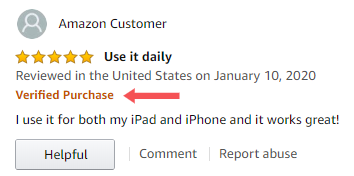 Reviews play a role in how the Amazon algorithm calculates product rankings and displays product listings to consumers. Verified Reviews and helpful votes are said to weigh more in the algorithm. In other words, Verified Reviews increase the average rating score, which helps boost exposure and sales for sellers. As it is not the sheer volume of the reviews that matter to Amazon and consumers alike, sellers should aim to get Verified Reviews as much as possible.
Amazon's Review Algorithm & Policy
Before we share some helpful tips for getting Amazon verified reviews, you should know that how Amazon Algorithm takes reviews into account to determine your product ranking.
"Amazon calculates a product's star rating using machine-learned models instead of a simple average. These models take into account factors such as review's recency, helpfulness votes by customers and verified purchase status. They use multiple criteria that establish the authenticity of the feedback. The system continues to learn and improve over time."

"To submit a customer review, buyers (excluding Prime members) must have spent at least $50 without any applied promotional discounts using a valid credit or debit card in the past 12 months."
Amazon created these requirements and restrictions to prevents someone from leaving inauthentic and fraudulent reviews and ensure that customers are at least required to make an actual purchase since many sellers give something like discounts or free products in exchange for an Amazon review. If you want to maximize the benefits of verified reviews, you should adhere to Amazon's Selling Policies and Seller Code of Conduct.
How do you get Verified Reviews? 
Verified Reviews are gained through actual purchase. Other than selling quality products and creating detailed product pages with attractive product description, you can generate verified product reviews by becoming a Vendor and join the Vine Program or partake in the Early Reviewers Program. In addition to those Amazon programs, sellers can also try to increase orders by running PPCs and offering discounts and promotions, as long as they're not offered in exchange for reviews.
After you get your sales velocity going, follow up with stellar customer service to show that you care about your customers so buyers are more likely to leave product reviews. Therefore, the best way to get legitimate reviews is through an automated feedback request tool that integrates with Amazon and sends follow-up email campaigns to customers asking them to rate or review your product a few days after the product is received.
Some Tips on How to Increase Response Rate to your Feedback/Review Requests 
Follow up emails often get lost in the sea of emails and may create annoyance if there are too many for the same order. Here are some quick tips on how to increase the response rate.
Customize your content


Focus your message on customer satisfaction rather than directly requesting reviews. Ask whether your products meet customer expectations, and if not, what can you do to help improve their experiences. Optimize the email content by adding a personal touch with graphics, themes, templates, and variables. The more personalized and enticing the content is, the higher the open rate. And if your customers are happy with your product or customer service, they're more likely to leave organic reviews.

Timing of emails
Timing is everything. It's a good idea to send your email a couple of days after delivery confirmation so that customers still have a fresh memory about the order. One thing to keep in mind, though, is whether your customers need time to fully use the product to see the effect. If so, make sure to send your email so they've had time to experience the product.
The number of emails to send


Amazon automatically sends out feedback and product review requests for orders. While those are great, with 3rd party software, you're able to customize the message content for your audience. But it is important to be careful with the number of emails you send on top of what Amazon automatically sends out because you want to get a response without annoying your customers. And please note that do not send more than one request for a review or seller feedback. 

Dump A/B testing for AI-Powered solution


Not everything works for everyone. Use A/B testing to test and determine how to get the best response rate by implementing various factors that may impact the success rate, such as different messages, the timing of requests, as well as the number of emails to send.





However,  AI is now providing an efficient alternative to A/B testing that enables these different variations to self optimize. Feedback software driven by artificial intelligence can analyze the best email subject and the best time to send each email campaign to each email recipient. With AI-Powered email automation, you are no longer required to conduct multiple A/B tests to compare the email open rate of different email subject lines and delivery time to achieve the best result.
An Amazon Help Desk with Email Automation
Stand out from your competitors with the help of our innovative Amazon help desk solution, BigCentral, which allows you to simplify Amazon customer service and improve buyer's shopping experience. You can customize and automate feedback and review request emails to happy customers to increase your odds of getting positive reviews and feedback.
If you prefer requesting a review by clicking each Request a Review button on Seller Central, you can try BigCentral's 100% Amazon-compliant request a Review Button Automation, which allows you to request reviews for all your Amazon orders at once. Try it for free today!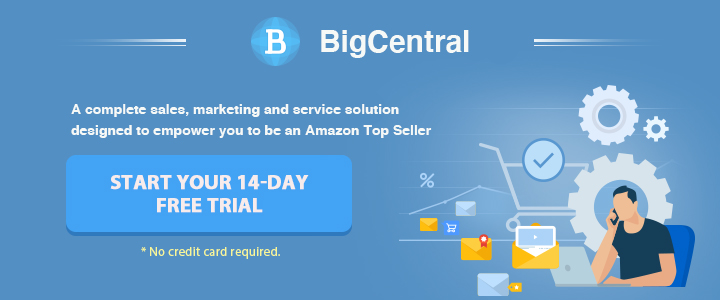 This blog post was originally published in June 2016 and was updated in January 2020 due to product updates or Amazon policy changes.