//php the_post_thumbnail( 'post-thumbnail' ); ?>

I am finally taking a vacation. A real vacation with my family! Being an Amazon seller definitely has its perks. I can take a break without worrying about my sales or loss of profit.
I know you are wondering how I can be so cool and confident about it. Well haven't you heard Louis Pasteur's famous quote, "Fortune favors only the prepared mind"?
I am well prepared. I set my listing status to vacation mode three days ago. I definitely don't want any last minute buyer rushing in when I am locking my door, so here's my check list:
✓ No pending orders or customer issues to settle.
✓ My email provider is set to auto respond with "Yahoo! I'm on vacation." Just kidding, it gives a very formal announcement that we are closed at the moment, and we'll be contacting them at the earliest opportunity.
✓ Get all my existing stock labeled and shipped to an Amazon warehouse via their FBA program.
Now I can relax at the beach knowing my items will continue to sell on Amazon even when I am on vacation.
The fear of losing sales, facing angry customers, and bad reviews cause many family vacations to be spent carrying laptops, answering emails, and processing sales. Lack of access to their inventory is the main problem for online sellers while on vacation. You can teach a family member or a friend to handle a limited inventory of your most popular items, or you can do it the easy way – assign it to FBA. In the era of smart phones and Wi-Fi, you can still keep an eye on your store from anywhere in the world. If you plan carefully, you can also keep your store open while enjoying your holiday.
Ensure a Regular Income While on Vacation
There are plenty of advantages to being a seller with FBA. Using "Fulfillment by Amazon" or FBA keeps your listings available all the time. You can relax and take that dream vacation, while someone else packs and ships your merchandise for you.
According to a recent study conducted by the Harris poll on corporate reputation ratings for the 100 most visible companies in the U.S.[1], Amazon topped the rankings for best reputation, due to consumer perceptions of high quality, innovative, well-valued products and services; visionary leadership; and trust in a brand people feel good about.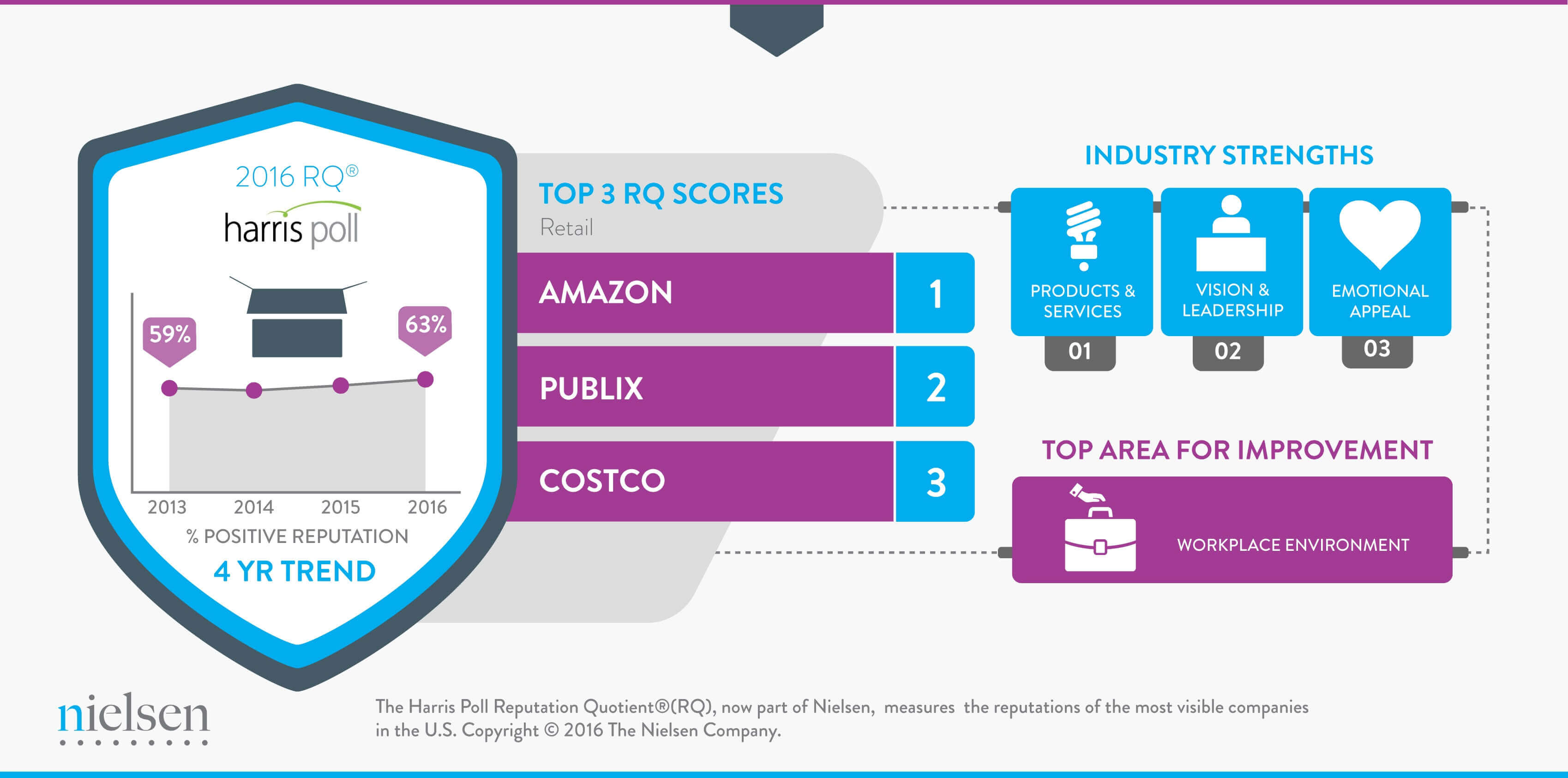 FBA provides the advantage of Amazon's extensive logistical experience and prompt, responsive customer service. Your listings will be displayed with the "Fulfillment by Amazon" logo, so customers will have the security of knowing that Amazon will be handling the packing, delivery, customer service, and returns.
Once you have added your listings to Seller Central, as well as labeled and shipped your inventory to the FBA warehouse, your job is done. Amazon handles the rest. When a buyer orders from your online store, Amazon collects the payment and ships the item within hours of the sale. If a customer is unhappy with the item, returns it, and leaves your store negative feedback; Amazon handles everything until the customer is satisfied. No more storage space issues, dealing with disgruntled customers, or refund complications. There are also some tools can help you, such as Auto Repricer and Feedback Software. As long as you keep sending quality merchandise regularly and pay off your inbound expenses, you can continue to earn a regular income from your Amazon store, even when you're on the other side of the world.
Change Your Listing Status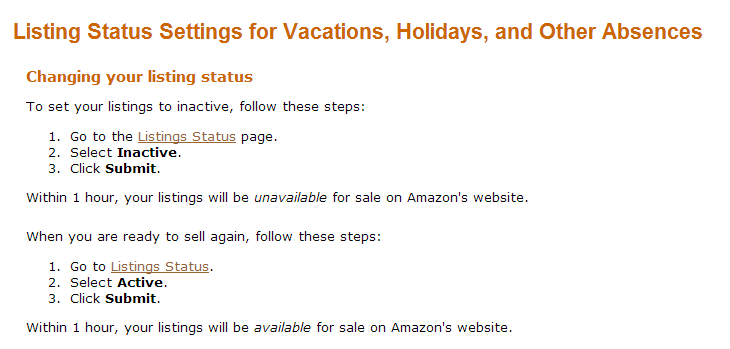 If you prefer handling your own sales and wish to close your Amazon store when you take a holiday break, you can put your Amazon account on hold by changing your listing status. When you set your listing status to 'inactive,' your product listings are removed from the product detail pages and search results within one hour.
This is the ideal solution when you have to temporarily remove your open listings from Amazon for unprepared events. Such situations may range from unexpected product supply disruptions to personal medical issues or family problems. If you leave your account active in such cases, unfulfilled product orders will create angry customers and negative feedback.
Any applicable monthly fees like Pro Merchant subscription fees will continue to be charged even if the fees are due while your listings are inactive.
Set up an Auto Responder for Buyer Inquiries
Your Buyer-Seller Messaging remains active even if your listing is inactive.  For minimizing negative feedback and increasing customer satisfaction, buyer inquiries should ideally be responded to within 24 hours.

It is advisable to set up an auto responder through your email provider that will automatically send out an e-mail while you are unavailable. You can include a store reopening date and when the item can be shipped at the earliest. Though Amazon does not count auto-reply as a response in their Contact Response Time calculations, it is infinitely better than no response at all.
Don't Deactivate at the Last Minute
Changing your listing status to "inactive" will only prevent customers from placing new orders for your items. It has no impact on current orders that may have been placed just before you deactivated your listings. In order to avoid late shipments, existing orders will still need to be processed. Amazon is very particular about sellers shipping orders within two business days of a sale. To ensure there are no outstanding orders when you are on vacation, change your listing status 48 – 72 hours before you leave.
It is really simple to set your listings status to inactive. You have to go to the 'Settings' link and select 'Account Info.' Scroll down to 'Listing Status' and click on 'Edit.' Click on 'Inactive,' and then select 'Submit.' You can re-activate your account when you are ready to receive orders again. Follow the same steps, and select 'Active' from the listing status editing options. Your product listings will start appearing on product detail pages and in Amazon search results within one hour.
Learn more about:
BQool's Feedback Central update
Reference
[1] Harris poll: http://www.theharrispoll.com/reputation-quotient
Updated by BQool Marketing on July 21, 2016