//php the_post_thumbnail( 'post-thumbnail' ); ?>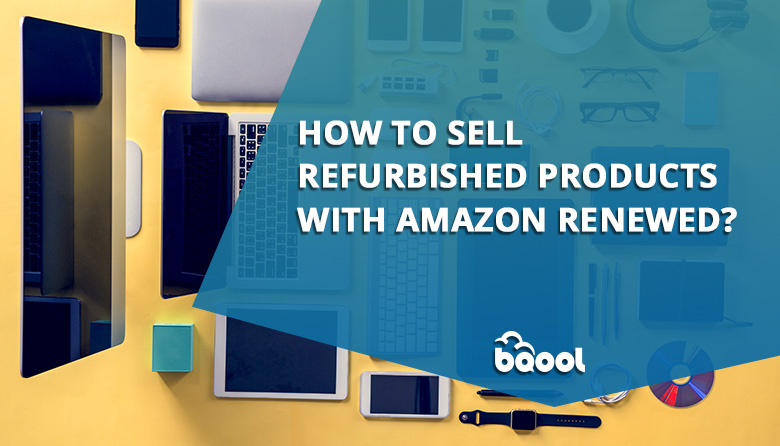 Tech gear, home appliances, and electronics have made our life easier, but these products often cost a lot of money. Buying refurbished products is a good way to save money without sacrificing quality when it comes to price and value. 
With Amazon Renewed Program, shoppers can discover and buy unboxed and refurbished products provided by a qualified technician or a specialized third-party refurbisher.
What is Amazon Renewed?
Amazon Renewed is a program that lets sellers sell the used products in good condition (refurbished, pre-owned, and open-box) to the customers who wish to buy electronics for less. When buying refurbished products, buyers are usually concerned about the trustworthiness of the sellers. Amazon Renewed provides a safe platform for both sellers and buyers to do business on so that they don't need to worry about getting scammed.
What refurbished product can you sell on Amazon Renewed?
If you are a qualified manufacturer or third-party refurbisher, you must make sure that your like-new refurbished products have been tested for functionality to perform properly. You can sell many types of products covered in Amazon Renewed program, including:
Automotive Parts

Cameras

Headphones & Audio

Home Appliances

Home & Industrial Tools

Kitchen Appliances

Laptops & Computers

Musical Instruments

Outdoors & Sports

Office Equipment

Smartphones

Tablets

Television Sets

Video Game Consoles

Watches
How to qualify for selling Amazon Renewed?
Step 1. Become an Amazon seller
To start selling on Amazon Renewed, first, you have to register as a seller on Amazon to be able to sell refurbished, pre-owned, and open-box products.
If you are new to selling on Amazon, you can send Amazon your details by filling in the application to set up your selling account.
Step 2. Meet the requirements
Amazon has strict requirements for the Renewed program. To qualify for this program, you should meet certain criteria:
You need to provide supply invoices showing a minimum of a total value of $50,000 in qualifying refurbished purchases in the previous 90 days from the date of the application. 

You may black out the unit purchase amount on the invoices.


Note: sellers planning to offer products related to Home, Home Improvement, Tools, Lawn & Garden, Outdoors, Kitchen, Sports, Toys, or Automotive may supply invoices showing a minimum total of $50,000 in qualifying refurbished purchases in the previous 180 days.
If you are an existing seller on Amazon, you're required an order defect rate (ODR) of 0.8% or less in the trailing 90 days.

Your company provides a minimum 90-day warranty on all of your refurbished products.

With no manufacturer warranty, you need to submit a minimum of 8 images of a sample unit for product and packaging review (box in which the product will ship, inside packaging and padding, product from top and bottom, product from all four sides), so you can get permission to list factory refurbished items.

Amazon requires invoices dated from trailing 90 days that total $2.5 million in Apple refurbished products for listing the Apple brand in Consumer Electronics categories.
Step 3. Start selling and grow your business
Once your application has been approved by Amazon, you can start listing your refurbished, pre-owned, and open-box products, and adding your offers to existing product listings if you like.
Conclusion
Before you invest in refurbished products you wish to sell, you can use Amazon product research and analytics software to hunt down profitable products. A product research tool has a filter that allows you to choose a product category and discover the in-demand product that has a low level of competition based on many key metrics: estimated sales, revenue, reviews amount, and more. Using a product research tool can allow you to discover the sales potential for your Amazon Renewed listings quickly and effectively.