//php the_post_thumbnail( 'post-thumbnail' ); ?>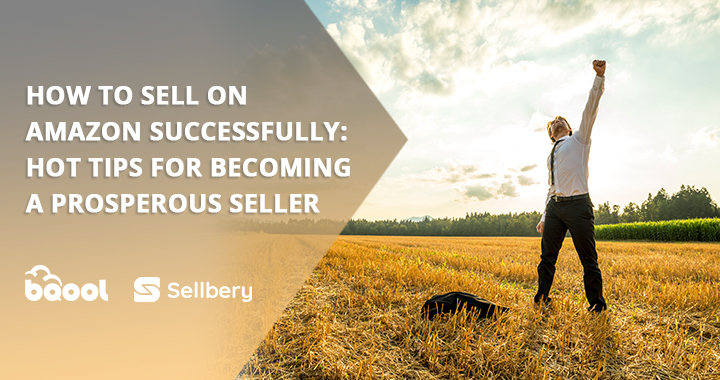 Amazon is the most prominent marketplace which generates 190+ million visits every month. It is a primary shopping destination for many buyers from all over the world. At the same time, Amazon is so flooded by sellers that they are struggling to attract more customers.
As an Amazon seller, you are probably wondering how to increase your sales and become a successful seller. This article will provide you with the most effective techniques you can borrow from those who have managed to come to the top of competition on one of the most competitive marketplaces.
How to Sell Successfully on Amazon: Pro Tips
Amazon is a tricky marketplace as you can either become a successful seller or start an unprofitable business. The main difference between the two groups of sellers is their ability to adapt to the ever-changing eCommerce scene quickly. If you have ever wondered whether pro sellers know some secret tricks that help them generate more sales, you were right. And you are about to get to know them too.
Invest in your business upfront
Setting up a store with Amazon while having little to no initial capital may be good for sellers who do not set the goal of meeting profit margins. At the same time, it is not suitable for sellers who make Amazon their primary business and source of income. It is especially important for merchants who want to sell wholesale products on Amazon.
An initial capital may go to different objects of expense – for the purchase of wholesale products and their delivery to the storage facility, renting an office or warehouse, promoting your Amazon page, etc.
Do product research
How do you know if your products will sell in the marketplace or not? Product research should become an integral part of eCommerce operations, as skipping this stage may result in lost revenues and unsold goods in the inventory. It is a common mistake among sellers who operate on assumptions rather than on facts.
If your products are outside 50,000 bestsellers on Amazon, they are less likely to sell well. Also, you need to consider ROI (return on investment), which should account for at least 30 percent of the product's procurement cost. In case the items you want to sell can only bring you a few cents, continue searching for more profitable offerings. The minimum ROI should be at least $3.
Reinvest your profits
While getting a 30 percent ROI is great, it is essential to continue improving your Amazon business. You can bring it to a new level only if you are ready to reinvest. At first, it may even make sense to plow back all your profits until your margin profits meet your expectations. Sellers can use the money to broaden product assortment, scale business, or market Amazon seller's page.
Adopt Automation Tools
Amazon selling is a complex process that requires not only your attention but also additional tools. These may be solutions for keywords research, analytics software, or multichannel listing tool. The last is very important for those who already sell on other sales channels or want to expand to new ones – marketplaces or online store. Choose the listing platform with a broad range of integrations and offered features. 

Sellbery multichannel listing platform

synchronizes product listings, orders, and inventory across multiple eCommerce platforms and marketplace, and provides analytical insight into your performance on each and all sales channels. 
How to Successfully Sell on Amazon: Don't Stop on the Achieved
Starting a business on Amazon is easy; running a successful Amazon business is a daunting challenge.
Sellers need to understand that eCommerce business requires a lot of work and an adaptive approach to dealing with problems. There is no one-stop solution for all and you should always be ready to adopt new techniques and growth hacks.
Author Bio
Sellbery is a multichannel listing platform designed to streamline cross-channel eCommerce operations, synchronize products, inventory, and orders across all sales channels. Try Forever-Free 99 SKU Plan and get the best offer on the market.