//php the_post_thumbnail( 'post-thumbnail' ); ?>
Potential in European Marketplaces
European E-commerce is growing rapidly! E-commerce in the UK is expected to grow by 10.5% this year [1], France by 7.9%[2], Germany by 12%, Spain by 19% and Italy by 18% [3]. Moreover, the 5 European marketplaces that Amazon currently operates in covers 25% of e-commerce spending in the region [4]. With so much potential in Europe, whether you're new to selling internationally or an experienced seller, tune in for part 2 of our global selling series about selling in European Marketplaces. ¡Adelante!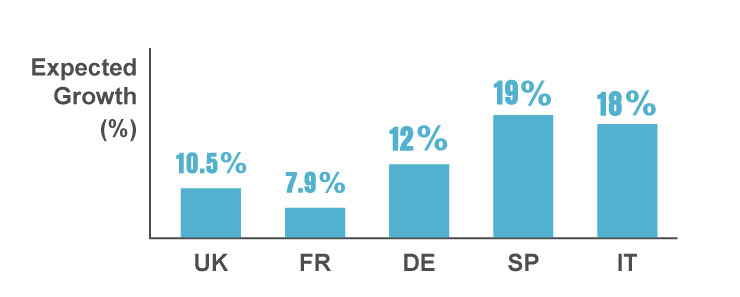 Cultural Differences: Localization and Product Demand
It's important to conduct sufficient research in advance and learn the cultural differences to determine whether your products will suit the new marketplaces, and refer to them with the right names.
Localization not only includes translating the listings into their respective languages. Even in English, there may be regional variations in the way people refer to an item. In the US, you may sell pants, sneakers and sweaters, but in the UK, they're known as trousers, trainers and jumpers. Also be sure to include sizing charts for all respective countries you're selling in so customers can order items like shoes and clothes easily.
Generally speaking, beauty and personal care products are predicted to be the next best seller in Europe. Sales in this category are expected to rise by more than 8 percent year on year until 2019. Moreover, Amazon is already the top online beauty retailer in the UK and Germany, and ranks second in France after Yves Rocher [5]. This is an excellent opportunity to increase your sales rapidly by selling within these categories.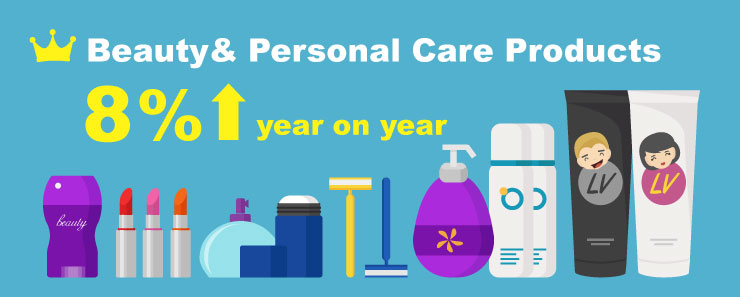 However, in some cases, a product could be popular in one marketplace but not as popular in another. For instance, in Spain, consumer electronics were very popular last year, only behind leisure-related products and travel [6]. But in Italy, sales in this category declined 15 percent last year in comparison to 2014 [7]. Hence, consumer electronics sellers will not only need to consider selling in certain countries, they'll also need to consider factors such as the voltage and plugs used in various countries.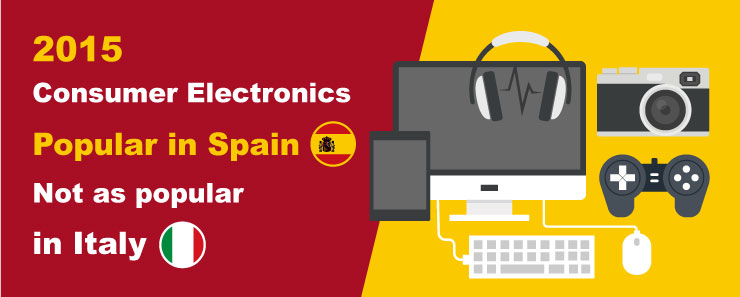 Amazon's European Fulfillment Network vs. Multi-Country Inventory
Amazon's European Fulfillment Network (EFN) provides Amazon sellers a convenient entrance to EU marketplaces (UK, DE, FR, IT, ES) with one centralized account. It allows sellers to ship their inventory to an Amazon Fulfillment Center in Europe. Then, when there's an European order, Amazon will dispatch and deliver the product to the EU customer in a shorter period of time. This method is simpler and most suitable for new sellers to EU.
An alternative option is Multi-Country Inventory (MCI). Inventory is stored in different fulfillment centers across Europe, which can lead to faster delivery and higher customer satisfaction. There are no EFN fees to pay, however, by keeping your stock in those countries, you are also liable for VAT fees, which can differ from country to country.
Don't forget about EORI and VAT
It seems like Amazon has already taken care of most business for sellers. However, there are still some crucial things that sellers have to deal with on their own, especially in terms of legal regulations.
To export inventory to Europe, it's imperative to apply for Economic Operator Registration and Identification Number (EORI), which provides identification of shipments across all EU countries, otherwise they won't be able to complete the Entry Summary Declaration.
Apart from EORI , it's also necessary to apply for a VAT number. Value Added Tax (VAT), is a consumption tax assessed on the value added to goods and services. It applies to goods and service that are bought and sold for use or consumption in the European Community. Sellers with registered VAT number have to provide VAT invoice for consumers to inform them how much tax they have paid on the products.
The complexity of VAT is that the actual rates applied vary between EU Member States and between certain types of products. Therefore, if sellers operate in multiple Amazon EU marketplaces, they may need to apply for different VAT numbers so as to pay different EU member states.
A common reason for sellers to pay different EU member states is that their sales exceeds "Distance Selling Threshold", which is a value in Euros established by each country in Europe. When a seller's sales in another EU marketplace, which is not his/her based-country,reach that country's threshold, the seller is obligated to pay VAT to that country. For instance, if a seller sells both on Amazon UK and DE and his/her inventory is fulfilled by Amazon UK, he/she only has to register VAT number in the UK, unless his/her sales exceed Germany's threshold, then he/she must pay VAT to Germany.
The image below provides VAT standard rates of the five Amazon EU marketplaces. For further details of VAT rates, please check the reference link.

 (Reference: http://goo.gl/FfncdY)
We believe that Amazon EU is a market with high potential. However, it is also tricky due to EU's complicated regulation and the variety among different marketplaces. Take note of these tips and start developing your EU expansion plan. Also, please refer to EU integration to see how we can assist with your business across Amazon EU!
Reference
Published by BQool Marketing on May 20th, 2016