//php the_post_thumbnail( 'post-thumbnail' ); ?>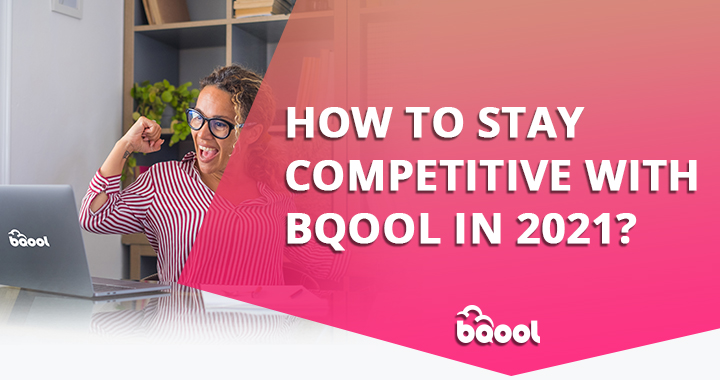 Selling on Amazon could be challenging for sellers, and it is crucial to stand out from the competitors to attract buyers and have a profitable and durable business. Indeed, as Amazon sellers, it is not very easy to get the spotlight in an ultra-competitive and alterable environment, and right now you are probably wondering how to make beneficial sales while you still must validate specific criteria required by the Amazon policies. BQool is committed to provide you two software that can help you to enhance your business. If you are looking for some tips and you want to learn more about the basics of BQool technology and how it works, this article is made for you. You can also check other articles for additional tips and details about specific topics on our blog. 
As we said before BQool has two software to help you improve your sales and stay profitable on Amazon. Repricing Central and BigCentral offer a lot of efficient and customizable possibilities that could be directly integrated into your selling activity on Amazon. Let us give you a general overview on BQool's main software: 
Repricing Central
The Repricing Central is an Amazon repricer that automatically adjusts your listing price on the Amazon platform. It offers customizable repricing strategies and supports several marketplaces where you can easily operate. Many features can help you to design a better repricing strategy to keep your business competitive, and because we know repricing is very important on Amazon, it is up to you to choose between the Algorithmic rule-based repricing or the AI-powered repricing with Machine Learning. Both methods offer a different way of dealing with the repricing and give different results based on the sellers' requirements. 
(Want to learn more about the difference of AI and rule-based repricer? Check this article!) 
With the rule-based repricing you have carte blanche to setup by yourself all the metrics, settings and define your unique repricing strategy. Concerning the AI-powered repricing with Machine Learning, BQool provides an advanced technology using AI to reprice optimally and figure out what the best profit margin is to win the Buy Box based on your immediate business requirements. The AI repricer is very easy and fast to setup and it does not require many adjustments. In addition, you have a higher chance to be eligible for the buy box button with the AI repricer as you can see below: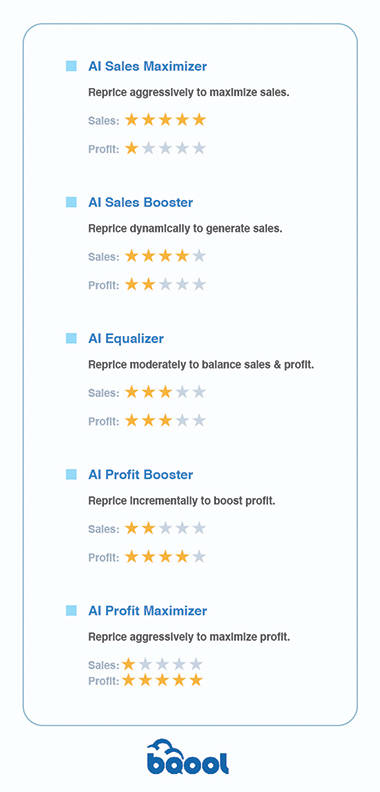 Indeed, the buy box is like the Holy Grail of Amazon, having it will give you a considerable advantage over other sellers. Moreover, BQool repricer has a built-in profit calculator that can help you determine the min and max price based on your preferred profit margin and ROI by calculating your product cost, Amazon referral fees and shipping cost. The min and max value will facilitate the repricer to adjust prices between these numbers and reprice accordingly without hurting your bottom line. You can schedule your repricing activity to pause and resume the repricer. This will reset the competition to increase your profit and avoid racing to the bottom. Finally, you can also monitor and evaluate your repricing results from BQool's detailed Business Report. 
While the Repricing Central provides a very orientated profit and price management and give you the opportunity to dominate the buy box winning competition, BigCentral has tools designed especially for optimizing listing and store visibility and improving the customer satisfaction. 
BigCentral
BigCentral is a CRM that is built to assist you in your daily business operation on Amazon. It is an all-in-one sales, marketing, and service solution. BQool BigCentral is also a help desk solution that can assign an appropriate auto-reply message to solve a buyer's question. 
BigCentral allows you to automate 100% Amazon-compliant review and feedback requests to boost your reputation like Request a Review Button. You can also personalize email campaigns designed to increase seller feedback & product reviews, while also building a consistent brand experience with customizable multilingual email templates.  
Of course, BQool acknowledges the difficulties maintaining your store reputation as an Amazon seller. Thus, BigCentral is created with feedback and review management in mind. You will be notified immediately each time you receive negative feedback and review: you have the possibility to track and remove bad review to keep you competitive without damaging your reputation on Amazon. 
Besides, BigCentral's Keyword Research offers actual search queries from potential customers to provide you with the keywords that matter the most. You can spy on your competitors as well as collecting sales data of any given product. You also can optimize your product visibility by adding high conversion keywords you found with BQool's keywords research. All these options help sellers to come up with an elaborate selling strategy. 
In the dashboard you can have access to many analyses with detailed insight concerning the health of your selling account, tracking the sales performance of your products, their profit margin, sales, and cost. In addition, multiple metrics are included in the profit dashboard, and you can compare different metrics at one time to analyze your business. 
BigCentral is essential to help you manage your seller account, improve the customer experience, and successfully catapult your Amazon business.  
BQool provides intuitive software that can help you succeed selling on Amazon. Staying competitive is a key factor that you cannot ignore if you want to be successful and profitable. With the help of a repricer and a CRM tool will deliver the best result. Do not forget that BQool offers 14 days of free trial, you can also discover all the amazing features that our software offers.