//php the_post_thumbnail( 'post-thumbnail' ); ?>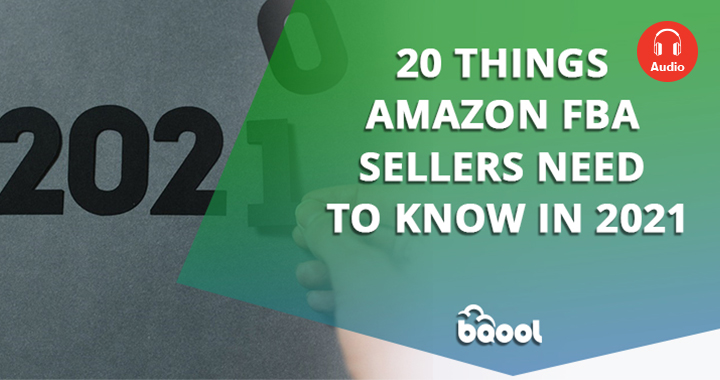 Would you rather listen to this blog instead of reading it? Just click play below. (Audio Recording by Samuel Krushnisky)
2020 was not a year we all could have prepared for, but 2021 is full of possibilities. The Covid-19 situation has changed the way we live, and it also completely changed the way to run business for FBA sellers.
Amazon has been making regular changes in response to the unpredictable in the past 12 months. It's important for FBA sellers to keep an eye on changes in the marketplace, so they can continue to grow their businesses successfully. We've collected new Amazon FBA updates you need to know to keep up so that you can take some specific action for your business in 2021. Let's get started!
1. New sellers can now access Amazon tools and A+Content. 
A+ Content is a valuable product marketing tool to boost your product sales on Amazon by offering your potential customers an in-depth look at your products with visuals and enhanced marketing content. The program used to be only available to sellers who have been approved as brand owners through the Amazon Brand Registry program, and you had to have a registered trademark in order to become brand registered. It can take you 13 to 18 months for official trademark registration with the USPTO, and the US Patent Trademark Office will not approve your trademark until you're already selling your product. 
Now you can shorten the time by applying for your trademark through the IP law firms in the Amazon IP Accelerator program. The program is free, and Amazon does not charge a fee to connect you with law firms. When you select a firm, you work with and pay the law firm directly. Amazon has pre-negotiated rates for some services covering a single brand for a single class of goods or services. For example, filing a US trademark application costs $600 (plus government fees). You can go to brandservices.amazon.com/ipaccelerator for additional information.brandservices.amazon.com/ipaccelerator for additional information.
 2. US sellers can now upload videos to your Amazon listing. 
Product video was only available for vendors or brand registered sellers until last September. Now it's also available for non-brand registered sellers to upload a product video to your items for listing optimization and boosting conversion. According to the statistics, marketers who use video grow revenue 49% faster than non-video users. We suggest you utilize this tool to increase your opportunity for a sale. 
3. You can sell to global markets even more easily with Amazon Currency Converter. 
If you are selling on Amazon internationally, for example, if you live in the USA selling in Europe, you can use Amazon Currency Converter to convert euros to dollars and receive them into your local bank account.
This optional service is charged based on the tier defined by their total processed volume (TPV) during the trailing twelve months, which is called Volume Based Fees (VBF). Tiers for sellers will be calculated monthly and automatically updated. The higher your TPV, the lower your fee. Your TPV is calculated based on your total disbursed volume regardless of whether you used ACCS or another deposit method.
4. Selling in Canada and Mexico just got easier. 
USA FBA sellers can easily increase sales by selling their products to Canada and Mexico without dividing up FBA inventory. By enrolling in Remote Fulfillment with FBA, sellers can create offers on Amazon.ca and Amazon.com.mx. Amazon will send your inventory in the US fulfillment centers directly to customers in Canada and Mexico. 
5. Expand your sales by opening a store on Amazon UAE, Saudi Arabia, and Singapore. 
One of the benefits of selling on Amazon is that you can ride the wave of perks with Amazon's international expansion. Over the past few years, Amazon expanded into three new markets in the UAE, Saudi Arabia, and Singapore so that sellers can leverage Amazon's international growth to build a multinational presence and sell to millions of people. What's more, both the UAE and Singapore speak English, which lowers barriers to entering the market.
6. VAT changes on sales to UK customers. 
The UK VAT is collected on sales to customers in the UK as new VAT rules on sales of goods moving into and out of the UK from 1 January 2021.
Amazon will calculate and collect UK VAT from the customers and remit taxes for you, so you will not receive the UK VAT amount in your disbursements and will not be required to remit these amounts to the UK Tax Authorities. However, you still have to log into your Seller Central account to review your pricing settings to ensure these listings include applicable VAT. 
7. A better way to do Amazon product research in 2021 
The suggested formula of finding a profitable product to sell on Amazon is to find a product above $25 minimum, low competition, and high market demand. The ideal product that meets these certain criteria is the best for you to sell. However, there are more details and works included in your product research process. You can actually make this task easier, quicker, and more reliable to use an Amazon Product Research tool, and you can learn how it can help you find profitable products to sell on Amazon in 5 mins in this video. 
8. Comments on Reviews have been removed. 
Leaving comments on Reviews has been one of the staple features of the Amazon review system. Some sellers may make good use of it to respond to the buyers' reviews by leaving comments. Unfortunately, this feature is now being retired.
9. COVID-19 has helped grow Amazon's profits. 
Before the Covid-19 pandemic, Amazon was already an important part of the American economy and its customers' life, but now its reach and sheer size are almost beyond comprehension. During the third quarter of 2020, Amazon generated total net sales of almost 96.15 billion U.S. dollars, surpassing even the 69.98 billion U.S. dollars in the same quarter of 2019. Due to the ongoing impact of Covid-19, 75% of buyers and sellers now prefer digital sales for safety. This makes a great opportunity for new and amateur Amazon sellers. 
10. Amazon is restricting your product pricing. 
It firstly happened in early 2020 that Amazon suspended nearly 4,000 sellers over COVID price gouging. Sellers who sell essential products such as hand sanitizer, facial masks, and other COVID-related products should be aware of setting the pricing too high. To make sure you're not price gouging, you can check your competitor's price on Amazon manually, or you can use BQool repricer to automatically adjust your price for staying beneath the highest price when selling COVID-19 essential products.
11. Buyers can return your products up to 4 months after purchase. 
Since the Covid-19 outbreak, Amazon struggled to handle the demand from the surge in online orders. So Amazon extended its holiday return policy for 2020 that orders shipped between October and December can be returnable through January  31, 2021, to keep their businesses afloat.
12. New inventory limits change to 450. 
Effective January 1, 2021, the IPI threshold for storage limits changed to 450 from 500.
Please note that if your inventory performance index threshold is 450 or above in week 51 of 2020, you will not be subject to storage volume limits. If your IPI is below 450 in week 51 of 2020 you will continue to be subject to storage volume limits. Amazon will notify you of your next period limits, which will go into effect on February 1, 2021. 
13. New sellers can join the new program Amazon's FBA for free. 
To encourage sellers to offer new products through Fulfillment by Amazon, new FBA sellers enrolled in this program can enjoy the following benefits:
Free monthly storage and removal for new-to-FBA ASINs for your first 50 units

Free returns processing for five product categories: Apparel; Shoes, Handbags & Accessories; Jewelry; Luggage; and Watches.

$100 inbound transportation charge discount for the Amazon Partnered Carrier program. 
For the program benefits and details, you can visit the FBA New Selection program page to learn more information. 
14. Leverage new pricing options to make the bulk purchase easier. 
Seller Central now lists bulk pricing options right in the automated pricing tool, allowing you to set multi-country minimum and maximum price limits for up to 50 SKUs in one go.
15. You can still sell your product when it goes out of stock.  
Amazon's In-Stock Head Start program is a service that allows FBA sellers to still sell temporarily out of stock products when your shipment is on the way to Amazon fulfillment centers. With this feature, your out-of-stock products are available for customers to find, and the delivery date will be based on the estimated in-stock date.
16. Amazon will automatically cancel your orders. 
Amazon automatically cancels orders if they have not been shipped and confirmed within 30 days, but this grace period has no longer applied.
Starting September 30, 2020, Amazon will automatically cancel any order which is not shipped and confirmed within 7 business days after the "ship by" date detailed in the "Sold, ship now" notification email. Sellers can set this date by modifying Handle Time, and orders canceled automatically at the "ship by" date + 7 business days will be counted. 
17. USA sellers' information goes public. 
To ensure a consistent baseline of seller information to help customers make informed shopping decisions, Amazon started displaying your business name and address on the seller profile page starting September 1, 2020. But if you don't want your home address shown, get a PO Box or a UPS store box. 
18. Account Health Rating (AHR) helps professional sellers monitor account health. 
AHR is a new feature that displays on the Account Health page for professional sellers worldwide that helps you monitor your account health based on adherence to Amazon's selling policies. You can proactively address policy violations and avoid disruption to your business
19. Create bundles with the new Amazon virtual bundle tool. 
If you're a brand owner, you can use the Virtual Product Bundles tool to build a new bundle detail page with FBA ASINs at a discount. This tool is free, and you can take advantage of this to help you increase sales.
20. Make your products unique through customization. 
You can register to the Amazon Custom Program to give your products something extra. From printing to engraving, you name it. Your customers will love it if they can personalize the iPhone case with embossed initials. Now, you can even go further and have them send you the picture they'd like to get printed on the product. Offering product customization adds a unique value to your Amazon business.