//php the_post_thumbnail( 'post-thumbnail' ); ?>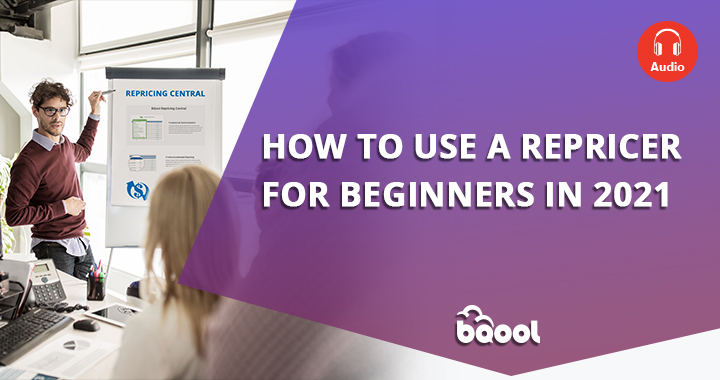 Would you rather listen to this blog instead of reading it? Just click play below. (Audio Recording by Samuel Krushnisky)
Selling on Amazon can lead to a thriving business, but it can also become a nightmare filled with lost profit, stranded inventory, and sleepless nights.
The key to turn your efforts into a success is to understand your competition and stay ahead of the game by getting the coveted Buy Box. Especially the new year has now begun, and the market is getting more competitive by the day.
Monitoring other sellers' prices and manually updating your price for your listings are arduous and time-consuming tasks. These tasks prevent you from spending precious time on other significant aspects of your store management.
What is an Amazon repricing tool?
The name says it all: a repricing tool automatically adjusts your prices on Amazon based on the competitors and your repricing rules. There are many benefits of using an Amazon repricing tool. Here are the three that are worth mentioning:
Using a repricing tool can save you a huge amount of time.


Manually monitoring the prices of your competition and changing your prices becomes challenging when your business scales up. A repricing tool will alleviate this time-consuming task so you can use your precious time doing more quality operations, such as sourcing.  

Using a repricing tool is quicker than adjusting prices manually.


Manually repricing is not only time-consuming, but it's also slow to react to a price change as it happens. Prices change really fast on Amazon as your competitors are also taking advantage of an Amazon repricing tool. An Amazon repricing tool, on the other end, will reprice for you instantly and constantly.

Using a repricing tool can eliminate human error.
When you let advanced software take care of your repricing, you are completely getting rid of human error. When you reprice manually, you are prone to make mistakes if you are tired, distracted, or just a little biased when making a pricing decision. A repricing tool will only work according to the repricing rule set by you, so the margin error is minimal.
How does the repricing tool work
Repricing tools download your listing data automatically from Amazon using the API connection. Then they can receive and analyze the offers from all sellers on a listing to determine who to compete with. Every time there is a price (or position) change on a listing, the repricing tool will receive updated pricing information from Amazon and will decide if there is the need to change your price based on your settings.  
Is it that simple? Well, yes, the software will do all the heavy lifting for you, but it is of vital importance to set your repricing rule correctly before letting the repricing tool work for you. 
If you want to learn more about how a repricing tool works, you can check out the following video from BQool's YouTube channel on how to set up BQool Repricer for beginners.
Setting your minimum & maximum prices 
Every Amazon repricing tool needs you to choose Minimum and Maximum prices for your items to start repricing. What are they, and how to calculate them?
Setting a minimum price is a safety measure to prevent your price from going too low and selling for a loss. Advanced repricing tools allow you to calculate Min prices after all your costs are considered, including COG, Amazon Referral fees, FBA Fulfillment Fees, Closing Fee, and so on. This way, you can choose the lowest Profit or ROI you are willing to make when selling at your lowest price.
A maximum price is sometimes overlooked, but it is as important as Min price. Amazon has an internal algorithm that constantly monitors sellers' prices and deactivates listings if it believes they are priced too high. The factors that affect this decision making are other sellers' prices, the Min and Max prices set on Seller Central, and even prices on other online platforms (e.g., Walmart, eBay) for the same listing.
Setting reasonable Max prices is also important because repricing tools have settings that might take you to your Max price in certain scenarios, such as being the only seller on the listing. You don't want to be priced $500 on a pair of socks…
Creating the perfect repricing rule 
But how does an Amazon repricing tool decide the price for your listings? 
Technically, it is up to the user to choose the preferred repricing rule to adjust listing prices. A rule is a series of parameters that the system will apply to every repricing scenario based on your competitors. For example, you can decide to compete with the buy box offer or with the lowest offer. You can also decide to exclude certain fulfillment types or sellers with bad seller metrics. Once a target is found, the tool can match their price, undercut it, or raise the price. 
Most repricing tools offer default rules but also allow you to create a fully customized rule.
Which Amazon repricing tool should you use? 
When it comes to choosing the best Amazon repricing tool, there is no definite answer because every business has its own preference. However, brand reputation is an essential factor for finding a legitimate repricing tool. If a repricing tool has been around for a while and has been trusted by many sellers, it may have already been officially recognized by Amazon and featured in the Amazon Service Provider Network or the official Amazon Marketplace Appstore.
BQool's Repricing Central is officially recognized by Amazon and gives you the full flexibility to control your settings while eliminating the hassle of manually repricing your items. 
It also offers a 5-min repricing speed, various repricing rules and strategies with a high level of customization, and an embedded Profit Calculator that you can calculate the estimated ROI for your products. And the most important thing is that BQool Repricing Tool constantly receives feature updates to improve its user experience and help scale your business further.
Want to learn more about how BQool's Amazon Repricing Tool works for you? You can sign up for a 14–day Free Trial.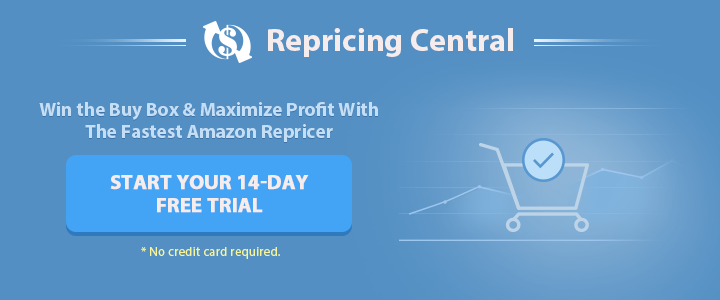 This blog post was originally published in November 2019 and was updated by Christina Chen in January 2021 due to product updates or Amazon policy changes.