//php the_post_thumbnail( 'post-thumbnail' ); ?>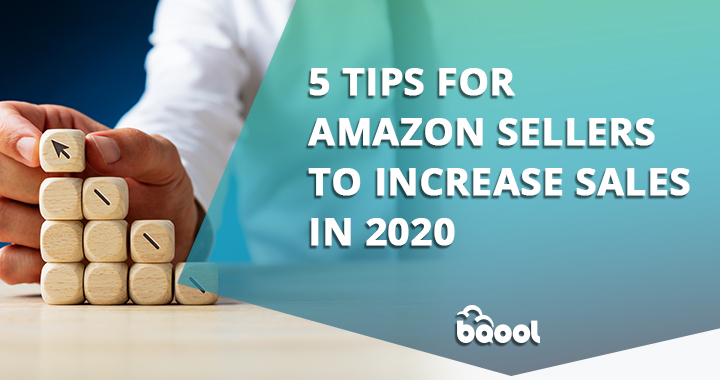 Amazon can be a wonderful marketplace for any E-Commerce merchants out there. You can show your products to thousands of potential customers every day because people are searching on Amazon for products to buy.
Many E-Commerce companies have been able to significantly increase their revenue by selling their products on Amazon. That's because these companies could reach thousands of new customers every day.
In the US, the website generates monthly traffic of 209.7 million visitors (Statista). However, the competition on Amazon is huge.
To stay competitive, we put together a few tips for you, which can help you increase Amazon sales and win market share in 2020.
1. Optimize your Amazon Listing
By improving your Amazon SEO, you will significantly increase your organic search traffic.
More visitors to your Amazon listing means more sales for you. Improving your organic search traffic on Amazon should, therefore, be a continuous task for you.
However, with a one-time optimization of your Amazon listing, you can also boost your search traffic and are able to acquire more customers.
We don't want to go into too much detail here. But let's briefly discuss the key elements of listing Optimization on Amazon.
You should place the most important keywords in your title, bullet points, and your description.
Be careful not to use keyword stuffing, rather allow the customer to easily read your title, bullet points, and description.
Also, you can add various other keywords in the backend keywords or Audience Keywords.
Make sure you use the whole number of images. Ideally, your images should not only be technical product images, but rather they should also show the experiences associated with the product.
There are many guides and instructions on the internet about Amazon SEO.
Here you will find an interesting article about how to do listing optimization on Amazon.
2. Invest in PPC and Social Media Ads
This is also a very good opportunity to directly increase the number of sales.
However, you need at least a little budget. But always remember the long-term success of your Amazon FBA business and not only the short-term profit.
If you're able to increase Amazon sales and revenue by using PPC ads so that you sell more products than your competition, your ranking in Amazon's organic search results will significantly improve.
A good choice is to place ads on Amazon for less competitive keywords. This means that the keywords you can select in your PPC campaign should not be flooded by other PPC ads of your competitors.
Of course, the keywords you choose should also have a medium to high search volume.
Another option is to use social media such as Facebook to set up display ads. We have seen that a bridge page works better than referring customers directly to your Amazon listing.
A bridge page is a page that represents your product and its advantages. If a potential customer is interested, you can redirect them from the bridge page to your Amazon listing.
With Facebook, you can reach out to your audience more precisely. You can define the age, the place of residence and demographic characteristics such as interests, but also some more.
I would recommend that you also use a retargeting campaign to engage your customers. You can combine these ads with a discount and you'll see your sales skyrocket.
3. Get Positive Reviews
Getting good reviews is especially important on Amazon these days. But how can you get more reviews quickly?
In general, you can implement strategies such as email automation into your Amazon FBA business.
You can also offer stellar customer service to make customers feel valued or generally improve your product quality to take it to a top-level.
Due to fierce competition on Amazon, you should understand your market and competitors to find the right products to sell and create a unique selling proposition.
Over a longer period of time, you might get some more reviews. But the fastest way to get reviews on Amazon is another one.
The first method is to offer your product on so-called Amazon product testing platforms and ask the product testers for a review.
If you choose this method, you have to give away your product for free.
Another efficient way is to offer your product offline to your friends, colleagues or business partners and ask them for a review.
Surely you know a lot of people who would buy your product and leave a review. This is an efficient way to get the fastest reviews on Amazon.
These reviews will not only increase your conversion rate but also your ranking in the organic search results on Amazon, which will lead to more visitors and sales over time.
4. Create a blog
Earlier, we were talking about advertising your product outside of Amazon.
So why not create your own blog on a specific topic and promote your products on that blog?
What we're talking about here is content marketing. With the establishment of your own blog, you will be able to get over 100 or 1000 readers a day in a relatively short time.
So why not promote your products with a blog? Of course, you have to invest in the creation of your blog and search engine optimization at the beginning, but keep in mind that the visitors don't disappear directly again unlike with a usual PPC advertisement.
This is an ingenious strategy to increase the sales of your Amazon FBA business in the long run.
A blog gives you the opportunity to build up a targeted audience and promote your products to this audience.
Of course, you can also collect more email addresses, and then promote your products through email marketing.
Managing a blog is a powerful marketing tool that will help you achieve a good ROI in the long run.
5. Build an Amazon storefront
Have you ever thought about optimizing your Amazon Storefront for your customers?
Most Amazon sellers ignore this method. But you shouldn't do that. I would recommend that you optimize your Amazon storefront and then redirect customers to it via Google Ads.
Make sure that your layout looks good and that you only present products from one specific category so that you can reach your target audience with super targeted ads.
Also, you should do extensive keyword research for your campaign, then you only have to set up your Google display ads. Make sure you set up your Google campaign correctly and don't make any beginner's mistakes. Otherwise, you'll be throwing money out the window.
If you are not familiar with Google Ads, you can hire a freelancer, and explain to him your strategy. Having a good-looking Amazon Storefront can boost your Amazon sales enormously.
I hope that we're able to help you with this article. If you implement these strategies to set your Amazon business in 2020, you will definitely see results. Be sure to subscribe to the BQool Blog to receive great tips frequently.
About the Author
Moritz Bauer is a student of industrial engineering with a passion for E-Commerce and Online Marketing. Besides his studies, he runs the blog called smartminded.