//php the_post_thumbnail( 'post-thumbnail' ); ?>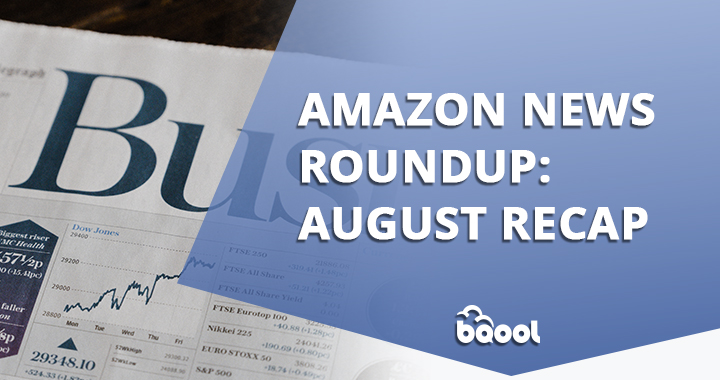 BQool is here for you in case you have missed the latest announcements about the upcoming changes on the Amazon Platform. We want to keep you updated as much as we can to leave you well prepared for the next challenges on Amazon.
I. FBA Shipment
Starting from October 1, 2021, Amazon will update its policy concerning the carrier and tracking information. FBA sellers will be required to enter the carrier's name and tracking information, where available, during shipment creation so that tracking information is provided before your shipment arrives at the fulfillment center. However,this policy will not apply if you are a member of the Amazon Partnered Carrier program or Amazon Global Logistics since Amazon will generate tracking information for you. Providing carrier tracking information helps Amazon receive your inventory more efficiently and avoid potential delays. Additionally, if your products are out of stock, Amazon can make them available for sale while in transit based on real-time tracking when In-Stock Head Start is active. Tracking information can be provided to Amazon through the Seller Central shipment creation workflow, the Track shipment tab on the Shipment summary page, and through Amazon Marketplace Web Service. For parcel shipments, tracking IDs will be required for every box, where available. Amazon will measure your missing tracking information defect rate at the shipment level. For more information, go to Carrier and tracking information requirements. For instructions on uploading tracking information and tracking the status of your shipments, go to Track your shipments: Shipping Queue and Shipment Summary.
II. Planet-friendly alternatives for returned and overstock FBA items
Amazon is tackling the global warming issue by adopting some ethical measures to reduce the destruction of unsold inventories and lessen the impacts of waste on the planet. Indeed, the platform recently introduced two new Fulfillment by Amazon (FBA) programs to make it easier for you to resell customer-returned or overstock inventory while also giving more products a second life.
FBA Grade and Resell lets you offer customer-returned items for sale as used items on Amazon. The program is now available in the UK and will be available in the US by the end of the year. Amazon will offer the program in Germany, France, Italy, and Spain by early 2022.
FBA Liquidations lets you recover value on customer-returned and overstock inventory by liquidating eligible items through Amazon's liquidation partners. The program is now available in the US, the UK, Germany, France, Italy, and Spain.
These programs are parts of Amazon commitments to sellers like you, and to the planet. They provide an alternative to having inventory returned to you, while also helping to reduce product waste.
Amazon is also donating unsold inventory to charity partners, that could be a good alternative for helping people in need. FBA Donations, which started in the US and the UK in 2019 and in France in 2020, is an easy, automatic way to donate returned or overstock inventory instead of choosing systematic destruction. Those items are donated to charity partners, including Good360, Age UK, and Secours Populaire Français.
If you want more  information concerning those programs you can check FBA Donations program.
III. Seller Central – Manage Excess Inventory
You probably already know that usually managing inventory online could be a real headache especially when you have a lot of items. Stop worrying because Amazon tries to make your business as easy as possible, that is why Manage Inventory Health replaces the manage inventory and inventory age pages.Indeed, "Manage Inventory Health" combines excess and aged inventory in one place, and it helps you to make decisions about repricing, advertising, and removals. With Manage Inventory Health, you can customize your page metrics, group products with similar inventory behavior, and seeing more products per page.
If you want more information, we encourage you to have a look on Manage Inventory Health Help page.
IV. Amazon Pricing
Amazon currently offers three types of referral fee discounts:
        Price-related: Get a discount by improving your price competitiveness.
        Selection-related: Get a discount by increasing your selection.
        Prime-related: Get a discount by increasing your selection of Prime products.
Referral fee discounts will show up as a Discount on the referral fee line item in your Transaction Details.
 What about the new listing?
New listings are products for which you did not have an active listing in the past 60 calendar days. Only products that were marked Inactive in Manage Inventory or that you did not have in your inventory in the past 60 calendar days are considered new listings.
PS: it seems like this fee discount beta is only for the admin account.
V. Business insurance A-to-Z Guarantee Claim
Beginning September 1st, 2021, Amazon expands its A-to-Z Guarantee to protect both customers and sellers in the unlikely event a defective product sold through Amazon.com and caused property damage or personal injury. Amazon wants to facilitate the way of treating claims between sellers and customers. If a seller does not respond to a claim, Amazon will step in to directly address the immediate customer concern, bear the cost, and separately pursue the seller. If a seller rejects a claim that might be valid, Amazon will also step in to address the customer concern; in these cases, sellers will continue to have the opportunity to defend their product against the claim. This streamlined process will save time, money, and effort for both customers and sellers. By standing behind customers and the products, regardless of who sells them, Amazon will help customers feel more confident shopping on the platform. You can have more information by visiting the website.
We hope BQool contributed to help your business to be prepared for the coming months. Get the latest eCommerce news and Amazon seller tips at blog.bqool.com. Subscribe for updates!