//php the_post_thumbnail( 'post-thumbnail' ); ?>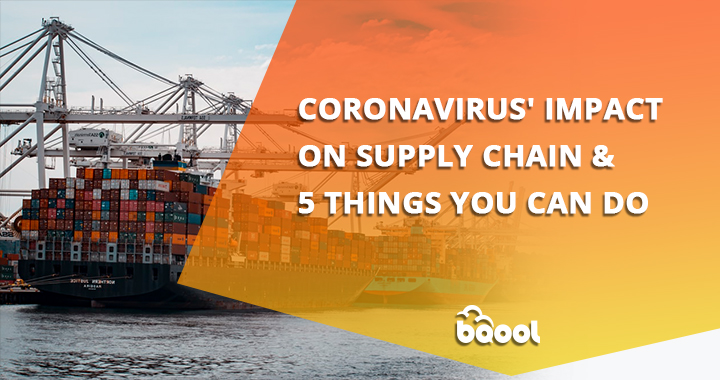 The global economy is still finding its new footing with the ongoing coronavirus pandemic, and eCommerce is in a precarious position as the coronavirus interrupts the global supply chain, We're not sure what the future will bring or how many of the current changes will become permanent.
2020 could be one of the best years for eCommerce ever, or it could signal a major hit to retail overall with wide-ranging impacts on all commerce. So, how does an eCommerce brand react? They plan.
Just as consumer behaviors are changing, so must your business practices. Here's a look at what that might mean and how you can start moving forward. 
1. Redefine Normal
The coronavirus has thrown a considerable wrench in eCommerce supply chains and we've only gotten it partially dislodged. It took the rapidly increasing growth of overall sales — up 14.9% in 2019 — and built further gains in roughly 43% of eCommerce stores, topping Black Friday sales for some.
The early days led to shortages that took weeks or even months to even out, and we're still hearing about ongoing increases and overall consumer shifting. What's important for eCommerce brands to do now is to develop a few different plans to address the change in demand.
No one is quite sure what "normal" will look like when traditional retail opens back up on a large scale. So, it is smart to plan for scenarios where you see continued growth in demand, a small drop-off that returns to more expected 2020 spending, or a steep decline in the even customers shift purchases focused on going back outside.
New demand forecasts will help you start to understand what you might need to do in each situation, from adding more manufacturing capability to minimizing products and reducing inventory.
2. Review Your Supply Chain
In eCommerce, your ability to respond to challenges and changes often depends on your supply chain. Scaling operations up or down may depend on your manufacturers, and reaching customers with new products brings many carriers, warehouses, and others into consideration. Focus on all of your partners.
Most likely, you touched base early on during the pandemic to see who was still in operation, where slowdowns or bottlenecks were occurring, discussing supply disruptions, and verifying other pertinent details. It's time to have those conversations again.
Discuss your growth plans with partners to see if they can support you. Review manufacturing order requirements to see how their volume increases work and what kind of notice you must provide. Check with warehouse partners and 3PLs (if you use them) to ensure they have space for you to scale or to learn how you can reduce costs if you have to cut back on orders and inventory volume.
Take time to look at every part of your supply chain. How will it change in each order situation? Can they help you respond? Can you afford what they need for you to grow or change? 
3. Track Customer Changes
We've seen some interesting shifts during the early part of 2020. According to one eCommerce study, breach machines were up 652% and at-home weight training equipment up 307%, while luggage and briefcases declined 77% and swimwear was down by up to 64%.
Many product categories have been undergoing massive shifts, but there's no clear understanding of how permanent these are. Some changes, like that same study finding dog food increasing 159%, may be more likely to stick because they're easy to make permanent through things like auto-reorders.
Other changes may swing back to pre-COVID levels as people are able to start using gyms and eating out again, or they're able to travel to pools and tropical destinations during the Summer.
Every eCommerce leader reading this will have a slightly different customer mix. It's time to do some homework and start studying them and how habits have changed. Look for changes within your product purchases as well as what's happening with competitors, marketplaces, and even the ads you're seeing.
Planning now may help you know what to look for upcoming months to decide if a product category needs to be expanded or removed.
4. Consider Thinning Products
If your supply chain feels tight, consider looking at your existing inventory. How can you shift or liquidate it to protect your business while also responding to customer demands?
Ecommerce brands need to ensure liquidity throughout 2020 to make it easier to adapt to what changes could be next. Focus on freeing up as much cash tied to poor performing inventory as possible. It might be time for discounts and deals, offering freebies with certain size orders, or creating kits to expand the size of your average order.
For companies that will no longer carry a product, consider promoting the sale. Perhaps a message of "Only 100 remaining!" or "The next 50 orders save 20%!" can create a little scarcity that gets them out the door.
Thinning your product list can help you to minimize future costs for warehouse space and labor.
If you do identify and start to reduce slow-selling goods, ensure that your systems are adjusted to not reorder at past levels. Turn off automation for products and run analysis as things start to get low. It might be more beneficial for you to simply sell off what's left and no longer carry that item.
5. Be Helpful to Customers
Your customers may be struggling just as much as you right now. They're stressed over reduced hours or lost jobs, keeping up with the kids' schoolwork, or maybe they're one of the 53 million American unpaid family caregivers trying to keep a loved one safe.
That's a lot on their plate.
To address this, eCommerce companies can help reduce some of the stress and burden of shopping. Consider things like reducing form fields on your checkout pages. Show all shipping and tax costs as early as possible so people know what to expect. Highlight product photos and customer reviews. 
Look through your sales efforts and ensure you're using best practices for things like getting more Amazon Reviews to avoid frustrating people who have shorter fuses than normal. If you've moved to sell on multiple marketplaces, check the processes to verify that it is easy to get information and support on every channel. 
If a customer has an issue, be more patient with them. They'll appreciate it when all of this is done.
Strengthen the Partnerships You Need to Move Forward
Everyone in your supply chain is struggling to understand what Q3 and Q4 will bring. They have the same big fears you have — addressing customer changes, meeting demand, and spending wisely to protect margins.
Create your plan for differing customer models. Then, work with your partners to see how they fit in these scenarios. This can be especially useful if you've started working with regional suppliers or a network of warehouses after changes to Amazon and FBA.
Now is the time for eCommerce companies to set clear expectations and help partners plan for their future. By working to become certain about your operations, you'll make it easier for them to predict their demand and capabilities, avoiding gaps for you both. This is also the perfect opportunity to send over a "thank you" note for anyone who has helped you weather the coronavirus storm.
Author Bio
Jake Rheude is VP of Marketing for Red Stag Fulfillment, an order fulfillment company for online retailers and e-commerce businesses specializing in heavy and large products.