//php the_post_thumbnail( 'post-thumbnail' ); ?>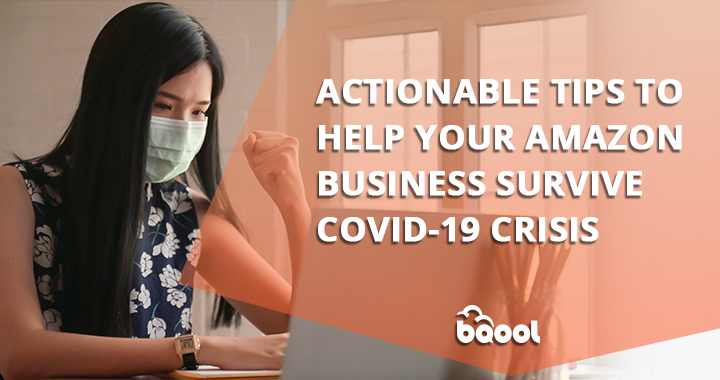 The global economy has taken a massive hit from the coronavirus pandemic. The stocks fall sharply and businesses are shutting down. People reduce spending on non-essential goods; instead they panic buy household staples, grocery, medical supplies as fears over the global coronavirus pandemic are rising. As consumers' behavior has changed, people will continue to adjust themselves to the changing situation due to the uncertainty surrounding the coronavirus outbreak.
What action has Amazon taken due to the coronavirus pandemic?
Amazon has suspended more than 3,900 seller accounts on the US marketplace for violating its fair pricing policies.

Amazon has banned more than 1 million products for misleading product description that claims to cure or prevent coronavirus.

Amazon temporarily blocks non-essential items to its warehouses until April 5th.
What are the essential items that Amazon accepts?
Amazon fulfillment centers are prioritizing the high-demand products that can help consumers to fight against the virus. These product categories are not restricted by Amazon's latest policy. 
Baby Products

Health & Household

Beauty & Personal Care (including personal care appliances)

Grocery

Industrial & Scientific

Pet Supplies
How can you protect your profit if Amazon's new COVID-19 measures impact your business?
Your business might be affected in different ways, depending on how and what you sell on Amazon. Whatever problems you are facing now, there's a way out. You can take the following approach to help you get through this tough time.
If you are selling FBA items that fall under the Amazon essentials. You can continue to sell them on Amazon, but it's important to keep in mind "Do not violate their policies and guidelines" especially during this time of crisis. Amazon works closely with law enforcement to ensure fair pricing and protect consumers from those seeking to profit from the COVID-19 crisis.
If you are planning to price hike the essential items to make the most of coronavirus panic, your account will be suspended and you may also face prosecution.
According to Amazon's fair pricing policy, sellers cannot set a price on a product or service that is significantly higher than recent prices offered on or outside of Amazon. It looks easy, but Amazon adjusts the product prices on its marketplace all the time, which is challenging for sellers to keep up with price changes while staying profitable. 
To solve multiple problems at once, you can automate your pricing process using the Amazon repricer. Sellers also can use the repricer to prevent prices from going too low or too high and still be in compliance with Amazon's policy.
What if you sell non-essential items, using FBA?
You will not be able to sell your products since Amazon temporarily discontinued fulfilling and shipping "low-priority" items and also suspended the request for changing listing categories as sellers would try to change their listing categories to get them back into the Amazon's warehouses.
So it seems like what Amazon FBA sellers can only do is to create new shipments that fall under these essential categories, or you can try the following approaches: 
1. Move from FBA to FBM
FBA sellers selling non-essential items got stuck with their inventories and can consider switching to FBM to continue selling your items on Amazon. Before you opt for FBM, you have to make sure you understand the different fee structure and costs between them and whether you have time, manpower, and space to handle, fulfill, and ship your products. 
2. Use Seller Fulfilled Prime
Shoppers want to receive their orders fast, so that's why they subscribe to Amazon Prime membership to enjoy the benefits such as one to two-day delivery. By offering Prime listings, it likely drives more sales, and it even increases the chances of winning the Buy Box. To join this program, the qualified sellers must complete a trial period to show that you can adhere to Amazon's strict shipping standards and meet the requirements for Prime fulfillment excellence and customer satisfaction. So if you are a well-established seller keeping an outstanding order fulfillment performance, you can consider trying it out.
3. Look for local dropshipping suppliers
Amazon sellers who manufacture their products in China may face production and shipment delays. You can consider looking for local suppliers offering drop-shipping service to ship orders directly to your customers. The biggest benefit of dropshipping is that it allows sellers to sell products without carrying the burden of maintaining inventory. However, this fulfillment method may take longer shipping time and become more complicated when dealing with returns. 
4. Sell on multiple marketplaces
You've probably heard the age-old saying "don't put all your eggs in one basket." To diversify your investment would mitigate the risk. With increased competition and limitation on Amazon, many sellers explore other channels such as Shopify or BigCommerce to sell their products and promote their brands.
5. Ensure your customers have a dedicated customer care
Whether you choose to fulfill orders by yourself or to dropship, you need to make sure you're equipped to provide that level of customer service as Amazon does. Your product ranking and Buy Box eligibility are determined by sellers' performance metrics. You can implement a helpdesk tool like BigCentral to reduce customer support workload and maintain excellent seller performance metrics to compete with FBA sellers.
Wrapping up
As the pandemic worsens, we know the uncertainty surrounding coronavirus is hard to handle and it is every Amazon seller's frustration. That's why we are here to keep you informed and provide you with tips and advice on how to protect your profit in this critical time.