//php the_post_thumbnail( 'post-thumbnail' ); ?>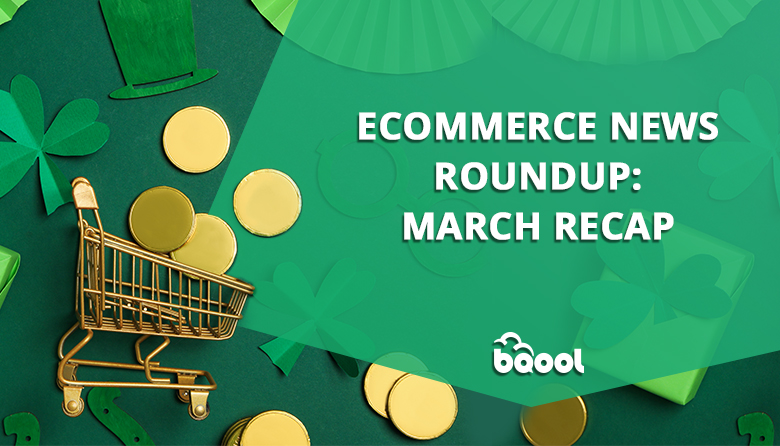 Staying informed on the latest ecommerce news is a must for any Amazon seller. Ecommerce News Roundup makes it easy to stay in the loop about all the important topics that could impact your business in 2023. Let's look back at the top headlines from March.
Amazon US News
Easily Integrate FBA and MCF with New Shopify App
Our new Amazon Multi-Channel Fulfillment (MCF) app for Shopify offers free, reliable integration between your Shopify store and MCF.
MCF allows you to leverage Amazon's fulfillment network to fulfill orders across multiple sales or distribution channels.
The Amazon MCF Shopify app makes it easy to get started with MCF, fulfill Shopify orders using your FBA inventory, and manage your inventory with automated SKU mapping, which links your Shopify SKUs to your Amazon SKUs, and real-time updates about inventory levels.
On March 31, 2023, our previous, direct integration with Shopify will be discontinued. Other integrator apps will continue to work as usual.
Download the Amazon MCF Shopify app.
For information on third-party providers that allow you to connect your Shopify website with MCF, go to our Shopify integration page.
Save the Date for Amazon Accelerate 2023
Amazon Accelerate, our annual conference designed specifically for our selling partners, will take place in Seattle on September 13, 2023, and September 14, 2023. Pre-conference activities for in-person attendees start at noon on September 12, 2023.
It's an opportunity to learn about our latest tools and innovations, speak with Amazon experts, and network with other selling partners to fuel your business growth. This conference is for anyone interested in or currently selling in Amazon's store.
Amazon will release more details on Amazon Accelerate registration, keynote speakers, hotel reservations, and airline discounts in the coming months.
In the meantime, check out the highlights or watch on-demand content from last year's conference.
Bookmark Amazon Accelerate to periodically check for new information and mark your calendar now.
Brands: Start your A/B Tests Faster with the Updated MYE Experience
Amazon simplified the experience for Manage Your Experiments. The optimal settings for your A/B tests are preselected for you. You will be able to spend less time setting up experiments, and more time creating effective content that drives sales.
Once you enter the B-version of your content and click "Schedule Experiment," the following settings will be selected by default:
Duration: Experiment to Significance (the experiment will automatically conclude when there is enough data to declare a winner, so you don't have to wait for an entire fixed duration.)
Publication: Auto-publish (once a test is complete, Amazon automatically updates your product listing for you.)
As an advanced user, if you'd like to manually update your experiment settings, you can click View Settings to make changes.
For more information, go to Start A/B Testing
Voice of Customer (Update)
Update more detail about product complaints' categories with issues percentage%
Launch with recommended actions, like Remove or dispose of inventory, Edit Listing, Take the defective product compliance training, etc.
Download your Brand Analytics Search Dashboard Data
You can now download your Search Catalog Performance and Search Query Performance dashboards data.
Save data about your customers' shopping funnels and the top queries relevant to your brand.
Choose from four types of downloads:
Simple view: Download the report exactly how you see it on the previous page with your selected filters and columns.
Comprehensive view (Search Query Performance only): Download the report for your selected brand and date range for all of your queries.
Amazon's Choice badge data (Search Query Performance only): Search funnel monthly query performance of your brand, with and without Amazon's Choice badge. This allows you to understand how Amazon's Choice badge impacts your catalog performance. This is only available at the monthly reporting range.
Search funnel outliers' data (Search Query Performance only): Search funnel metrics that include your top and bottom performing queries (outliers). This allows you to focus on specific search query performance without the need to review thousands of queries. This is only available at the monthly reporting range.
Steps to download the data:
Go to Brand Analytics from the Brands tab.
Choose the dashboard you want to view.
Click Generate Download.
Select your download type: Simple view, Comprehensive view, Amazon's Choice badge data – Monthly, or Search funnel outliers data – Monthly.
Click Generate Download.
Downloaded reports are available in the Download Manager.
Download your dashboard data, or go to Brand Analytics to start running your search queries.
Money Off Promotions Temporarily Disabled
Effective March 21, 2023, Amazon will temporarily disable the Money Off promotions as Amazon adds advanced functionalities to this promotional feature.
Starting on March 21, 2023, you will not be able to create new Money Off promotions. However, if your Money Off promotion is created before March 21, 2023, you can continue to run it for the next 30 days till April 20, 2023. During this period, you can convert your existing Money Off promotion to Percentage Off promotion. Effective April 20, 2023, any active or pending Money Off promotions will be disabled.
Other promotions, such as Percentage Off, and Buy One Get One continue to be active and will be available.
To clone your Money Off promotions, go to Manage your promotions.
To learn more, or for step-by-step instructions, go to Duplicate an existing promotion.
New Presets Simplify Sponsored Products Ad Campaigns
Amazon is making it easier for you to advertise on Amazon with Sponsored Products ad campaign presets.
This new feature will pre-set your daily budget, bidding strategy, targeting strategy, and associated bids based on each product being advertised and the history of similar ad campaigns. You can also see estimated performance data, including clicks and conversions, for each of your ad campaigns.
To review and edit your Sponsored Products ad campaign settings, go to Launch Preset Sponsored Products, on the Product Recommendations page.
Amazon EU News
Update to Amazon Europe referral and FBA Fees
Amazon continues to invest heavily in people, technology, transportation, and infrastructure to innovate on behalf of our selling partners. Amazon does this while also working to be more efficient and manage our costs to serve you and customers so that Amazon can provide an amazing service that's also great value. Most referral fees will not change, and Amazon will make moderate increases to the FBA fees. To review the fee changes, go to 2023 Amazon Europe FBA and referral fee changes summary.
Dimensional Weight Changes for FBA Products
Starting March 1, 2023, Amazon uses your packaged product's dimensions and unit weight to determine its size tier for Pan-European FBA, European fulfilment network, multi-Channel fulfilment fees, and customer returns processing fees. This is being done to better align our fees with fulfilment costs for all parcels size bands excluding Small and Light items.
To determine your product's weight tier, we'll use the greater of the unit weight or the dimensional weight in kilograms, calculated as (length x width x height x cm) divided by 5,000.
Loose packaging is counted towards your item package dimensions for fee calculations. Amazon recommends that you minimize the dimensions of deformable packaging by using tight-fitting or vacuum-sealed poly bags or taped flaps.
For more information, go to these help pages:
Understanding item package weight and dimensions