//php the_post_thumbnail( 'post-thumbnail' ); ?>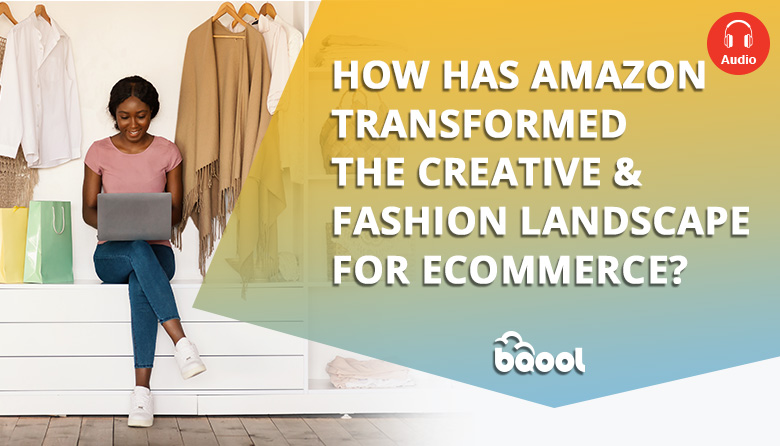 Amazon is well-known for being a pioneer of innovation and business models. The platform is not limited to sales of generic commodities but offers many opportunities for selling creative items. In the future, Amazon has the ambition to become an one-stop shop for shoppers finding creative products and that is why the platform provides a diverse catalog of services and programs to enable sellers to reach more customers in various niche markets. In addition, Amazon last year has started to sell luxury goods on its platform showing that Amazon is the new playground for fashion luxury items. By promoting innovative and entrepreneurial spirit, Amazon wants to encourage the creativity among sellers and attract more high-end customers looking for fashion luxury brands. Amazon is also trying to dispel doubts about the brands' image protection and counterfeit risks on its platform by working closely with creative designers and supporting originality.
BQool wants to introduce you to the different services that you can enroll to sell your creations on Amazon.
These programs and services would give better visibility for creators and their products on Amazon. Each program is tailored for specific creative areas. Let us share with you the creative programs and bring you some insights and tips if you consider running a creative business on Amazon.
I. Handmade by Amazon
First, the handmade program that enables you to become an artisan with Amazon is dedicated to handmade creations and provides different categories for artisan business:
Accessories, Artwork, Baby, Beauty & Personal Care, Clothing, Shoes & Handbags, Home, Outdoor & Home Care, Jewelry & Watches, Kitchen & Dining, Pet Supplies, Sporting Goods, Stationery & Party Supplies and Toys & Games.
Before starting to sell your handmade creations, you need to set up a selling account with Amazon. Then, Amazon must check your business information with a special audit process to ensure the legitimacy of handmade business. After you receive the validation from Amazon, you can start to sell on the Handmade Store your handcrafted items. You have the possibility to list some of your handcrafts on the store while you can continue to sell other items outside of Handmade category. The service is free, but you must pay a referral fee. You can check the conditions about referral fee on this page.
You can have a look on the official amazon handmade Instagram account to see the different handcrafted items and maybe get the inspiration to launch your own creative business.
II. Merch by Amazon
The second program that helps you to express your creativity is Merch by Amazon. This program is for creators/designers who want to increase their income by selling their own branded design t-shirt. Thanks to this program you can produce your own design then provide to Amazon that will takes care of production, sale, and shipping. You must provide an appropriate design because Amazon has the right to refuse your creation if it does not respect the content policy. You only sell what your customers want to buy, and you do need to worry about stockage issue because the t-shirts you produce are made on your customers' demand. In addition, there are a lot of advantages using this service, you can reach more customers, track, and analyze your best-seller design. You earn royalty for each t-shirt sold. The more you sell t-shirts more you will get high royalties. If you want to know how royalties are calculated, we invite you to check this page.  
III. The Drop Fashion Influencer Designer
The Drop is a program that teams up fashion influencer designers from the whole world (New York, Paris, Tokyo etc.). Amazon connects local designers to the international marketplace and offers a lot of possibilities for them to reach customers and introduce their designs. The influencer designers design a line of exclusive clothes which is available for only 30 hours on Amazon platform. After that amount of time, it is not possible to purchase the clothes anymore. Amazon wants to ensure the on-demand production and limit the waste. The clothes start to be produced after 30 hours. The influencer and Amazon alert the customers about the collection on official the drop account. Amazon releases all the details concerning the clothes, the date of the collection, pictures of the clothing line etc. The customers must subscribe to the text message alerts to be notified by Amazon when the special collection is about to be released because the platform does not tell when exactly the collections drop.
The Drop by Amazon is divided into three main sections:
Staples by The Drop: these items are available the whole year and they are basic fashion items. Usually, the quantity is not limited.
Upcoming Influencers: this section introduces the upcoming fashion designers and customers can check the style and the creations of the upcoming designers. Customers can directly check the influencers Instagram account to have a look.
Just a Few Left: This section offers limited quantity of items from previous collections. In fact, these products have been returned that is why they are extremely limited.
You can adhere to this program if you are a fashion designer, or you can even inform people around you about the multiple possibilities that Amazon offers to business owners and buyers. You can grow faster by using Amazon services no matter which item you want to sell; the platform always designs tailored solutions for your business ambitions.
The platform starts its ambitious plan with Oscar de La Renta partnership. Since then, Amazon has expanded its catalog with different famous designers such as Altuzarra, Studio 189, etc, which we will mention in the next paragraph. You can find the complete list of designers on the luxury stores.
IV. The Luxury Stores
Indeed, Amazon has a lot of interest in the fashion industry. Now, Amazon offers the possibility to buy luxury items through its platform the luxury stores. Amazon last year had its first partnership with the famous designer Oscar de la Renta, then other designers joined the catalog. The platform certifies the origin of the luxury products because it is directly connected and sold by the designers. Due to the ongoing pandemic, fashion designers have been forced to rethink their strategy to sell their luxury goods. The pandemic impacted the traditional way of promoting apparels and lead some designers to sell their fashion luxury items online. The designers have seen the opportunity to grow and attract more customers on a very dynamic marketplace. The luxury stores service is eligible for Amazon Prime Members only. Finally, Amazon wants to attract well known, established and startup brands to its luxury store platform and diversifies as much as possible the options to guarantee the plurality of its services.
In conclusion, Amazon is constantly reinventing our way of shopping online. The platform took the initiative to implement more diverse programs to enable diverse sellers to connect with many potential customers. There are multiple possibilities to buy and to sell on the platform. Recently Amazon encouraged creativity and entrepreneurial initiatives, therefore a lot of programs are specially designed for stimulating creation. Finally, Amazon reaffirms its strategic approach on entering the luxury industry by launching its luxury stores service. Once again, the platform has shown the consumers what the future of eCommerce would behold.