//php the_post_thumbnail( 'post-thumbnail' ); ?>
Whether you are jockeying with other sellers for the Amazon Buy Box or trying to maintain profitable margins in pricing wars with Amazon retail, the competition you face is tough and smart. The way to stay ahead in this competition is to be craftier, and one trick is to optimize your product listings for increased visibility.
The key to this is to think like a buyer. Analyze how buyers shop online. How do you find what you want to buy? What are the searches you'd use for your product? The answers will give you a better perspective of your listing's visibility.
Here are some tried and true tricks of the trade that can push your store into the spotlight and multiply your store traffic:
Detailed Product Names in Listings
When I log into Amazon to buy something, I usually use the search bar to find the product I want. I enter my search term or multiple keywords that describe what I am looking for. For my daughter Alysha's first birthday party, I wanted her to wear a pink organza frock with layers of ruffles. I entered a search for:
"Baby girl pink organza ruffles party dress"
The top results were:
'KID Collection Baby-Girls Frilly Ruffle Tiered Pageant Party Dress'
'KID Collection Baby-Girls Gorgeous Ruffled Organza Party Dress & Headband'
'Cinderella Couture Baby-Girls Cascading Crystal Organza Rhinestone Party Dress'
The title provides the first information about a product. I browsed around some more before I bought the second dress from the search result. As you can see, including great search terms in your product name and its description boost the overall visibility of your product listing. Your customer has to find your store before you can sell anything to him.
Each individual word in the product name is a search term by itself.  You should add as much information to your product name as possible while staying within Amazon's listing guidelines. Amazon provides specific formulas for writing product titles in each category. You have to follow the set style guidelines and have correct capitalization. Some categories restrict product titles to 80 characters while others allow up to 150. You start with the brand name and then list the product name. Your title is allowed to include other facets like the quantity, the color, the pattern, the model number, the power output, and the size.
After the product name comes the product description. Make sure your search words are included here. But more importantly, put effort into writing an enticing product description that your buyer will not be able to resist. Amazon allows up to 2000 characters for product descriptions. Details are what make a product more visible and appealing to buyers.
Designate Accessory Products
Amazon has many tools, which when utilized properly by sellers, make the difference between remaining mediocre and becoming a shining star. One such simple tool is for designating accessory products that will appear on the product detail page for specific items. Establishing accessory relationships between products can promote cross sales.
Accessory products are made up of two types. Products that complement each other are said to have an accessory relationship while similar products that have a defined variation theme such as size or color are termed as a parent-child relationship. Many Amazon categories allow product detail pages to contain both relationship types. Check to see if relationships are an option for your product category.
Drop down boxes can be added on the 'parent' product detail page to make a selection from the 'child' products. In such a relationship, a frock, for example, is chosen as the parent product and its various color and size options become the child products. Amazon has another useful tool for this called the 'Check My File' feature which automatically detects variation sets in your inventory file. If an appropriate variation theme exists for your products, it is advisable to set up relationships between your relevant products.
For products using accessory relationships, the suggested accessories can be given in the 'Also Recommend' box. Buyers can click on the boxes to view these suggested add-on products. In certain categories, Amazon allows products with accessory relationships to be linked in the 'Item Information' box on the product detail page.
Cross Selling with Listamania!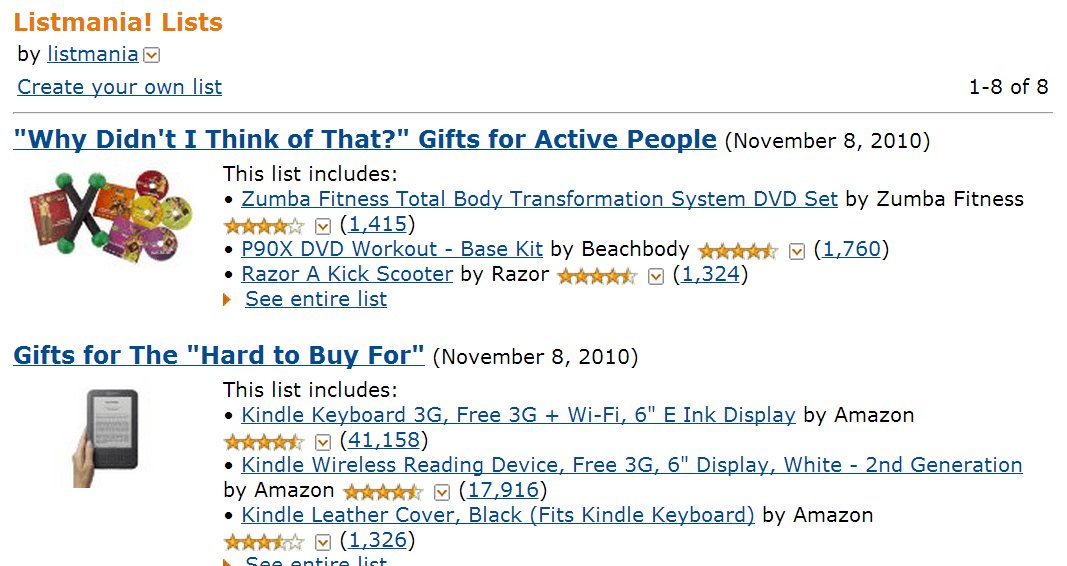 Listmania is an Amazon tool that allows you to create your own lists on just about any theme imaginable for promoting your products.  It is a great way to raise your listing visibility by linking related products. Though you cannot control the placement of such lists, they appear on relevant pages throughout Amazon.
Consider this example from Amazon:
"Free Shipping! Filler items for under $5 that get you free shipping"
When the buyer is a few dollars short of the required $35 free shipping eligibility, such a list gives him some practical purchase options below $5.
Listmania provides a great opportunity to cross-promote your product to increase sales. When your product compliments a popular product sold by another merchant, you can include his product in your list to get yours promoted indirectly. If your store is launching a new brand of protein powder, you can create a list called 'The Best Selling Protein Powders.' Put your own brand at the top of the list and add other similar, popular brands.
Study your Competition and Your Product Category
To be a successful seller on Amazon, you should thoroughly study your product categories. To make your listing visible, it is vital to search and list in the most relevant category for your product. Explore the various selection options and identify where each item will fit perfectly into the infrastructure. (Read more: Amazon SEO-Increases Keyword Search Terms to 1000 Characters)
Identify your competitors, their merchandise, pricing, and promotions to plan and launch compelling and effective competition. It is a good idea to mimic common characteristics of bestselling items in your categories without compromising your brand's personality.
Follow Amazon Listing Requirements
Violations of Amazon's listing requirements can result in the suspension of listing privileges or cancellation of the listing itself.  For accessory relationships in product listings, should you refuse to follow established variation themes, Amazon category managers may delete your listing. Similarly, every aspect of product listings is governed by strict rules. Amazon aims to improve the customer buying experience and to make it easier for buyers to find, evaluate, and purchase products. It would be wise to follow Amazon's suggestions to boost your own listing visibility and sales.
Published by BQool Marketing on Jan 14, 2014