//php the_post_thumbnail( 'post-thumbnail' ); ?>
Coming in 2nd is worse than finishing last. You have given more effort than the rest, but the result was the same. As sellers, we'd all love to sit on the Buy Box throne, but it isn't too bad to be second, third or even fourth on Amazon thanks to the More Buying Choices Box which provides top sellers with visibility, even outside of the Buy Box.
The More Buying Choices Box is located on the right-hand margin of the product detail page, just below the Buy Box. To qualify for the More Buying Choices Box, the seller must be a fulfilled merchant with superior level of customer satisfaction and low ODR (order defect rate) [1]. Only Buy Box eligible listings can qualify for the More Buying Choices Box. Up to three listings are displayed, largely based on price, availability and fulfillment type [2]. Exposure gained by appearing in the More Buying Choices Box can potentially raise your sales, as well as increase the chances of getting in the Buy Box rotation.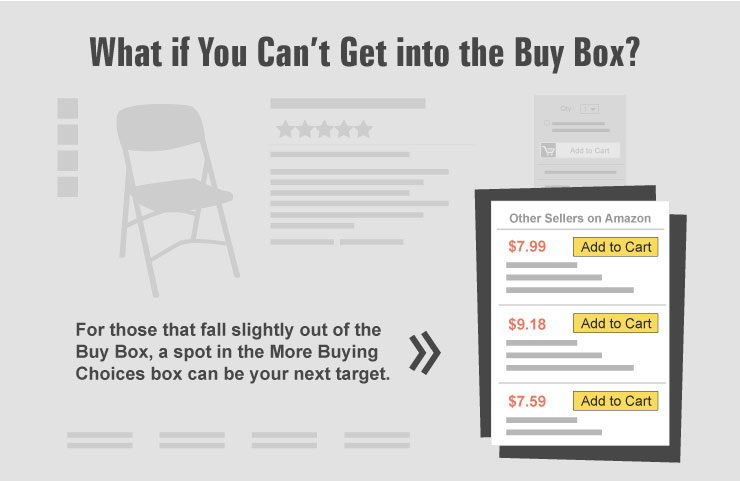 Who is interested in buying from the More Buying Choices Box?
Smart buyers understand that the Buy Box is not the only option: those searching for the lowest price, listings with higher feedback, or listings based at a closer location (for faster delivery) will consider the Buy Box alternatives. While the More Buying Choices Box may not be as highly regarded as the Buy Box, it increases discoverability and remains a great opportunity for sellers.
BQool's Repricing Central can help to maximize your chances of winning the Buy Box and keep you in the More Buying Choices Box by automatically adjusting prices to gain a competitive edge. If you are looking to boost your sales and increase product exposure on Amazon, sign-up for a 14 day FREE trial today!
Learn more about:
Everything You Need to Know about Amazon Buy Box
Amazon Automate Pricing vs BQool Repricing Central
Published by BQool Marketing on 6th May, 2016
Reference