//php the_post_thumbnail( 'post-thumbnail' ); ?>
On a sleepless night I bought a sleep therapy sound machine on Amazon and have been waiting patiently for it. However, it's been over a week and the machine is still nowhere to be seen! The seller says the package may have been lost in transit. Or could it have been a fraud and they never even sent it? I don't believe in buying stuff online anymore! I want my money back! I am filing an A-z claim on Amazon!
Sounds familiar? Well, if not, then better be prepared. Item not received (INR) claims filed by buyers, delayed deliveries, and lost shipments are common occurrences in the online selling business.
Missing in Action
Online retailers are often plagued by after sales problems related to shipping, such as packages getting lost in transit. As an integral part of online selling that has great impact on customers' shopping experience, shipping is factored into your Amazon customer satisfaction metrics and should not be taken lightly.
For FBA sellers, Amazon handles all order related inquiries, including post sales customer service. If your buyer contacts you regarding the delivery status, have them contact Amazon Customer Service directly. However, if you are fulfilling your own orders, you must take adequate measures to ensure the safe delivery of your packages. Very small packages tend to get lost quite easily during shipping. To prevent this, it would be wiser to put small items in bigger boxes with sufficient filler material. Read our "Packing Tips for Amazon Sellers" to learn more about packing well to prevent damage during transit.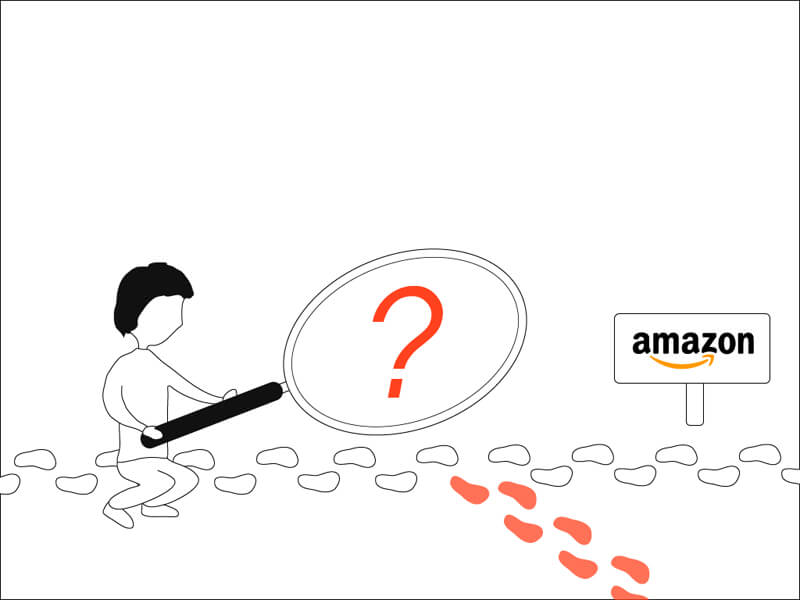 Tracking Shipments
As a merchant fulfilled seller, you can enter shipment carrier and tracking information in Seller Central when shipping out packages. When buyers are questioning the whereabouts of their packages, they can log in to Amazon and track their packages. Just choose the particular order from the "Your Orders" section and select the "Track package" option next to the order name. For international orders, customs clearance procedures can cause delays in delivery. Communicate well and provide adequate information to your buyers to assure them that you're doing everything possible to help track down the package.
Tracking may not be available if sellers don't provide correct shipping information to Amazon. There are also other reasons as to why tracking information is unavailable. Some carriers do not acknowledge the receipt till the first package scan, which may not happen until delivery. This is more common when there is bulk processing due to high shipping volumes, and packages may be scanned only at the regional hub nearest to the delivery point. Certain shipments like the Standard International shipments do not have tracking options.
Status: Delivered! Package: Missing
You packed it well according to our great packing instructions – waterproof, decent sized package with all packing slips in the correct places and address written in clear bold print. You tracked the shipment and heaved a sigh of relief when you saw the "Delivered" status. You are naturally shocked when you receive an email from the irate customer hurling abuses at you for delaying the shipment. Where is the item? Is my package lost or stolen? How do you go about finding it?
Amazon outlines various steps you can attempt in such a scenario. The first thing is to cross check the shipping address. Did you write the address correctly, was it delivered to the specified address, or did the customer make a mistake in the shipping address? If the address is correct, try waiting for another day. Sometimes packages still in transit or delivered to the regional hub may be shown as delivered. You can also ask the customer to check if anyone else may have accepted the delivery. The package may have been returned after an attempted delivery, so confirm the status with the shipping carrier. If all else fails and it seems more likely that someone may have stolen your package, it is your best bet to just refund the purchase.
Missing Bits and Pieces
Sometimes you may receive complaints about items missing from a package. For orders with multiple products, it's possible the products may have been shipped separately with different delivery dates. My husband had ordered a phone and a memory chip at the same time and paid altogether with his credit card. The phone was delivered first, which had us worried till we received a mobile phone text from the shipping carrier indicating the status of a second delivery item. The chip was delivered the next day.
If the delivered product is missing a part or appears damaged during shipping, then it would be wise to simply refund or send a replacement. This is a good way to keep your buyer happy and your customer testimonials glowing.
Package delivery is a vital part of the online shopping experience. There are many ways to deal with delayed or lost packages. In any case, it is in both sellers and buyers' best interest if the packages are delivered safely and in a timely manner. If shipping caused problems for your feedback or review, check out how our feedback software can help make your work easier to solve the problems.
Updated by BQool Marketing on Sep 09, 2016