//php the_post_thumbnail( 'post-thumbnail' ); ?>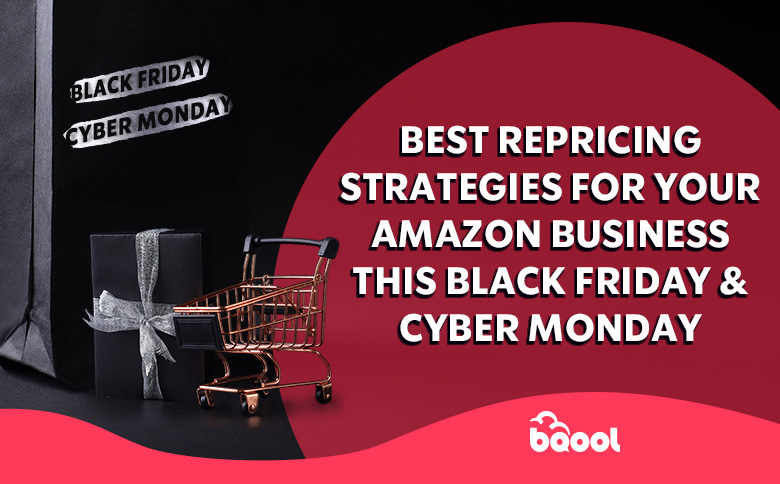 Black Friday and Cyber Monday are the two biggest sales events every year and you will not want to miss Q4's best opportunities to rake in additional profits to wrap up 2023 on a high note! Before you can enjoy good sales results, you need to set up suitable repricing strategies for your listings. In today's article, BQool gives you the latest repricing strategies so you can outsmart your competitors this Q4. 
Get ready to make a ton of profit with awesome repricing strategies this Black Friday and Cyber-Monday 2023! 
When You Resell High Value Items in Apparel Category – Maximize Your Profits
If you are looking for some inspiration to resell items in the apparel category on Amazon, we recommend this trendy unisex pair of sandals. According to our research, these convenient pairs of shoes have won many fans worldwide. The sandals come in a variety of colors and materials and the average price is $100.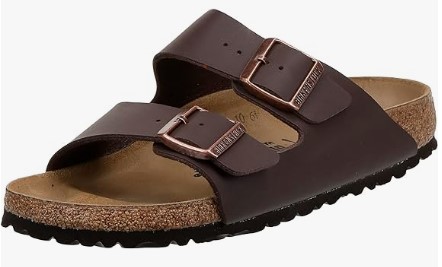 (Birkenstock Women Arizona Soft Footbed – Leather (Unisex))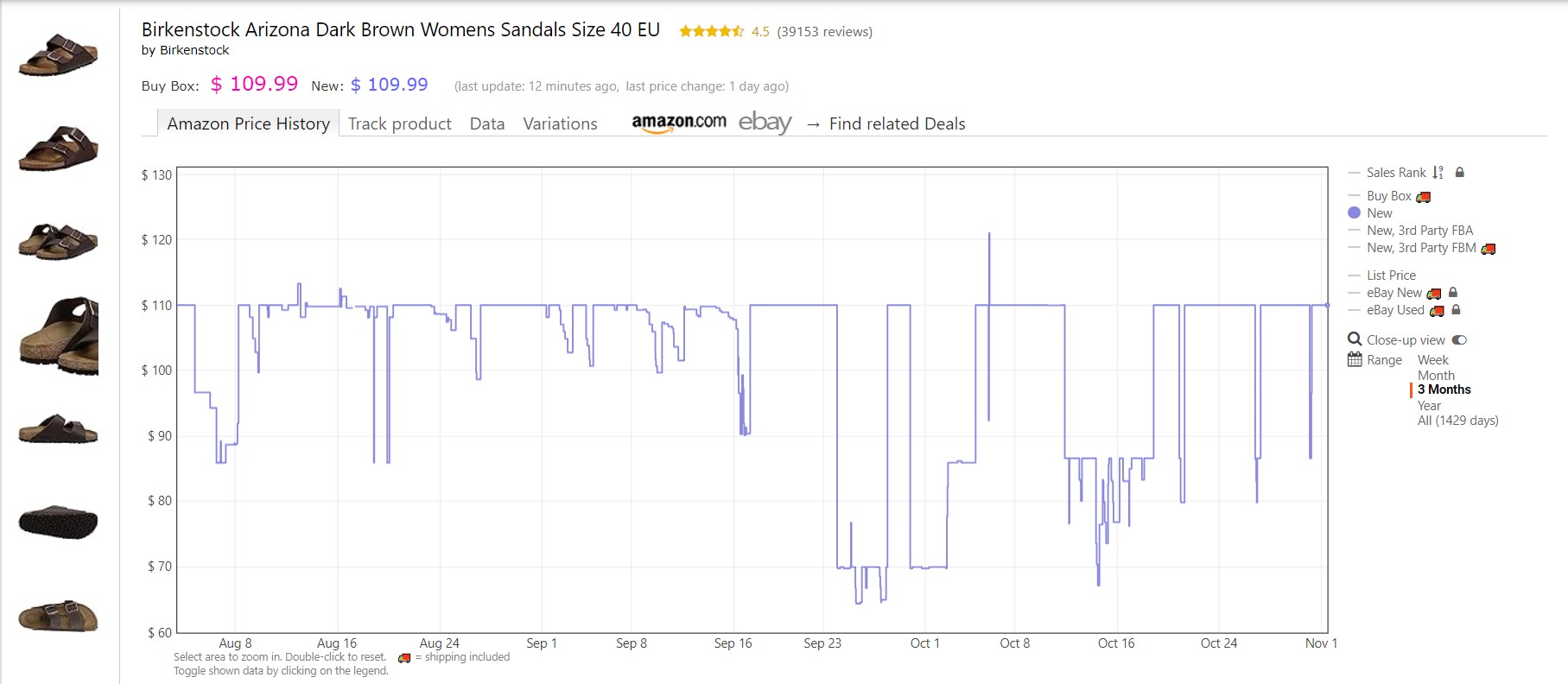 As you can see on the graph the price of these shoes fluctuated a lot in 2 months alternating big discounts for short periods of time and then adjusting the prices to be higher.
How to Set up AI Profit Maximizer?
In this scenario, you resell these sandals, which are high value items, you do not want to sell them too quickly, so we recommend you use AI Profit Maximizer.
When you are setting up AI Profit Maximizer, you need to pay attention to how you are going to configure the "Get the Buy Box Advanced Settings" because this step will determine how the repricer will reprice based on multiple scenarios that might occur like "Suppressed Buy Box," "Double Buy Box Winners" …etc.
As you can see there are five important settings you need to set up: each setting can define how the Repricer Rule will compete for the Buy Box.
BQool AI Get Buy Box Advanced Tweak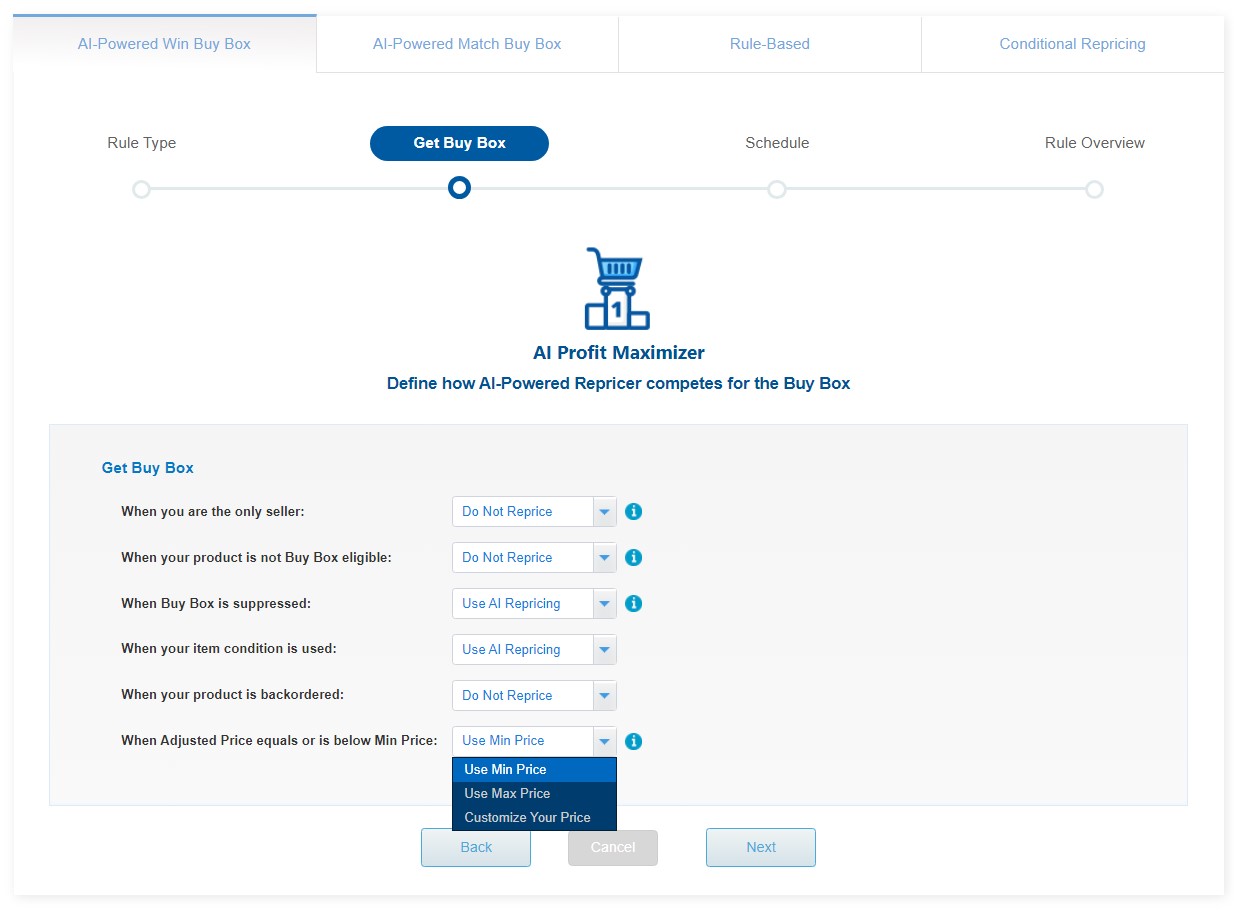 Configuring the advanced setting allows you to customize how the repricer responds in different scenarios. You can choose for the repricer to adjust to your minimum price, maximum price, or your customized price.
For example, if you select the minimum price option, the repricer will lower your price down to but not below the minimum you set whenever the specified conditions are triggered. For example, choosing the maximum price option means it will raise your price up to your maximum when conditions call for it. This advanced configuration empowers precise control over your pricing strategy especially when you want to raise your price when you are the only seller or when you are out of stock.
When You Resell Beauty Products (Fast Moving Items) and You Do Not Have the Buy Box
Selling in the lucrative skincare category on Amazon unlocks major opportunities, as it is a high-demand niche poised to drive traffic and sales. You do not need to be an expert of skincare products; you can simply research the latest trends online. According to our research, we have found that natural ingredients body lotions are trendy, especially this brand; AESOP.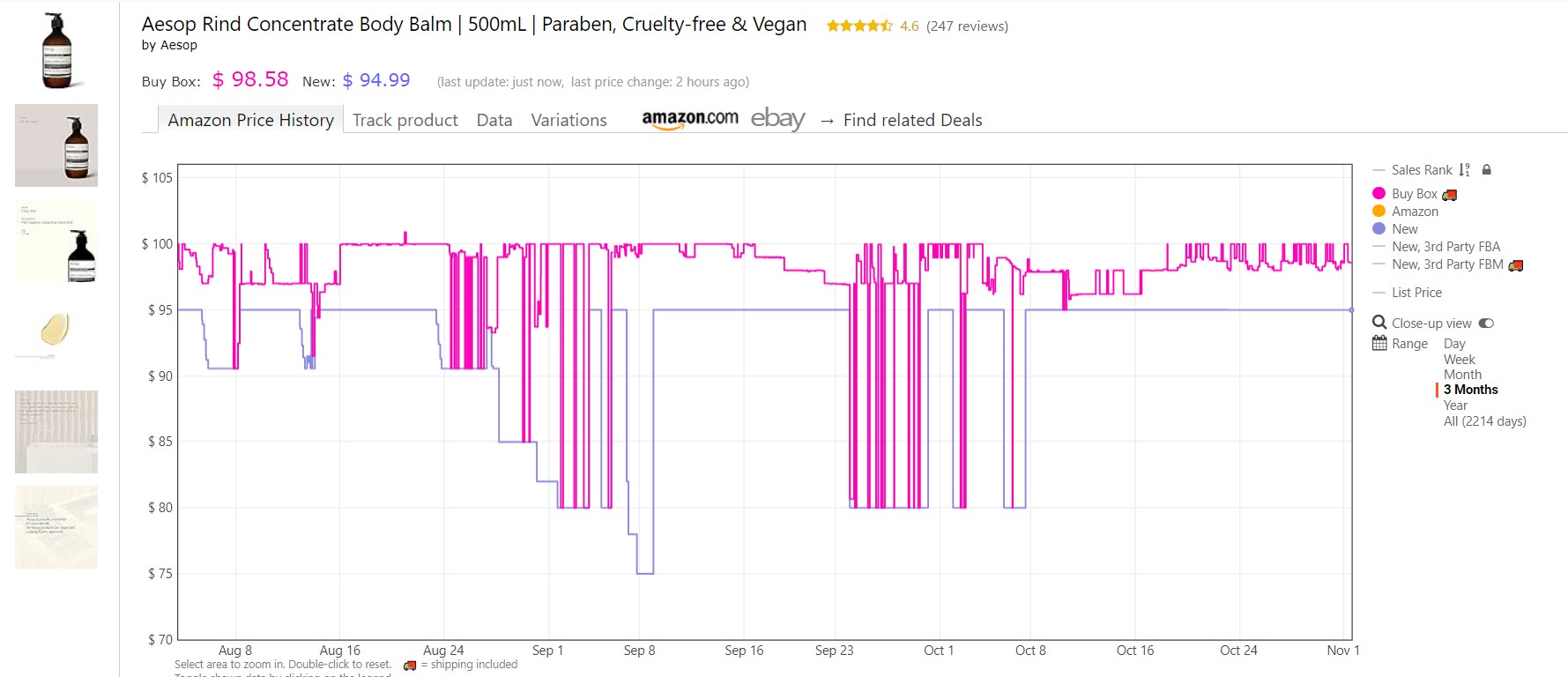 As you can see, the Buy Box Price has been constantly fluctuating for the last two months. The Buy Box Price decreased a couple of days before the Second Prime Day and then increased just before the Second Prime Day started.
In this scenario, you have a top-selling body lotion nearing the end of your limited stock. As a fast-moving product, you want the Buy Box, but you do not want to liquidate your inventory too quickly. In this case, we recommend you implement Match Buy Box repricing strategy to gradually decrease or increase your prices and match the Buy Box.
How to Set up AI Max Profit?
With this strategy, you can choose between 3 repricing rules to build the most efficient repricing plan: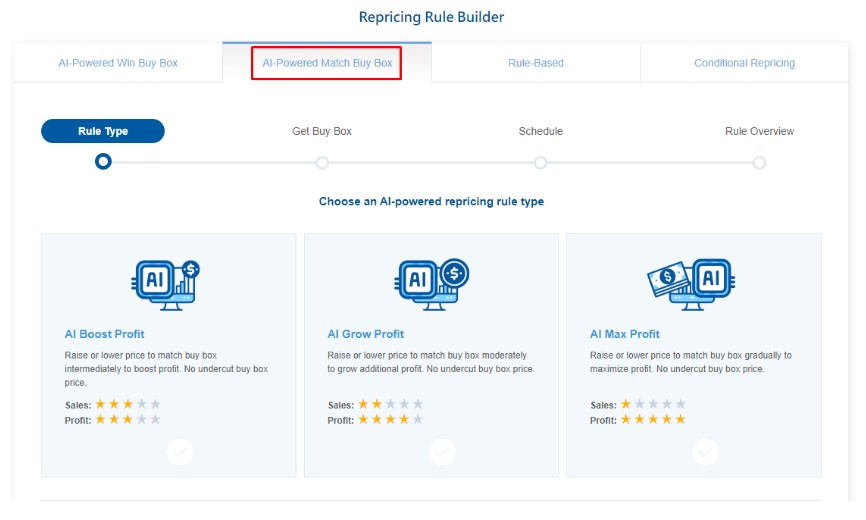 As we mentioned, your goal is to match the Buy Box without being too aggressive. That is why we recommend you choose to use AI Max Profit rule. This will allow the repricer to incrementally adjust pricing up or down to align with the Buy Box without undercutting it.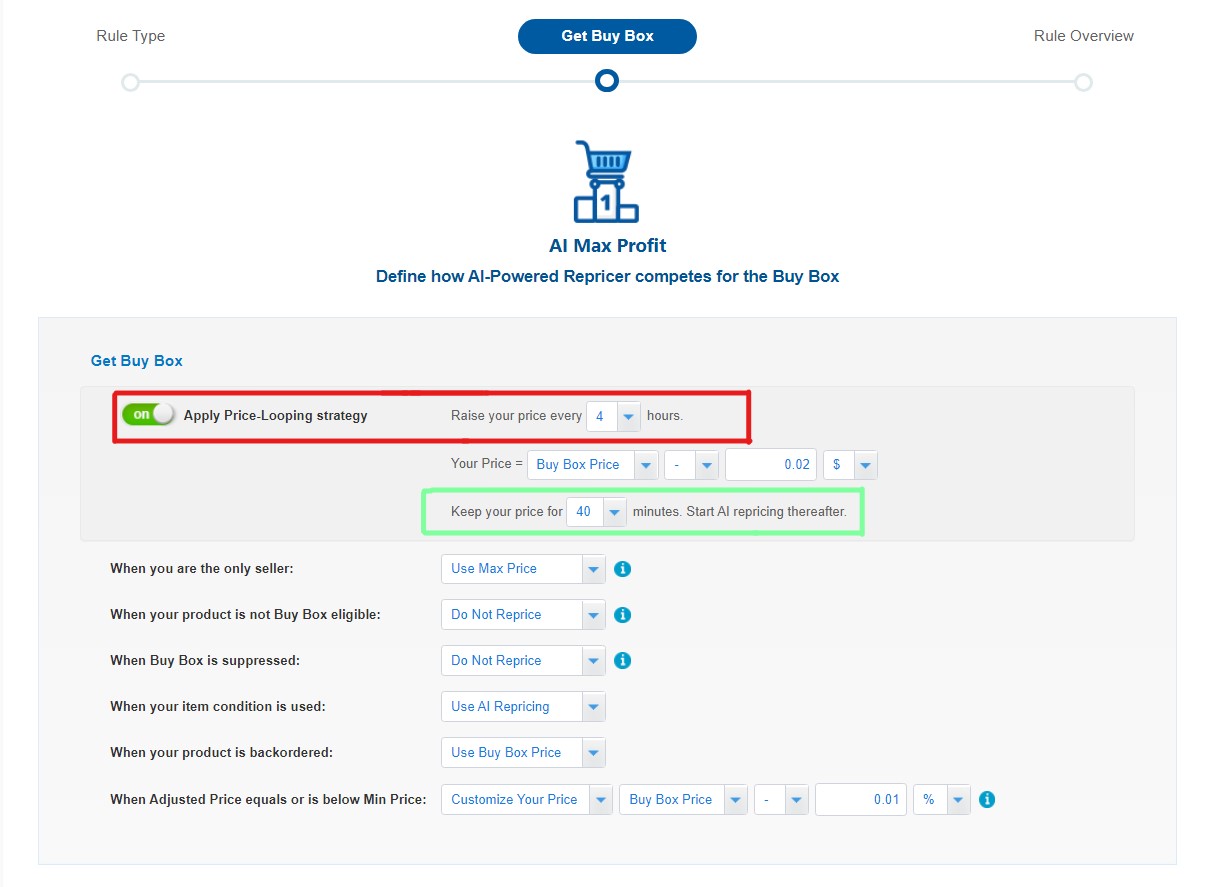 For example, you can set up AI Max Profit Looping, the repricer will change your offer price every 4 hours based on the Buy Box Price – $0.02. This new price will be "Kept for 40 minutes" while the repricer is on pause for 40 minutes.
Then you can adjust the advanced settings to know how you want to compete to get the Buy Box.
When You Resell Beauty Products (Fast Moving Items) and You Have the Buy Box
Sheet masks are riding the self-care wave as today's hottest skincare obsession. These single-use facials deliver targeted skin treatments, with different ingredients. Easy to source and simple to use, sheet masks are an accessible entry point into beauty category on Amazon. Capitalize on the sheet mask craze by reselling these on-trend products. The average price for this beauty item is $9.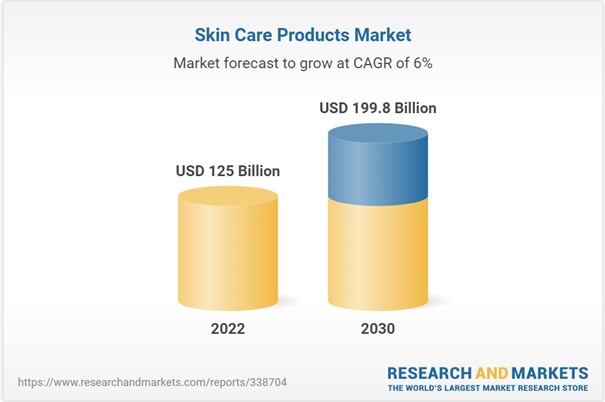 Report Research and Markets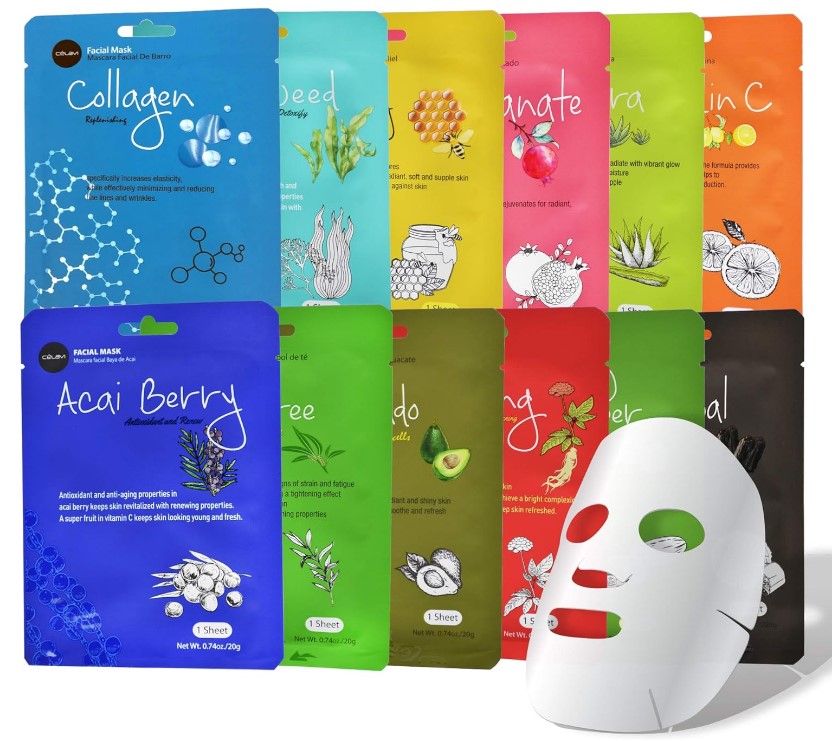 Celavi sheet masks
Maintain the Buy Box with a Combination of Repricing Rules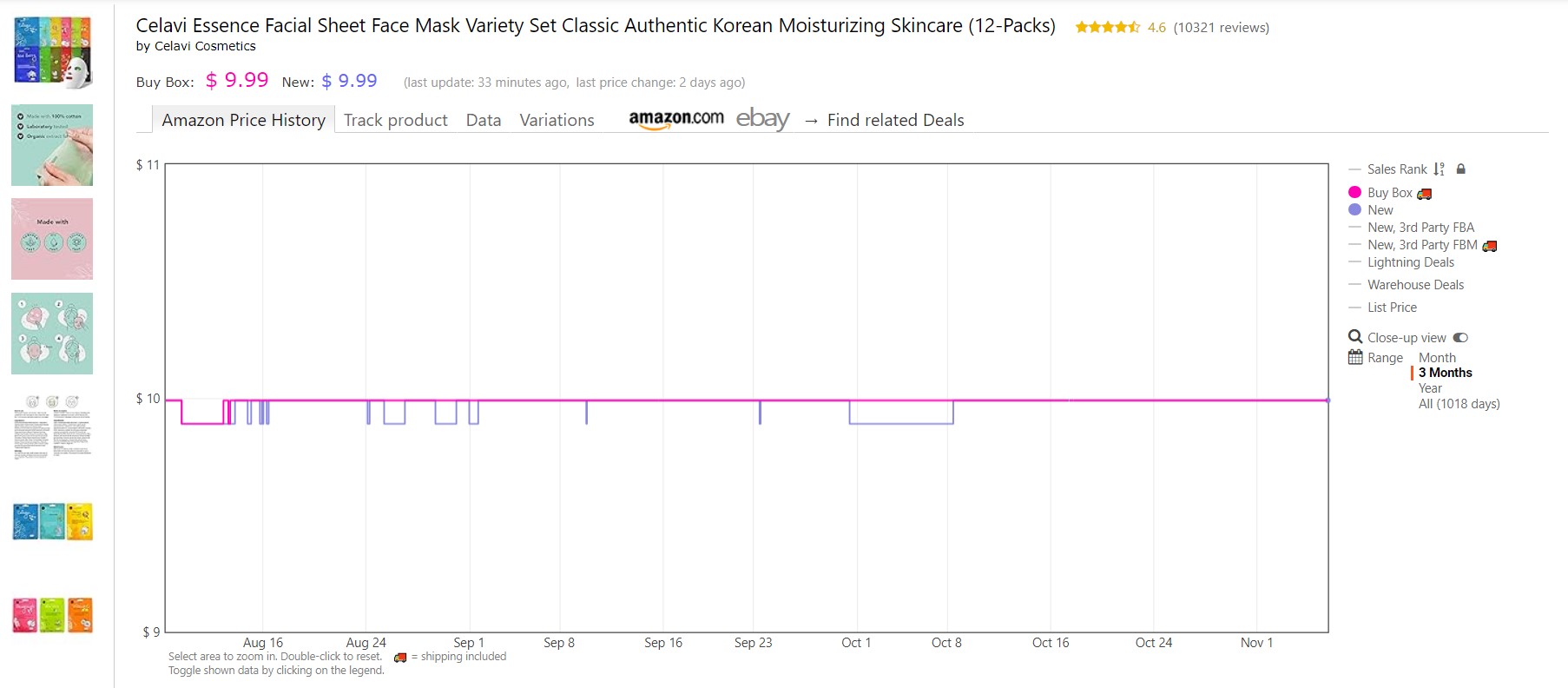 As you can see on Keepa graph, sheet mask price has stabilized over the course of three months and the sellers are often matching the Buy Box.
In this scenario, you have the Buy Box and you do not want to lose it just before Black Friday and Cyber Monday. We suggest implementing a repricing rule that targets your profit when you have the Buy Box and you want to stay in the Buy Box for as long as you can.
To achieve this, you can combine multiple repricing rules into a single Conditional Repricing rule and this customized strategy allows you to target profits without aggressively undercutting your competitors. The goal is to retain your hard-earned Buy Box throughout the Q4 sales event. Conditional Repricing allows you to balance price competitiveness and profit-seeking, ideal for maximizing returns during these pivotal shopping days.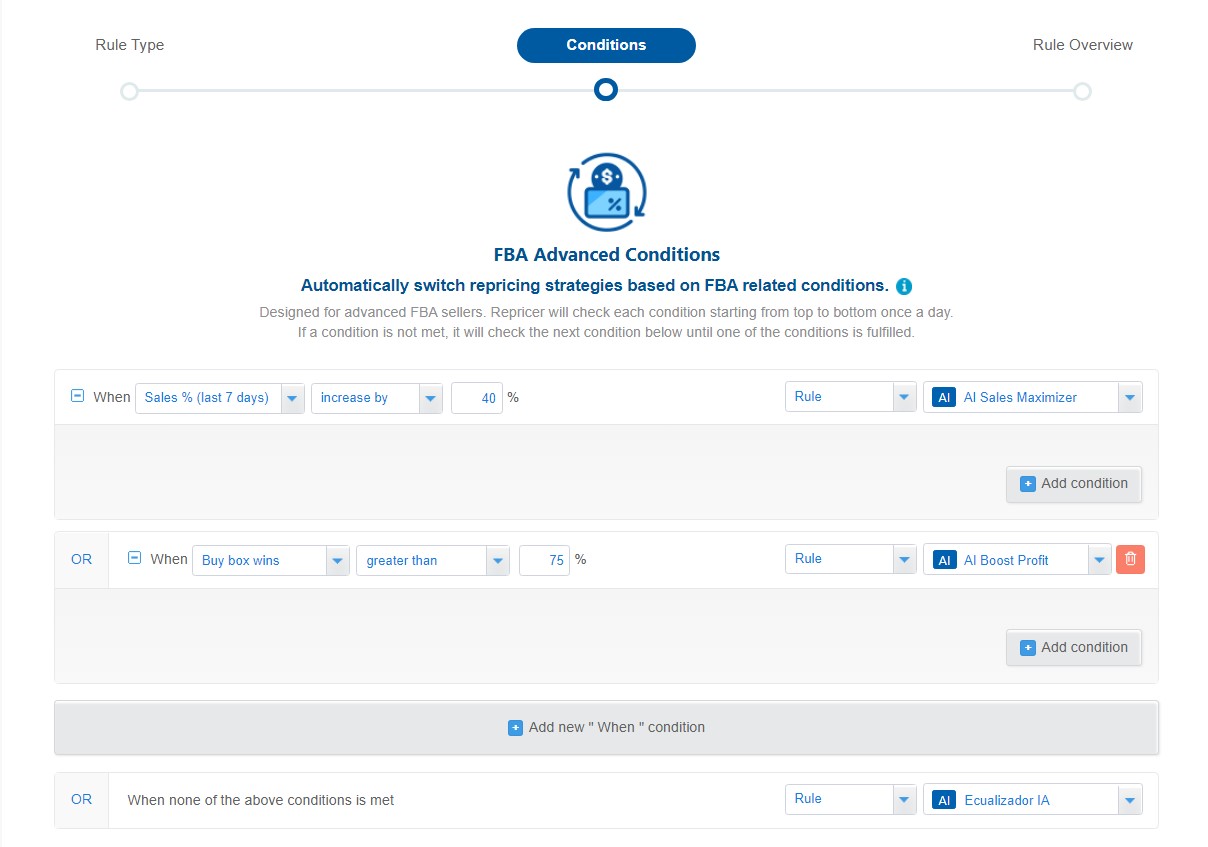 In this example, we have set up the first condition, then we added a second condition once the first condition has been met.
If you want to have a better chance to target and get the buy box with conditional repricer, we suggest you can reprice based on Buy Box Wins%. The first primary condition being "Buy Box Win % that is less than or equal to 74%" will trigger AI Sales Maximizer to compete for the Buy Box with a competitive price.
For the following buy box condition "Buy Box Win % that is greater than or equal to 75%" can trigger and apply the "AI Profit Maximizer" to listings that have a less risk of losing the buy box while having the price raised.
This holiday sales season, a well-planned repricing strategy is key to profitability. The repricing strategies that we have discussed in the article are here to illustrate potential setups to maximize your profit, but they must be combined with targeting top-selling items in high-demand categories. With smart, strategic repricing and the right product(s) to resell, you can maximize your profit this Black Friday and Cyber Monday. Finally, do not forget that the repricing journey requires an investment of time and effort, but the rewards make it worthwhile. Let BQool varied guidance put you on the path to a profitable Q4! Target top-selling products and optimize your prices for this holiday season!
If you want to learn more about Repricing Strategies:
Conditional Repricer & Buy Box Conditions (bqool.com)
Conditional Repricer: Reprice on Sales Conditions (bqool.com)
Conditional Repricer : Reprice on Inventory Conditions (bqool.com)
How to Reprice your Listings this Prime Day 2023 ? | BQool Blog
Decoding Amazon Buy Box Enigma: Suppressed Buy Box (bqool.com)
Why Should You Use A Repricer for Your Amazon Business? (bqool.com)