//php the_post_thumbnail( 'post-thumbnail' ); ?>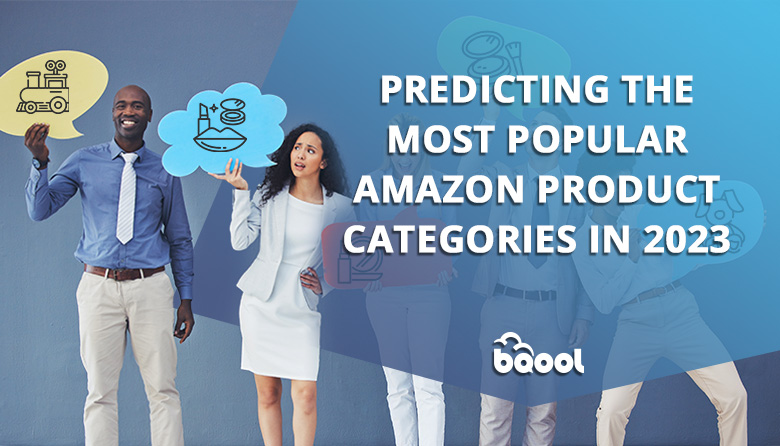 Are you ready to take your Amazon business to the next level this year? Prime Day is coming soon, so now is the time to take advantage of the profitable opportunities Amazon has to offer. To ensure maximum success, you must be able to recognize the top product categories that will bring you the greatest returns. We have spotted four categories that are bound to make you the most money in 2023!
Selling in the Beauty Category 
As mentioned in our previous articles, reselling in the beauty category on Amazon is a great way to make money if you do your research and understand the industry. You will need to make sure you are sourcing excellent quality products, pricing them competitively, and managing your inventory effectively. It can also be helpful to find a niche product to focus on. We suggest you source small beauty accessories and tools; they are easy to source and not as restricted as chemical cosmetic products.  
Ice Roller Face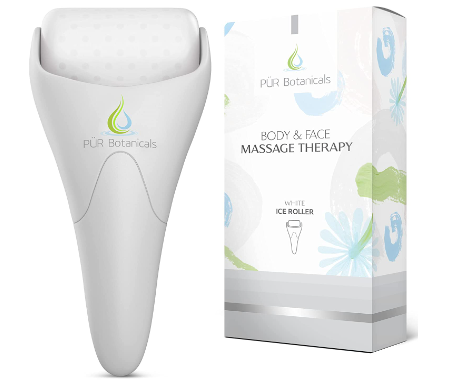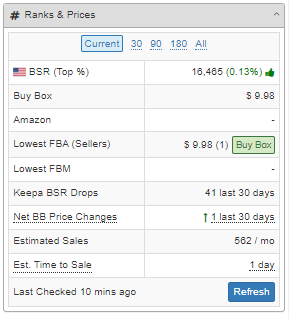 💡 Extra Tip: To make sure you found the right items to resell, you can check the different make up and "skincare routine" tutorials online on different social media platforms such as YouTube, Tik Tok and Instagram. These are goldmines for finding ideas about the latest products to resell! 
Selling Grocery  
Maybe this is not the category that comes to your mind when you think about popular categories on Amazon, but according to our research, groceries on Amazon are pretty popular!  If you are new on Amazon, you will not be able to resell in this category since you need Amazon approval. Once you have ungated this category you can start to resell. Be aware of the competition in this very lucrative category, make sure to find the products right in-demand to stand out from your competitors. You can keep things simple and easy when you resell in this category. Indeed, we recommend you focus on reselling candies, they are popular during Halloween, Christmas and Easter. 
Skittles (candies)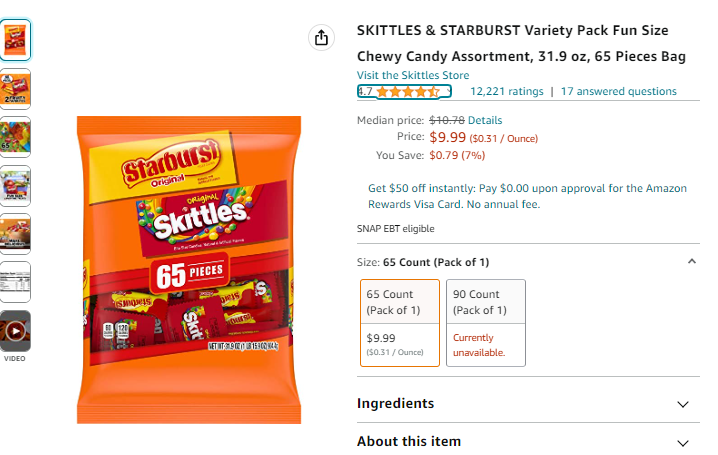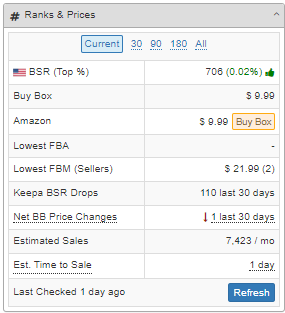 💡 Extra Tip: Using a good Repricer is the key to success with perishable items. Because if your perishable items are not selling, you need to liquidate them fast. Our conditional repricer adjusts your repricing strategy based on your needs. With all the options that conditional repricer offers, you can create the right repricing strategy for your perishable items. If you want to learn more about how to set up our conditional repricer, you can check out this article. 
Selling Sportwear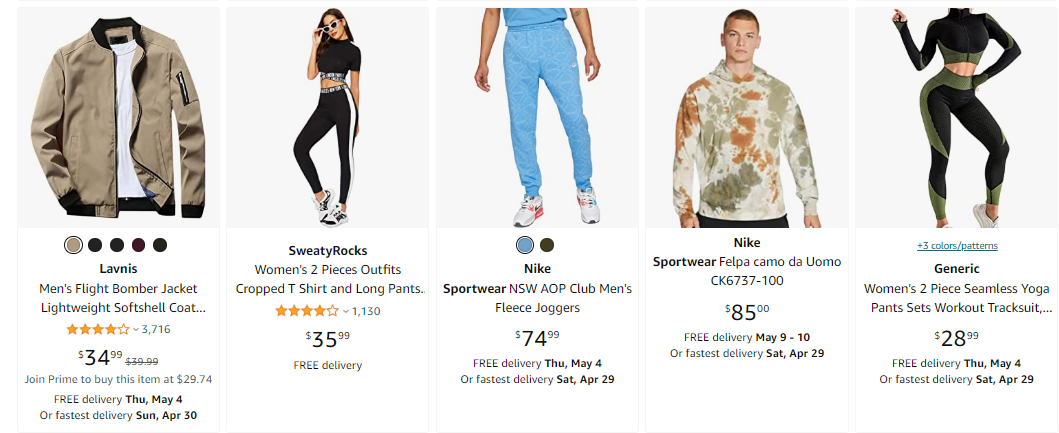 The Sportwear category on Amazon is a great choice for anyone looking for the latest sporting apparel and accessories. With a wide selection of products from popular brands, shoppers can find shoes, backpacks, gym bags, and more. Buyers are typically looking for the best price and quality when they shop in this category, making it ideal for retail arbitrage and reselling. 
Shorts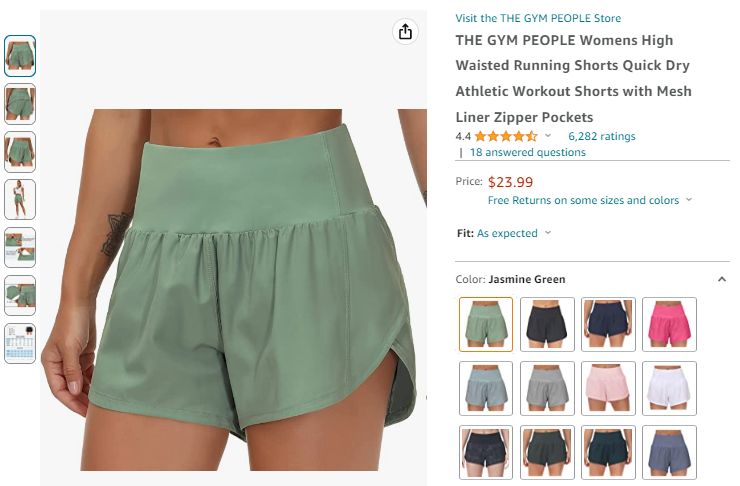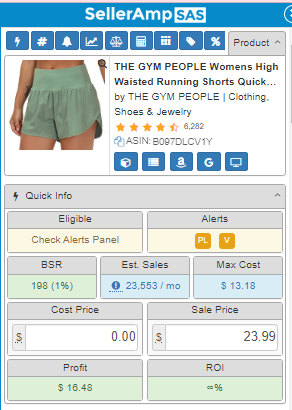 💡 Extra Tip: When it comes to sourcing clothing, it is important to make the right choice. Basic items like yoga pants, shorts, and T-shirts are great options, as they are timeless and will not quickly go out of style. Avoid sourcing too much trendy clothing, as trends come and go quickly.  
Selling Toys on Amazon  
Toys on Amazon are very popular and that does not really matter about the time of the year.  
You have your chance to find a trendy product. Classic board games, chess games, you name it. In this category the sky is the limit! This category offers a lot of opportunities to make money, ranging from classic board games such as chess to more sophisticated toys and games, there is no possibility you cannot find something to resell.
Mama Surprise Guinea Pigs(little Live Pets)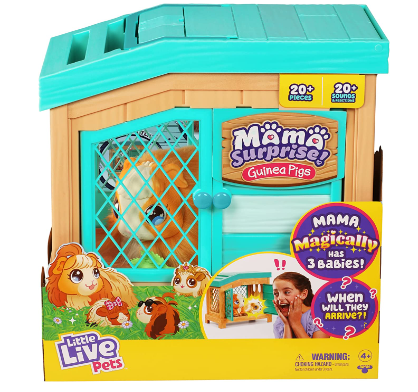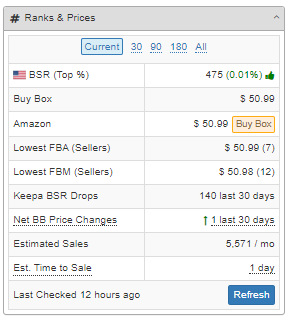 💡 Extra Tip: The best period of the year to resell toys is the Q4 Indeed with Christmas that is the ideal period to make extra profit in this category. If you are new on Amazon and you haven't ungated the toy category yet, this is the moment to do it. 
With Prime Day just around the corner, it is time now to start getting your Amazon business ready for the biggest shopping event of the year! Do your research on Amazon and on the internet to find out which categories will bring you the most money and keep an eye out for the kind of items that you can snag at a great price. With the right strategy, you will be ready to turn Prime Day into Prime Payday! 
✨ If you want more sourcing products ideas, you can check these articles below: 
https://blog.bqool.com/how-to-make-money-on-amazon-in-2023/
https://blog.bqool.com/which-cosmetic-products-you-can-resell-on-amazon-in-2023/ 
https://blog.bqool.com/what-to-sell-on-amazon-in-2023/