//php the_post_thumbnail( 'post-thumbnail' ); ?>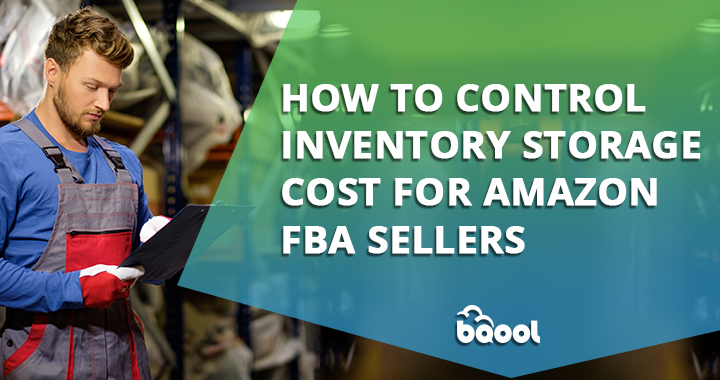 ✳️ Update 2022 Inventory Age Report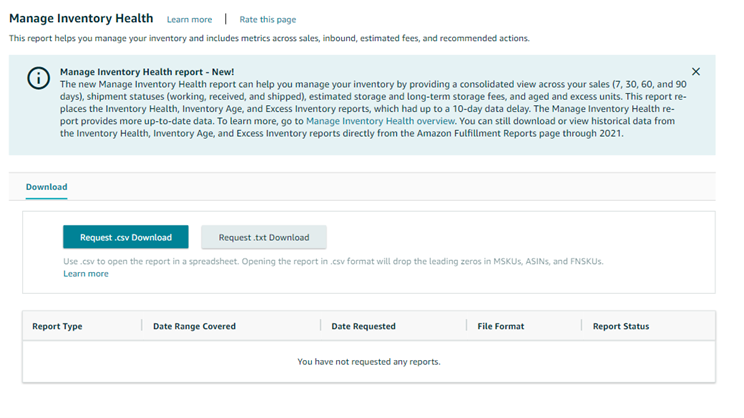 The Inventory Age Report has been replaced by Inventory Health Report. You can access the report via:
Amazon seller central > Amazon fulfilment report > Inventory > Manage Inventory Health
✳️ IPI Threshold Lowering
Since January 1, 2022 The inventory Performance Index (IPI) threshold for FBA Storage limits has been reduced 400.
Just a quick reminder, IPI  score is based on how well you do the following:
-Reduce your excess inventory to increase your profitability.
-Increase sell-through to balance your inventory weeks of cover.
-Ensure that your inventory is buyable by fixing stranded listings.
-Keep popular items in stock.
For help on accelerating new product sales, see the FBA New Selection program's expanded benefits on storage and advertising costs.
To maximize selection that is eligible for 1-day delivery, see your Restock Inventory
For personalized recommendations on how to recover value from your aging and excess inventory, go to Manage Inventory Health.
Amazon has a Fulfillment by Amazon (FBA) program for sellers who do not want to manage their order fulfillment. Sellers who use Amazon FBA have their items stored, and their orders are picked, packed, and shipped. All Amazon FBA sellers need to do is to send their products to the Amazon warehouse.
There are lots of complicated and variable costs associated with the Amazon FBA program, and the storage fees are costly and can eat straight through your profits if you are not careful.
First of all, be clear about what the Amazon inventory storage fee is.
Amazon charges sellers for any space your inventory occupies in the Amazon fulfillment center. The fee depends on the space occupied by the products and is calculated per cubic foot and the time the products spent in the warehouse. Fees are raised during the busy Q4 selling season. Large products that sit in the warehouse for a long period of time will incur a higher cost.
Amazon employs a FIFO (First–In–First–Out) method, which considers the oldest remaining items to be sold first.  For example, 10 copies of the same book were sent in through FBA in February 2019, and 8 of them were bought within 3 months; then you decided to re-stock 5 more copies in May 2019, which brought your total to 7 copies. However, once February 15th, 2020 hit, you only paid for the two copies that were originally sent to the fulfillment center in February 2019, the fee for the other 5 new copies wouldn't kick in until May 15th, 2020.
Monthly Inventory Storage Fee
Monthly inventory storage fees typically are charged between the 7th and 15th day of the month following the month for which the fee applies. For example, to see your inventory storage fee for January, refer to the February Payments report for transactions from February 7-15.
Fees vary by the product-size tier and the time of year. Although standard-size products are smaller than oversize products, they require more complex and costly shelving, drawers, and bins for storage. Fees are charged by cubic foot, so overall storage fees for standard-size products may be less than those for oversize products, based on volume.

Monthly Inventory Storage Fees for Dangerous Goods
Items that can be sold only through the FBA Dangerous Goods program require special handling and hazardous materials (hazmat) storage. The table below shows the new monthly inventory storage fees for dangerous goods sold through that program. You can look up the ASIN to check the classification status of your ASIN and whether you need to be in the FBA Dangerous Goods program to sell it.

For more information, see the Dangerous Goods identification guide.
Long-term Inventory Storage Fee 
A long-term storage fee applies to units that have been stored in an Amazon fulfillment center for more than 365 days.
The long-term storage fee is in addition to the monthly inventory storage fee. If you submit a removal order for items before the next inventory cleanup date, those items won't be subject to long-term storage fees. For more information, see FBA long-term storage fees.
To calculate the amount of time in the fulfillment center for each ASIN or the next inventory cleanup date, look at the Inventory Age, and Inventory Health reports in Amazon Seller Central
So how can you control your Amazon inventory storage cost to maximize your profits? 
BigCentral provides a clear overview of your store profitability with its profit dashboard, sellers can conveniently check product-related sales, inventory cost, profit, and margins, all in a single panel.
Here are some other useful tips to help you get started.
1. Get your pricing strategy right 
To increase sales and avoid extra inventory storage costs, you need to optimize your pricing strategy. The factors cause of excess inventory may be inaccurate market demand forecasting, ignorance of slow-moving inventory, etc.
You can use the Inventory Age and Inventory Health report to quickly identify how long items in your inventory have been in fulfillment centers and those items subject to upcoming long-term storage fees. Items stored over 365 days need aggressive pricing to recover your cash for investing in new inventory. It's a red flag that products have been in stock for over 90 days, so you can adjust the price to clear out your unsold stock. Amazon repricing software can help you to tweak your prices effectively and stay competitive on Amazon at any time. 
2. Utilize Amazon Promotions 
You can run Amazon promotions and PPC ads on items that are going to incur long-term storage fees, or you can also bundle the older stock with the best sellers to clear out before the long-term storage fees are applied. 
3. Build a realistic sales forecast  
There are several ways you can forecast market trends and customer demands. For example, you can check Amazon's Best Sellers section to get the latest update on popular items. But for more details about the estimated average sales of the particular item, you will need a real-time product research tool like BigTracker Chrome Extension to help you instantly view insight and make decisions about what to stock. 
4. Know the inventory turnover rate 
How fast you sell through the Amazon inventory is your inventory turnover rate. With this rate, you can estimate how much you have to stock or order to maintain the stock levels. It's a great way to stop over or under-buying for your store.
Amazon sellers who import goods target a 1-month inventory turnover rate.  Amazon Selling Coach can help you track your sales against your available stock. The tool recommends the number of items to be ordered to fulfill purchases over a specified timeframe. 
5. Understand the lead times of the supply chain 
The lead time is the elapsed time between placing an order with a supplier and receiving the goods at the Amazon warehouse. To ensure your supply chain runs smoothly,  have a contingency plan ready such as stock reserves in place for worst-case scenarios. A contingency plan for the supply chain is crucial for you if you have overseas suppliers, as shipping delays can take several weeks to resolve.
6. Separate your inventory strategically 
To maximize profit, you can separate your inventory and store part of it at the Amazon fulfillment center and store the rest somewhere that costs less. If you do this, keep an eye on your Amazon inventory level and remember to send your items in time. 
7. Consider drop shipping
Dropshipping requires your product supplier to manage inventory and order fulfillment.
It's a less risky process and means you reduce the fees you pay to Amazon.
If you are about to start dropshipping on Amazon, choose a reliable dropshipping supplier that is compliant with Amazon. Specify that they must ship customers' orders as promised and report inventory levels regularly.
8. Take advantage of the free removal promotions 
Sometimes, Amazon offers a free inventory removal promotion for Amazon FBA sellers to remove items from the fulfillment center. But sellers need to note that they cannot send the items back during the promotion until a 90-day restriction expires, or your inventory level for the removed ASINs falls below your sales over the last 90 days for the removed ASINs.
For example, if you remove an item before July of 2020, you cannot send the item back to the Amazon fulfillment center until Nov.1st of 2020.
9. Remove the item or promote sales on different channels
If you have a large amount of inventory, you have to decide what to remove, or you can sell your overstocked items through other channels. 
To make the decision, you can calculate long-term storage for the removed item, the removal cost, and the potential marketing cost for the items selling on other channels. If you have enough budget, keeping the removed items in the Amazon warehouse is the easiest option. If not, multi-channel selling is a good way to reduce your inventory storage cost in the Amazon fulfillment center.
Conclusion: 
There are many ways to control inventory storage costs. To be efficient, check your inventory performance, and decide which way to keep your stock at manageable levels. Put some of the above tips into practice to reduce your costs. Now, it's time for you to take action.
If you want to learn more tips to help you handling your inventory on Amazon, you can chech the following articles:
🔗 Amazon Has Lost Your Inventory, What Now? | BQool Blog
🔗 7 Expert Amazon Inventory Management Tips | BQool Blog
Author bio:
Sharline Shaw, the founder of a leelineSourcing.com, is an expert on Chinese export trade. With 10 years of experience in the field of sourcing in China, she is familiar with all relevant regulations and laws about China's exporting. She'd love to share her experience with people and has written many helpful articles.
This blog post was originally published in June 2019 and was updated by Pauline Thoméré in February 2022 due to product updates or Amazon policy changes.