//php the_post_thumbnail( 'post-thumbnail' ); ?>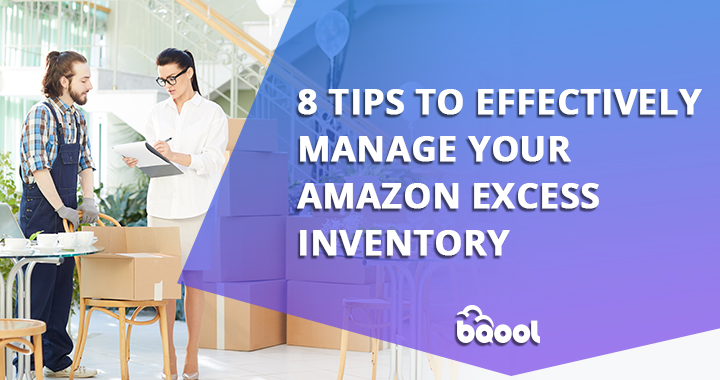 A common mistake that many sellers often make is when you are listing products as FBA, you are either not aware of a hidden cost lurking in your account, or that you simply don't have the time and don't know the way to handle it – inventory storage fees.
What are Amazon Inventory Storage Fees 
Sellers use Amazon FBA program to store their inventory in the fulfillment center, and Amazon can pick, pack, and ship orders on your behalf. Amazon charges you based on the daily average volume (measured in cubic feet) for space your inventory occupies in fulfillment centers.
There are two types of FBA storage fees: monthly and long-term.
Monthly storage fees
Amazon charges you storage fees each month, and the fees usually are charged between the 7th and 15th day of the following month. For example, your monthly inventory storage for January will be shown in the February Payment reports for transactions from February 7-15. The money is either automatically deducted from your account balance, or charged on your credit card when your account does not have enough money available to cover a payment.Fees vary by the product-size tier and the time of year. The table below is the current monthly storage fees for storing products in Amazon's fulfillment centers:
Long-term storage fees
A long-term storage fee applies to units that have been stored in an Amazon fulfillment center for more than 365 days. The fees are in addition to the monthly inventory storage fee. Amazon conducts an inventory cleanup on the 15th of each month. If you can remove older inventory before the next inventory cleanup date, you won't be charged for those items.For more information, see

FBA long-term storage fees

.

When you're performing inventory management tasks, make sure you have made preparations to maintain the stock levels for your best-selling products before sales start to ramp up for the holiday season. Furthermore, make sure that you don't forget to deal with your excess or slow-moving inventory to avoid paying Amazon's long-term storage fees.
What is excess inventory? 
Excess inventory refers to the products unlikely to ever move from the shelves because they are outdated, low or no demand in the market. So the longer your inventory is stored, the more Amazon storage fees you pay, thus reducing your cash flow and eating into the profit margin.
How to identify excess inventory? 
If you want to get rid of your excess inventory, you will need to identify potential excess stock first. The excess could be those inventory that never runs out within 90 days, or depletes very slowly within 6 months. 
Before, you might investigate the excess inventory manually, or use third-party inventory management software to automate your inventory management tasks. Now you can access the Manage Excess Inventory tool on your Amazon's Seller Central dashboard for free.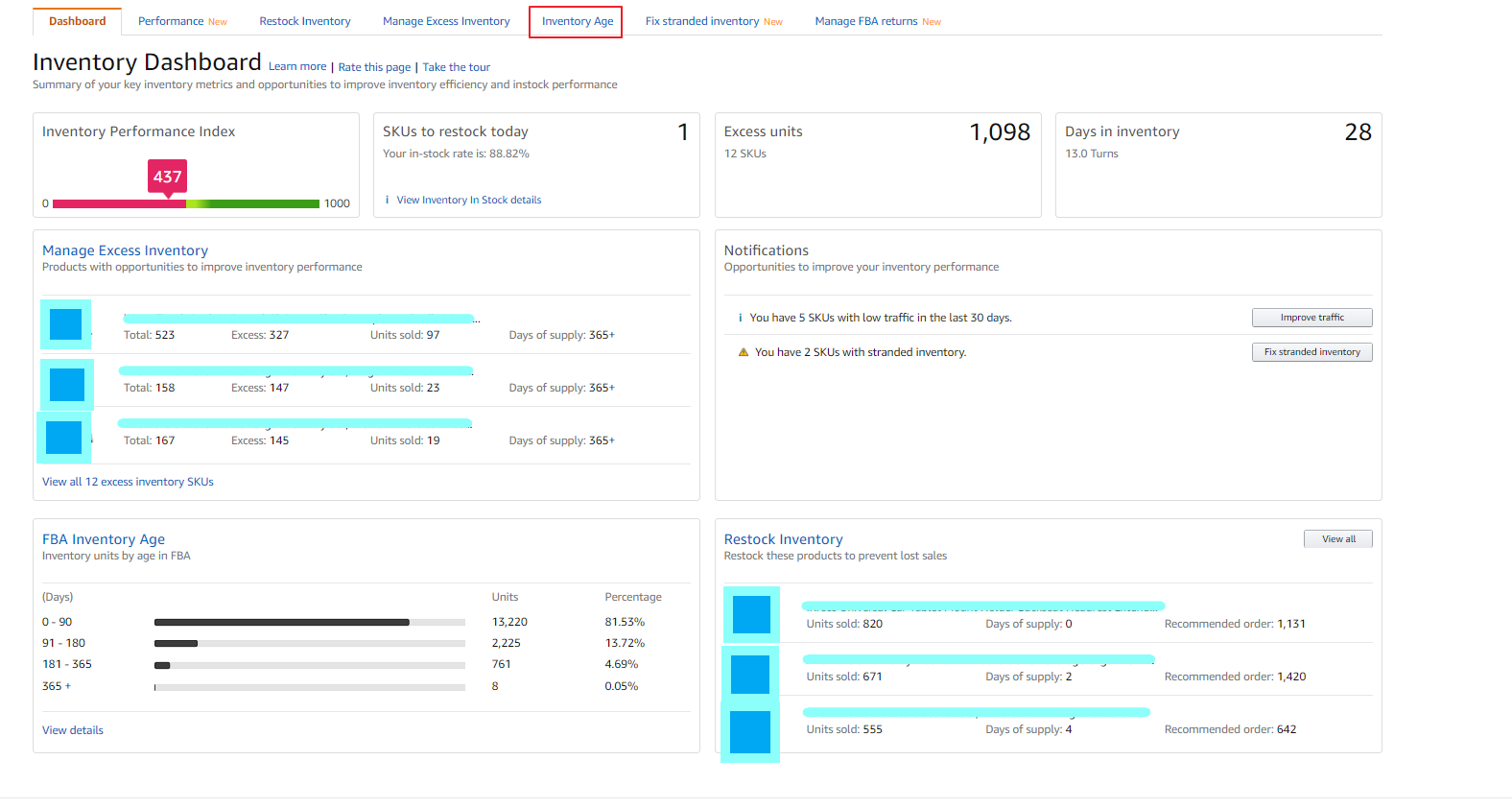 The dashboard allows you to visually track, analyze, and display key performance data points to monitor the health of your inventory, so you can make better inventory purchasing decisions. Its forecasting technique helps you quickly identify listings that may have excess inventory levels with the forecast and review relevant information to take the appropriate action. You can create a sale, edit the listing, improve keywords, lower price, advertising listing, or remove inventory from a fulfillment center by submitting a removal order for the excess inventory to clean out and avoid the long-term storage costs.
8 Tips to Manage Excess Amazon Inventory 
In addition to Amazon's built-in inventory management tool, here are more tips that could help you to avoid paying the FBA long-term storage fees for excess inventory:
1. Lower your prices 
This is the most effective way to clear out dead inventory is to lower your price. You can start slowly at a gradual level to decrease the initial high price, or you can run a promotion to attract consumers' attention. Consider offering discounts of between 30-80%. This may seem like a lot, but these products really need to go.
Also, you can offer Buy One Get One Free (BOGOF), which is an ideal way to reduce excess products. This type of promotion is good for non-durable fast-moving consumer goods that they will be more willing to buy more of them when they see the good deals.
2. Remarket your product 
The reason why your products might not be selling quickly is not necessarily because they are no good. You can refresh your product marketing strategies to gain customer interest again. Suggested methods include taking new product photos, improving your keywords, or rewriting the product titles and descriptions every once in a while.
3. Create a bundle 
Bundle your excess stock with popular products, and sell the combination at a discount. You can increase your overall price and get these unpopular items out of your inventory at the same time. Typically, the items in a product bundle are complementary to each other. For example, camera & camera bag complement so well that it makes sense to buy the bundle.
4. Advertise it  
One of the causes of excess inventory could be the product does not have enough visibility. While the competition is fierce on Amazon, advertising is one of the effective ways to stand your products out from the crowd.
You can even combine multiple tactics to boost sales of the excess inventory. Whether you run a sales promotion or create a bundle for the excess inventory, you can invest some money in Amazon PPC advertising to increase the exposure of the products to accelerate their sales.
5. Sell on another marketplace  
Just because your product isn't selling well on Amazon, that doesn't mean it won't sell on another marketplace.You can try to sell your excess inventory on sites such as eBay, Etsy, Shopify, or some deal sites like Slickdeals, Groupon, etc. Selling on multiple sites allows you to expand your reach and potentially make extra sales.
6. Run a giveaway 
Excess stock could also be used as gifts to reward your loyal customers, or as a result, an incentive for your off Amazon marketing objectives. The giveaway can apply to social media marketing – like and share our page for the chance to win xxx,  so this can help to increase your brand visibility and bring the external traffic to your Amazon store.
7. Donate to charity
Donating to charity is a great way to get rid of the excess inventory and turn it in a good deed.
Giving is good, but not everything can be donated to charity. Toys and games products could be donated to foster children. Stationery items could be donated to schools. 
If you don't know where to donate your excess inventory, you can participate in Fulfillment by Amazon (FBA) Donations, which is a program where eligible excess and returned products from sellers using FBA will be made available to charitable organizations. 
8. Return it to your supplier
If you have a good relationship with your supplier or there's room in the return policy, you may sell the excess inventory back to your supplier or exchange your products. But there's also a high chance you'll be charged a restocking fee of about 10-30% of the original purchase price to cover any repacking needed.
Final thoughts
Excess inventory is an inevitability for many businesses. There are always solutions available to mitigate the issue. After you've successfully cleared out all the excess stock, you need to learn from the experience and reduce the possibility of having excess inventory again by conducting in-depth product research.